Down and Dirty Reviews: Gameboy Advance -- N - Z
"Welcome all Gameboy users!" Here we feature games for the 32-bit GBA and remember that these titles will work on the

Nintendo DS, GameCube

with the Player, and the

Gameboy Mirco

as well as the

Gameboy Advance

and

GBA SP

. All reviews are by StarSoldier unless noted.

The overall scores are out of 100.



The graphics, sounds, and game play are out of 10.



Dud of the Month Collection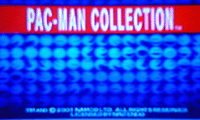 51 PAC MAN COLLECTION (Namco/Mass Media, June 2001)
Although Pac Man has been done before on the Game boy and Game boy Color, this game lets you pick from 4 different Pac Man games throughout time (the original Pac Man, Pac Mania, Pac Attack, and Pac Man Arrangement) which sounds like a nice package for every Pac Man fan out there but the game collection isn't without its problems. This game really wears thin after a few plays. I thought this new game cart would be awesome but I was wrong. Although you get 4 Pac Man games in one package the cart doesn't even save your high scores because their is no battery back up support like most Game boy Advance games have these days and if there was ever one game I ever wanted to save my scores in, it is Pac Man!
For 1 player only
Rated (E) for Everyone
graphics: 6
sound: 5
gameplay: 6
Find Pac Man on eBay here!

2002 Videogames101 Game of the Year!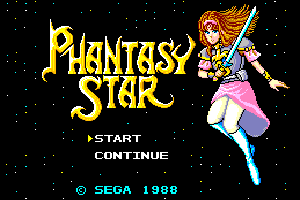 100 PHANTASY STAR COLLECTION (Sega/THQ/Overworks/Digital Eclipse, December 2002)
Not only is Phantasy Star Collection the first video game in videogames101.com to earn a perfect score of 100 but for many new players out there it's the perfect way to play and experience some of the greatest Role Playing Games of all time in one tiny little 64 meg cart. This collection includes the complete Sega Master and Genesis games: Phantasy Star, Phantasy Star II, and Phantasy Star III Generations of Doom. All these Sega legends have been faithfully reproduced right here for owners of the Game boy Advance. Each game is unique enough not to be too similar to one another and if you manage to finish one then you can easily move on to the next one. There is well over 200 hours of game play here so you're going to be quite busy for a very long time. The only problems I can see in the games is that some may find these type of RPG games too slow or the view too zoomed in but that doesn't me bug too much personally. I also noticed a glitch at times while saving your games and your current data may not be recorded because of this. If I had to pick a favourite here then the StarSoldier would have to go the first Phantasy Star, even though I already finished on the old SMS, the game still remands one of my personal favourite video games during my two decades of playing almost everything. It wasn't easy picking the first one over part II because both games are great adventures but Phantasy Star did so many things right. I would have been happy to get Phantasy Star alone on this cart but if Sega and THQ want to give me two other grand scale games then that's easily fine with me. Phantasy Star Collection is the ultimate package for RPG freaks.
*Battery back up game
For 1 player only
Rated (E) for Everyone
graphics: 9
sound: 8
gameplay: 10
Find Phantasy Star Collection on eBay here!

40 PITFALL: The Mayan Adventure (Activision/Majesto, June 13 2001)
The legendary Pitfall finally comes to the Gameboy but if you're familiar with the Mayan Adventure on the older consoles like the Sega Genesis then this game is nothing new. In this 2D adventure you control Pitfall Harry's son on a quest to rescue his father. Although the 16-bit versions from the 90's were above average adventure games, this Gameboy edition has no in-game music and the view is too zoom in so its difficult to see all the action. Pitfall the Mayan Adventure looks fine but the action in these jungles and temples can get a little tedious.
For 1 player only
Rated (E) for Everyone
graphics: 6
sound: 2
gameplay: 6
Find Pitfall on eBay here!

35 R TYPE III The Third Lightning (DSI Games/Irem, 2003)
I see this happening a lot on the Gameboy Advance here; companies are re-releasing some of the greats from the 16-bit era (in fact this game review is currently sandwiched between two remakes here) to this insanely popular 32-bit portable. In a smart move DSI Games released what is perhaps of one the best 2D shooters for the Super Nintendo (R Type III) and now made it so you can play it on the go. In the game you pilot the powerful R-90 star ship on a mission to stop another aggressive invasion from the evil Bydo alien race. Although the R-90 can only take one hit to get destroyed, you can collect power ups and 3 unique force pods that fire different weapons depending on the 3 colour coated upgrades. R Type III was a great shooter on the SNES because of its challenging 6 levels and cool looks and stunning rock music. The problem is they forgot the 'great' part in this edition because this port is loaded with nasty graphical bugs, extremely crappy low key music, and slower game play! I don't know how DSI Games could screw a legend like R Type III but they did I hope this means they will stop making games altogether now.
For 1 player only
Rated (E) for Everyone
graphics: 6
sound: 1
gameplay: 7
Find R Type III on eBay here!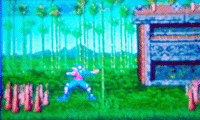 20 REVENGE of SHINOBI (THQ/Overworks, 2002)
Now before you get too excited thinking that this legendary Sega Genesis title and former Game of the Month winner finally arrived on the Gameboy, it isn't the same game we all know and love. You still play as a highly trained ninja but for some reason now he is decked out in a stupid blue outfit this time and he is really difficult to control too especially when it comes to jumping and running on strairs. The game quickly becomes a headache to play. Although there is nothing really wrong with the graphics here, the only thing this Revenge of Shinobi game has in common with the older ROS is the name. Just port the original game next time!
For 1 player only
Rated (E) for Everyone
graphics: 7
sound: 5
gameplay: 5
Find Revenge of Shinobi on eBay here!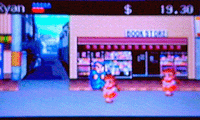 69 RIVER CITY RANSOM EX (Atlus/Technos, 2004)
I'm glad to see the return of River City Ransom after getting cult status on the NES but some of the game's new 'improvements' here are not so hot. You still have to fight a bunch of local students to get your girlfriend back but your punches and kicks are way too quick and they often leave you open to attack. Another problem with the game is that the story is pretty much the same story from before so it feels too much like deja vu. It's a good beat em up/role playing game but it could have been better.
*Battery back up game
For 1 or 2 players
Rated (T) for Teen
graphics: 4
sound: 6
gameplay: 8
Find River City Ransom on eBay here!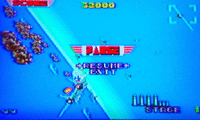 74 SEGA ARCADE GALLERY (Sega/Am2, 2003)
These older games may not be able to keep up with more newer age 3D titles but back in the day these 4 arcade classics were 3D marvels and they made a lot of quarters in the mid 80's. The Sega's games are After Burner, Out Run, Space Harrier, and Super Hang On. Out Run and After Burner don't quite look as detailed as their arcade counterparts but Space Harrier and Super Hang On appear to be fine. The only thing missing is more games and a save feature.
For 1 player only
Rated (E) for Everyone
graphics: 6
sound: 5
gameplay: 5
Find Sega Arcade Gallery on eBay here!

88 SHINING FORCE Resurrection of the Dark Dragon (Sega/Atlus, 2003)
Leave it to Atlus to come out with a fantastic game that most people will likely never even knew existed. This Shining Force game is actually a remake of the original Sega Genesis cult favourite and this version comes with a new side story and a new card system too. Although the action can be a little slow at times and I wish there was a Save anywhere feature, Shining Force is still an excellent blend of Role Playing and Strategy in one grand title!
*Battery back up game
For 1 player only
graphics: 7
sound: 6
gameplay: 8
Find Shining Force on eBay here!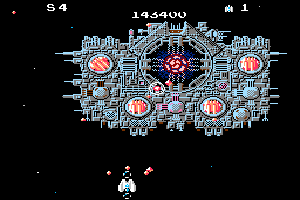 61 STAR SOLDIER (Hudson Soft, 2004)
*Japanese GBA game
During a special promotion honouring 20 years of the Nintendo Famicom (the Japanese NES), Nintendo released a custom made GBA SP designed to look like a vintage machine. To sweeten the deal Nintendo, Namco, and Hudson would release classic titles complete with the red and white cartridge for the Gameboy. One of those special games was Hudson's popular Star Soldier game. This is a direct port of the NES shooter and it still has that annoying overlay system and tough challenge but the game is still fairly intense. The only new feature is the Save option which is welcome. Sadly, I don't think this one is coming to Canada.
*Battery back up game
For 1 player only
graphics: 4
sound: 5
gameplay: 5
Find Star Soldier on eBay here!

Total Recall Dud of the Month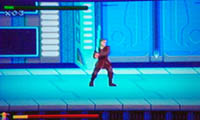 04 STAR WARS EPISODE II Attack of the Clones (THQ, 2002)
When Star Wars does bad they really do bad! Don't be fooled by the good looking still graphics, good sounds, and Star Wars license here; Attack of the Clones is nothing more then a barebones action platformer with unresponsive controls, repetitive game play, and what's the deal with the horrible collision detection? If you hated the movie you ain't seen nothing yet. Buy this game just for a good laugh.
For 1 player only
Rated (E) for Everyone
graphics: 3
sound: 6
gameplay: 2
Find Star Wars on eBay here!


72 SUPER GHOULS 'N GHOSTS (Capcom, 2002)
This is a direct remake of the Super Nintendo classic where Sir Auther returns to rescue the princess from a new batch of demons and the undead. Sir Auther can pick several weapons and he can even upgrade his armour to improve his strengh just like in the first Ghosts 'N Ghouls but now you can pick up multiple types of outfits that upgrade weapons and defense plus he can even do a cool double jump as well. The game also has a Save feature now and that's a must for a very tough 15 level game like this.
*Battery back up game
For 1 player only
Rated (E) for Everyone
graphics: 8
sound: 8
gameplay: 8
Find Super Ghouls N' Ghosts on eBay here!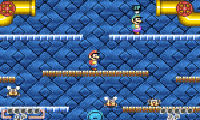 78 SUPER MARIO ADVANCE: Super Mario Brothers 2 (Nintendo, June 13, 2001)
Of all the Super Mario Advance games now for the Gameboy Advance, this one is easily the worst one because it's based on the awkward NES US sequel to the famous Super Mario Brothers. It's great how you can play as 4 different characters here and the new save and multi-player options are cool as well, but the game play isn't as deep as the other Mario's since there are not as many levels. The game is still very fun to play however so it's still a solid investment.
*Battery back up game
For 1 to 4 players
Rated (E) for Everyone
graphics: 7
sound: 7
gameplay: 7
Find Super Mario Advance on eBay here!


75 SUPER MARIO ADVANCE 2: Super Mario World (Nintendo, 2002)
The famous launch game for the Super Nintendo also arrived on the GBA and it's also a great game. In this legendary 2D action game the Italian brothers are back at it again as they try to free Dinosaur Island from the evil King Bowser and his rotten Koopa Kids. Mario and Luigi don't have to do it alone because now you can get some help from your new dinosaur friends; the Yoshis. Like the previous games in the series this is 2D platformer where you can jump on most enemies to kill them but you can also collect power ups like the Feather so you can strike enemies with your cape plus fly, dive, and guide through the air as well (kind of like a modified Raccoon Tail in Super Mario Bros. 3).The game has tons of hidden secrets to discover in huge new world and it makes for a very non linear adventure this time. There's so much to see and do, it's definitely going to take awhile to get that infamous full 96% here. Although the graphics look the same and the background music isn't quite as good as the 16-bit original, Super Mario World is still one huge game and it is a must play for Mario fans if you haven't played it already.
*Battery back up game
For 1 to 4 players
graphics: 5
sound: 5
gameplay: 9
Find Super Mario Advance 3 on eBay here!

95 SUPER MARIO ADVANCE 4: Super Mario Brothers 3 (Nintendo, November 2003)
It took awhile but the mega popular Nintendo Entertainment System game is now officially portable here. This special release not only includes the award winning action mega hit from 1990 but you also get several new features like updated graphics from the Super Nintendo All Stars edition (more colour and more detail), new digital voices, and if you have a E-reader then its possible to download new exclusive levels and power ups. This is great but you need you Super Mario Bros. 3 compatible E-Reader cards you need two Gameboy Advances, a E-Reader, a GBA to GBA link cable, and one copy of the game, a down payment of 100,000 bucks and your wife's signature. OK, it sounds like a lot of work but it really increase the replay value and you can even enter the cards as much as you like so if you a 1up card you pretty much have unlimited lives. With its already superior level design and list of add ons, Super Mario Brothers 3 for the Game boy Advance is a excellent edition to anyone's library.
*Battery back up game
For 1 to 4 players
Rated (E) for Everyone
graphics: 8
sound: 8
gameplay: 10
Find Super Mario Advance 4 on eBay here!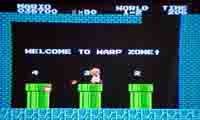 29 SUPER MARIO BROS. (Nintendo, June 2004)
*NES Classes series
Look who's back.......... again. I love seeing the legends of the past back in action and Super Mario Bros. is easily one of the biggest games in this special Classic NES reissue but the big question is it worth your time? Unfortunately not only is there nothing new here at all but the graphics look wash out compared to the original NES game. Sure you can get that nostalgic feeling but I already played this great game to death and I have no real desire to do it again. The Gameboy Advance is a powerful 32-bit system and this translation is just a insult. Bottomline you are better off getting the actual improved Super Mario Brothers DX instead.
*Battery back up game
For 1 to 2 players
Rated (E) for Everyone
graphics: 3
sound: 5
gameplay: 6
Find Super Mario Bros. on eBay here!

78 SUPER MONKEY BALL Jr. (THQ/Sega, December 2003)
I was really surprised when this once GameCube only title came to the weaker Gameboy Advance but what really shocked me was that the game is still in 3D! Sure, the graphics are not as smooth but its always cool to see polygons on the GBA. The game is fairly difficult to control on the digital pad but you gotta love all the modes like golf, survival, and lots more.
*Battery back up game
For 1 to 4 players
Rated (E) for Everyone
graphics: 8
sound: 7
gameplay: 9
Find Super Monkey Ball Jr. on eBay here!

81 TRON 2.0 (Disney, 2004)
Although there is no real movie sequel based on this game but that didn't stop Disney from making the second part in this cult favourite in a video game. Smart move because this game is actually pretty good. In the game you are sucked into computer program while the system is being invaded by a huge virus. You have to help heroes Tron and Mercury survive in a dangerous world of infested program ready to kill you without question. Although the game is your typical isometric action platformer, what really separates Tron 2.0 from the pack is that it is filled with tons of mini games where you can hack your way through the computer's security. This game even has two classic arcade games (Tron and Discs of Tron) in this one set too. Tron 2.0 is definitely a great value.
*Battery back up game
For 1 player only
Rated (E) for Everyone
graphics: 8
sound: 6
gameplay: 8
Find Tron 2.0 on eBay here!

Game of the Month Collection!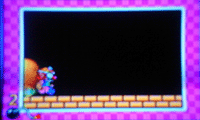 85 WARIO WARE Mega Micro Games (Nintendo, May 2003)
Are you someone who is quickly bored with playing the same game over and over again? Would you like to play one game and than quickly move to the next one? Nintendo has a weird new idea where you can play over 200 mini games that's starring Wario. See why Wario Ware is like no other video game I ever played before! Even though a lot of these second long mini games are very familiar in design after a while, Nintendo still did a great job of mixing things up so things never get too boring. It's a weird concept true and the whole game isn't very long but it's still very crazy and intense fun that's has a fair bit of replay value. Wario Ware is great for players of all skill levels.
*Battery back up game
For 1 or 2 players
Rated (E) for Everyone
graphics: 6
sound: 6
gameplay: 9
Find Wario Ware Inc on eBay here!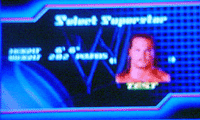 62 WWE Road to Wrestlemania X8 (THQ/Natsume, 2002)
This GB game is definitely one of the best looking portable wrestling games I ever seen thanks to the realistic graphics and real music intros but the trade off is that the game runs slower then the other popular wrestler video games out there. The game also has a solid list of names like Rob Vam Dam, Hollywood Hulk Hogan, Christian and many others has they fight their way to earn championship gold in this solid grappler.
For 1 to 4 players
graphics: 8
sound: 6
gameplay: 6
Find WWE Road to Wrestlemania on eBay here!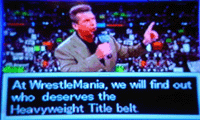 44 WWF Road to Wrestlemania (THQ/Natsume, 2001)
The first WWF game for the Game Boy Advance doesn't really didn't have the killer graphics that I was expecting from this 32-bit unit since the wrestlers look like poorly animated crap but maybe the worse part was that game feels like a complete button masher.
For 1 to 4 players
graphics: 5
sound: 5
gameplay: 5
Find WWF Road to Wrestlemania on eBay here!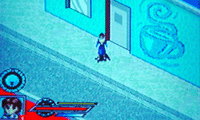 32 YU YU HAKUSHO Spirit Detective (Atari, December 2003)
It took a while but we finally got a game from the Yu Yu Hakusho series over here. Unfortunately I guess this plays nothing like the old school Mega Drive game because this action title is all story here and there is no real depth in the game play department. The fighting system is prue garbage for one thing.
*Battery back up game
*Game Boy advance only
For 1 player only
Rated (T) for Teen
graphics: 5
sound: 5
gameplay: 2
Find Yu Yu Hakusho on eBay here!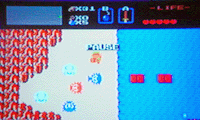 55 ZELDA (Nintendo, June 2004)
*NES Classics series
This cool adventure game is easily one of the best game of Nintendo's bunch of NES Classic reissues but with sad competition like Ice Climbers, Xevious, and watered down Donkey Kong it's no wonder (they suck and you know it). The problem is like the other games of this re-release series there is absolutely nothing added here at all and it may not be worth your time. If you don't know the deal The Legend of Zelda is a massive unlinear adventure game where you control a elf on a mission to save princess Zelda from the evil Ganon. This GBA cart is great if you want to play the first Zelda game for either the first to see what all the fuss is about or just to play this awesome adventure again on the go because this is a perfect NES translation of that incredible game. Sadly although the game is still fun, I started to get bored after a few plays. Remember this is 20 bucks here and you can only be entertained by same old game for so long here. I want to play the classic Legend Zelda for fun but come on Nintendo, I see fans on the internet create new levels to this classic game but you guys just continue sitting on your as$ re-releasing the same old game again with nothing new. The Legend of Zelda is great unless you are one of four people in the world that hasn't played it yet.
*Battery back up game
For 1 player only
Rated (E) for Everyone
graphics: 5
sound: 6
gameplay: 9
Find Zelda on eBay here!

50 ZELDA II: The Adventures of Link (Nintendo, October 2004)
*NES Classics series
If you seen my other reviews on these NES classics then you know I am still pretty upset at Nintendo for making us pay 20 bucks for games that most hardcore gamer already played during the 1980's. Still it's great to see this awesome game back. If you never played this before Link: Zelda II is a 2D action platform adventure where you try to rescue the beloved Princess Zelda from a powerful sleeping spell. The game is still a great and challenging adventure if you can handle some outdated graphics and sounds Zelda II is great for new comers but other then a easier save feature it's still a waste of money and time for the rest of us.
*Battery back up game
For 1 player only
Rated (E) for Everyone
graphics: 5
sound: 6
gameplay: 8
Find Zelda II on eBay here!