Down and Dirty Reviews: Gamecube -- F - M
Here it is! The Game Cube is Nintendo's first stand alone disc unit and it makes you wonder if they had trouble adjusting to the new medium? So how are their games? These are the games I had a chance to play so far.

The overall scores are out of 100!

The graphics, sounds, and gameplay are out of 10!
Score / Name

67 FINAL FANTASY CRYSTAL CHRONICLES (SquareEnix, 2004)
It's great to see that Square and Nintendo are friends again but the long awaited return of Square's popular Final Fantasy on the Nintendo console (Game Cube) is a bit of a disappointment. In this game you control one of many multiple oddball heroes of your choice and you go on a grand adventure to rid the world of a poisonous mist. Now the little thing that bugged me about this game is that the game play is done in real time instead of the traditional turn-based game play. I love the real time action in a game like Secret of Mana but it doesn't work too well here since the game moves at a snail's pace. The biggest complaint though comes from the new multi-player. Now before you get a few friends to come over to play some Final Fantasy, each one of you has to have a Gameboy and that stupid connection wire so the other players can't see your items. All this is quite needless and it will have your friends saying: "Dude, let's just play Halo, this sucks!" This is not the Final Fantasy I know and love but Crystal Chronicles is still a solid adventure with stunning graphics and amazing sounds so it worth a look at least.
For 1 or 4 players
Rated (T) for Teen
graphics: 9
sound: 8
gameplay: 8
Find Final Fantasy on eBay here!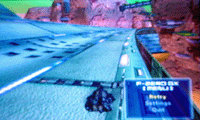 37 F ZERO GX (Nintendo/Sega, 2003)
I was really looking forward to this game after seeing some of the intense preview screen shots in magazines. The graphics are colourful and highly detailed even when the game is moving at insane speeds thanks to the power of the GC here. It's just too bad the game is not that fun to play. If you never played a F Zero game before you pilot a futurist hovercraft and you compete in dangerous intergalactic races with tons of other contestants. Unfortunately, that old formula hasn't changed too much from the SNES days, the only new thing they added to liven it up is to have your boost drain your health meter. This means you have to constantly risk your life just to stay on top but that is extremely hard to do when you are traveling at over 1,000 miles per hour across several poorly designed courses! The game is so tedious and difficult that it makes F Zero GX here virtually unplayable especially for the casual player. It's no wonder this game was a flop.
For 1 or 4 players
Rated (E) for Everyone
graphics: 7
sound: 5
gameplay: 2
Find F Zero GX on eBay here!
SECOND OPINION!
I must say I disagree with your F-Zero GX review. I can see your points, but I found the game to be a blast. It does choose style over substance and doesn't seem like the SNES & GBA versions. I hope future F-Zero's are more retro. That said, I think GX is a frantic, well made and challenging game. Being CO-developed by Sega, I immediately thought of Sonic while playing it. This is racing, not adventure, but it's the same idea here: pure speed=just plain fun. As for the challenge issue, I too feel the game is hard and sometimes unfair, but it's nothing a little practice can't remedy. I didn't find the game impossible by any means. As for the levels, they aren't the most memorable, but they serve their purpose and are very cool while they're onscreen. The effects are chaotic and fun. I especially like the "tube" tracks (another "Sonic"-like trait) and little details of inspiration, even if the entire game designs could use some work. Personally, I'd score it a solid 80%, with the hopes that, one day, the series will go back more to its roots.
Sam Mills - 03/28/2005

The StarSoldier Game of the Month!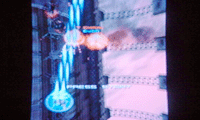 83 IKARUGA (Atari/Treasure, 2003)
We certainly don't see a game like this everyday, eh? Ikaruga is a traditional 2D/3D vertical shooter that works on a cool black and white system. Flipping your aircraft into a White ship means you can fly through and absorb enemy shots of the same colour but it also means you are open to Black bullets and attacks. Flip over to the Black side and the rules are reversed. You have to flip in between colours to survive and believe me it isn't as easy as it sounds. Ikaruga is insanely hard and the game isn't even full screen in certain modes but Ikaruga screams intensity and it is highly addictive as well.
For 1 or 2 players
Rated (E) for Everyone
graphics: 8
sound: 7
gameplay: 7
Find Ikaruga on eBay here!

92 LEGEND of ZELDA COLLECTION (Nintendo, December, 2003)
In this special collection of games are the two 8-bit Nintendo Zelda titles (The Legend of Zelda and The Adventures of Link) and the two N64 games (Ocarina of Time and Majora's Mask) all in one disc. The disc even includes bonus material like a playable demo of The Wind Waker and a cool Zelda retrospective. All the games are basically carbon copies of their originals (minus a few edits to some of the text) so there is nothing new to fan of these games but there is no denying that having some of the best adventure/action video games in one collection is pretty sweet, eh? The problem is this game wasn't technically released since it was only packaged with special edition GameCubes to help sagging sales so this game can be fairly tough to find for some. If you are a Zelda fan and you no longer have the older systems anymore then be sure to pick The Legend of Zelda Collection.
For 1 player only
Rated (E) for Everyone
graphics: 5
sound: 5
gameplay: 10
Find Zelda Collection on eBay here!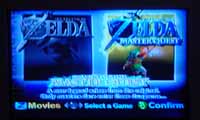 <![endif]> 87 LEGEND OF ZELDA: Ocarina of Time/Master Quest (Nintendo, March, 2003)
In a unusual twist of faith, Nintendo hypes their big Game Cube Zelda game (The Wind Waker) by giving away copies (if you pre-order the Wind Waker) of this exclusive double feature, enter the Legend of Zelda Ocarina of Time/Master Quest. The Legend of Zelda Ocarina of Time is back and it's just as addictive as ever and the extra content is minimal but it is still fun to play and see it. I hope Nintendo gives me another Master Quest game next year or something (fat chance, but if enough of us complain then maybe we could something going, eh?).
For 1 player only
graphics: 6
sound: 6
gameplay: 10
Find Zelda Ocarina of Time on eBay here!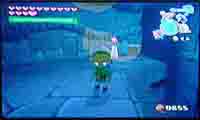 83 LEGEND of ZELDA: The Wind Waker (Nintendo, March 26, 2003)
Since the first Legend of Zelda had made its debut way back in 1987, the series set the standard for what a good adventure game should be. Sadly we don't see a new Zelda game as often as we would like, so when Nintendo releases a new one it had better be something really special. In a very controversial move, this new Wind Waker Zelda features a very goofy looking young Link with tiny little legs and big eyes oppose to the more grown up style we seen before in the N64 Zeldas. Not only that but we also get some good music here and there plus this is another huge quest that takes a lot of commitment. With that being said, don't forget that this is a Zelda game so those crazy puzzles are rampart here and the Wind Waker is not a very good game for the casual player. All other players who like deep adventure games should buy this new Zelda without hesitation.
*Game Link compatible
For 1 player only but a second player can use the Game boy Advance if they wish.
Rated (E) for Everyone
graphics: 9
sound: 7
gameplay: 9
Find Zelda the Wind Waker on eBay here!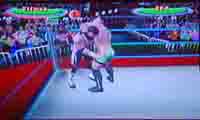 35 LEGENDS OF WRESTLING (Acclaim, 2002)
Legends of Wrestling could have been a really great title especially with its great idea to use Wrestlers from both past and present like Super fly Jimmy Snuka, Hulk Hogan, Rob Van Dam, and Bret the Hitman Hart in a video game. LOW also has a good use of options and you can also play with up to 4 players as well. So what's the problem here? Why are there so many annoying load times in between fights, it really slows down the action and that not good thing for a wrestling game? If that wasn't enough the graphics look absolutely ridiculous as well.
For 1 to 4 players
Rated (T) for Teen
graphics: 4
sound: 4
gameplay: 6
Find Legends of Wrestling on eBay here!
58 LEGENDS OF WRESTLING II (Acclaim, 2003)
Now this is much better. Not only do you get more legends like Eddie Guerrero and Andre the Giant here but the controls and hit detection feel tighter making for a better overall experience. This game also includes bonus interviews from many of the alive (well at the time) wrestlers and the graphics may still look a little unrealistic (everyone is still way too bulky) but it serves the game all right. Not the best wrestling title since it still has a lot of the problems of the original like slow game play so buy at your own risk.
For 1 to 4 players
Rated (T) for Teen
graphics: 6
sound: 5
gameplay: 6
Find Legends of Wrestling II on eBay here!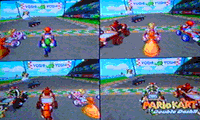 89 MARIO KART DOUBLE DASH (Nintendo, November 17, 2003)
If you're expecting major improvements over the last few Mario Kart games then you're in for a disappointment. It is the same old 3D race to the finish with the same old turtle shells for weapons that everybody knows and hopefully still loves but now you can switch team mates on the fly so can hold more power ups. Sure, there isn't too much different but there is no denying that this is still a great multi-player game and the game has a fun and challenging single player experience as well. Double Dash here is excellent for parties.
For 1 to 16 players
Rated (E) for Everyone
graphics: 8
sound: 6
gameplay: 8
Find Mario Kart Double Dash on eBay here!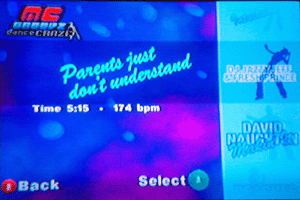 40 MC DANCE CRAZE (Mad Catz, December, 2004)
My demands have finally been answered and I, at long last, have a Dance Dance Revolution-like game for the Game Cube. In this special bundle you get the Dance Craze game and the Dance floor pad so step away like they do in those popular stepping arcade games. Unfortunately even though they were able to get several big names here like Jessica Simpson, DJ Jazzy Jeff and the Fresh Prince, Jewel, and many more for the background tracks and the game itself is way too generic thanks to its bland graphics, sucky dance patterns and overly ugly and cheap interface. I'm glad I got a dance on the GC but it looks like I will still have to wait for a good one.
*Beat pad recommend
For 1 or 2 players
Rated (E) for Everyone
graphics: 2
sound: 6
gameplay: 3
Find MC Dance Craze on eBay here!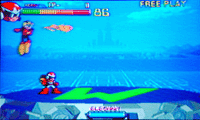 70 MEGA MAN ANNIVERSARY COLLECTION (Capcom, June 2004)
I really wanted to give this huge collection of legendary 2D games here a huge high score especially since I have been a Mega Man fan for decades now but why in the world would are the jump and action button in reverse here? I can't play like this and I was absolutely devastated that Capcom wouldn't even let me configure the set ups in the option menu. Sure, getting 10 games in one set is awesome but Mega Man AC has such awkward controls that it is definitely one of those games you should try before you buy. The Cube version does have bonus interviews that the PS2 doesn't but that game has better controls. Capcom shouldn't hire guys off the street to do their game emulations!
For 1 or 2 players
Rated (E) for Everyone
graphics: 5
sound: 5
gameplay: 8
Find Mega Man Collection on eBay here!
SECOND OPINION!
Hi Ryan! I made the mistake of buying the Cube version. I really should have saved myself $25.00 and rented the damn thing instead. However, I travel sometimes, and like to bring one game system with me. I figured I should have Mega Man on both systems, so I went for it. I'm disappointed, but if I am ever just stuck with my Cube and long for Mega Man, at least he'll be there in some form.
I do wonder how Capcom can justify releasing such a flawed product? Missing music aside, there is NO excuse for the button mix up. Some have said "well it has to be that way for the rapid-fire to be closer to the fire...blah, blah" and I'm wondering why the main functioning buttons should be sacrificed for a secondary option? That's just flawed logic there, don't you think?
Anyway, I think you'll be happy with the PS2 version better. Just remember, you only get the new tracks in "navigation" mode, and not all of 1-3 are redone, only about half. Still, it's funny that, even with the old graphics, the new music makes them feel new again.
Sam Mills - 06/17/2004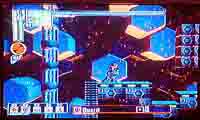 72 MEGA MAN NETWORK TRANSMISSION (Capcom/Akira, 2003)
Mega Man finally comes to the Game Cube and surprisingly enough the game has the traditional 2D view that is not unlike the retro NES games from the past. The stunning 2D look though is really the only thing that old school fans will recognize because Mega Man now fights computer viruses just like in the recent Battle Network series and Lan is your human friend who downloads power ups to you. This game is quite hard since Mega Man starts off the adventure pretty weak but if you use Lan's power chips effectively then it isn't so bad. Mega Man Network Transmission is a great concept that expert players should like.
For 1 player only
Rated (E) for Everyone
graphics: 8
sound: 8
gameplay: 7
Find Mega Man Network on eBay here!

87 MEGA MAN X ANNIVERSARY COLLECTION (Capcom, 2004)
Now we're talking! This unique collection contains the first six Mega Man X games in one set and that's a pretty good deal in my book since a lot of these games go for a lot of money by themselves. Anyway each game follows the journey of a futurist Mega Man and he must stop an uprising of killer robots bend on wiping out the human race. In each game Mega Man X can steal power from the robot animal masters and certain weapons work great in certain areas plus Mega Man X can get armour upgrades and climb walls too. I also like how the X games let you play as a alternate character in a few titles and the story line is a bit more mature as well hence the Teen rating. The collection also includes the once canceled Mega Man Battle & Chase which is a semi-playable Mario Kart clone that's good for a few laughs at least. The Mega Man X games are the real meat on this bone although they are repetitive in design (fight eight masters then Sigma), they are all awesome 2D action platformers.
For 1 or 2 players
Rated (T) for Teen
graphics: 6
sound: 7
gameplay: 9
Find Mega Man X Collection on eBay here!

The StarSoldier Game of the Month!
<![if !vml]>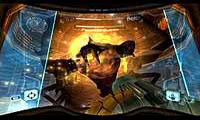 <![endif]> 93 METROID PRIME (Nintendo/Retro Studios, November 19, 2002)
I waited 8 lonnggggg years for this but it's finally here! "Yes, it's back!" Here is Metroid Prime for the Nintendo Game Cube. Bounty Hunter, Samus Aran returns to fight the evil Space Pirates of the galaxy again but now this Metroid game is completely 3D and the view is almost always First Person Shooter now like in other games like a Halo, a Quake, or a Goldeneye. Weird but true. If you hate First Person Shooters then I recommend renting this game before you invest your cash right away but chances are if you are a hard-core Metroid fan, you will love it anyway. New comer Retro Studios still did an absolutely fantastic job with their game here and if you don't fall in love with the liquid smooth graphics or heart pounding sounds, then maybe the addictive game play will leer you in. Like the past Metroids, I couldn't stop playing it until I did everything possible there is to try out and believe me it's going to take awhile to beat this one.
For 1 player only
Rated (T) for Teen
graphics: 9
sound: 8
gameplay: 9
Find Metroid Prime on eBay here!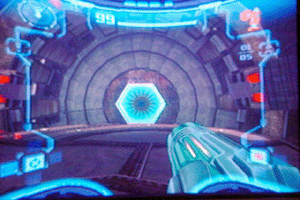 84 METROID PRIME 2 Echoes (Nintendo/Retro Studios, November 16, 2004)
Metroid Prime 2 marks the return of one of the best games released in 2002 and Nintendo is adding a bunch of new features to excite gamers. Like the first MP this title is amazing looking First Person Shooting where you are Bounty Hunter Samus Aran and you get to shoot and scan your way through a new dangerous planet. The big difference now is the planet you are investigating literially has light and dark side to it and some weapons are better then others in certain areas. There were times I wanted to save my game but I was trapped and had to continue playing even though I didn't want to. Don't get me wrong, the game is still very compelling and very rewarding like the first MP was but it isn't a huge leap in design and even the new multi-player isn't too good. Sadly, we already know Nintendo doesn't support the Online features of the Cube so you can forget about that but the multi-player battle doesn't even support Locate Area Network play so you all forced to play on just one screen. Metroid Prime 2 is still a great adventure all no other with excellent graphics and puzzles but the game's sometimes awkward controls, generic story line, and lack luster multi-player just can't compete with the big budget Halo's out there.
For 1 to 4 players
Rated (T) for Teen
graphics: 9
sound: 7
gameplay: 8
Find Metroid Prime 2 on eBay here!

GameCube reviews N to S > >

All reviews are by StarSoldier1 unless noted.