DVD EXTRAS: It's been a long 5 years hasn't it? In this little extras area here, I'm taking a special look back at our website and you can also look at the StarSoldier's scary game collection (or Room of Doom as it is known in Tips and Tricks magazines) too. The files are pretty large so the pics may take a while to load:

My Collection: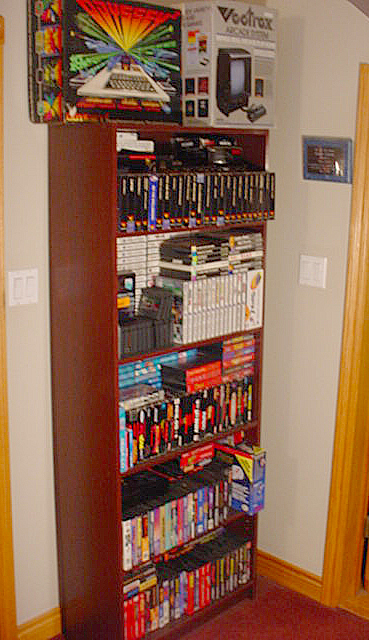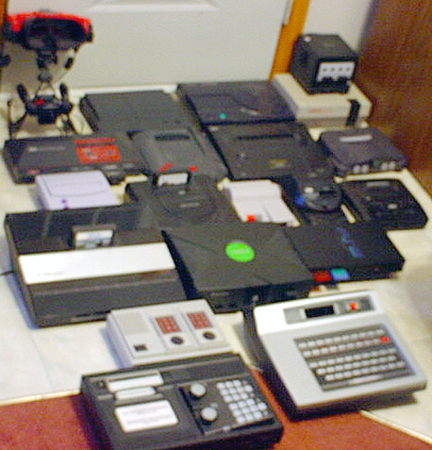 OLD DESIGNS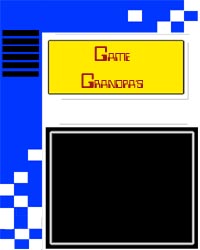 Here is an early beta design that I submitted to my friend Sheldon Purkiss to see if we could actually pull this video game site off. He then showed me what I could and could not do with the designs because if you place too much detail on the pages, you may have problems with some slow loading times. We definitely made a lot of other changes too especially since we had problems with the codes links on the left side. I think the problems came when we were originally on the free FortuneCity.com site for hosting (something I didn't understand back then) and certain codes didn't mix well with their codes. It was very frustrating but we got through it and most importantly the site survived.




Sheldon also created this new professional style logo exclusively for the site. Since he was an expert at Photoshop you'll notice right away all of the cool effects here like transparencies, lighting, slick design in this banner. This logo was used for the first few years.




About a year ago I changed the main logo to a simpler design to go with the site's newer red look. I create this one myself and believe me; Photoshop isn't as easy as it looks! Sheldon told me it was fine but I think he had a good laugh after looking at this one.




Here is the logo I used when I got the new name for the website. Although the fonts are a little hard to see I think it turned out rather well. The whole Black and White also works for a retro gaming site, eh?

Gamegrandpas, lame quote from the past: "Welcome back Sega!" It's safe to say that the Dreamcast is here to stay. -StarSoldier1

OLD TEXT
We have come a long, long way and just to prove that just look at the original Dream weaver text used here. This is a great read because I had different picks in the Top Tens, there are tons of spelling and writing errors still there, and there wasn't as much info. Surprisingly though some things haven't changed at all:
Welcome to GAME GRANDPA'S!! A Video Game Site for all those retro gamers out there that still play games. A videogame grandpa is someone who plays game in their 20's (or older of course) and who'll continue to play till death. We talk about the old days when the Atari 2600 and 8-bit Nintendo were king, and we'll also talk about them fancy newer systems like the Dream cast too. VIDEOGAMES FOREVER!!
Click on one (if you understand this internet stuff)
ATARI 2600
NINTENDO
SEGA MASTER SYSTEM
GAME BOY
LYNX
GAME GEAR
TURBO GRAFX-16
SEGA GENESIS
SUPER NINTENDO
SEGA CD
JAGUAR
3DO
32X
VIRTUAL BOY
SEGA SATURN
SONY PLAYSTATION
NINTENDO 64
THE ATARI 2600(1977-1984) The original king of video games

This is what Game Grandpa is all about! It started with me right here with this machine. As you may know, up here in Canada, you can't find a Atari 2600 VCS (video computer system) in about 95% of game stores here. You are better going to a garage sale or any store that's sell really, REALLY old stuff (but not too old of course) to find your Atari. Or you can buy a Atari 7800 (more power 8-bit system that can play 2600 games) and forget the 2600 altogether. There is another old Atari system called the Atari 5200, but it never caught on, and finding one can be pretty difficult. But enough of the upgrades, let's get back to the 2600. Atari sold over 10million 2600's in the early 80's, and it was cool to have one then, so there's tons still out there. Be careful, it really sucks compared to today's standards. This was the Atari Age 39/100

There are over 300games for the system, here are the most common ones:
ASTERIODS
MISSILE COMMAND
COMBAT
PAC MAN
E.T.
DEFENDER
SPACE INVADERS
DONKEY KONG
These games should only be a DOLLAR or less.
E.T. and Atari PAC MAN were so bad and so overstocked they crashed the Video Game market in 1984. "Thanks a lot Atari!!"

"So what's RARE!"

FROGGER
STAR TREK
EMPIRE STRIKES BACK
TAZ
ALFRED'S CHALLENGE
Top Ten (These games are old but they play pretty good)
MOON PATROL
FROST BITE
FROGGER
MIDNIGHT MAGIC
MS. PAC MAN
MEGA MANIA
DIG DUG
KEYSTONE KAPERS
MISSILE COMMAND
PRESSURE COOKER
Disappointing: SWORD QUEST
Worst: STAR MASTER
Underrated: MOON PATROL
The Atari7800(1986-1989)prosystem is a game machine that has a perfect arcade translations of older games like Ms. Pac Man, and Dig Dug, but also has lousy ports newer titles like Ikari Warriors. The Atari name was poison after the Great Video Game Crash of 1984, so it got hammered by new comer Nintendo. Less than a hundred games were made for this system, and it depresses me to even talk about it, but hey, at least it backward compatible with the 2600games, that alone makes it worth buying. 51/100
Top Ten (Food Fight was good, trust me)
FOOD FIGHT
MS. PAC MAN
DIG DUG
POLE POSITION II
JOUST
GALAGA
ROBOTRON 2084
XEVIOUS
ASTERIODS
CENTIPEDE
Disappointing: KARATEKA
Worst: KARATEKA
Underrated: FOOD FIGHT
THE NINTENDO ENTERTAINMENT SYSTEM(1985-1994) The Video game industry is back and with a vengeance
"HERE IT IS!" The king of 8-bit and the system that put life back into the video game industry. Nintendo (well own for Donkey Kong at the time) created their own video game system in 1983 called the Famicon, but this new system was only in Japan..... so far. The Nintendo President wanted to release the system to North America, but after the Great Video Game Market Crash in 1984, nobody wanted to sell video games here anymore. Nintendo made a deal with famous toy maker Mattel and tested it in 1985, and the rest is history. I still like this system because most of the games are under 5bucks and they still play great. 88/100
There are over 700games for the Nintendo, here are the most common ones to stay away from.
FRIDAY THE 13TH
SUPER MARIO BROS./DUCK HUNT
R.B.I. BASEBALL
JOHN E. QUARTERBACK
DRAGON WARRIOR
BASES LOADED I & II
10YARD FIGHT
Plus here are the rarest Nintendo games to watch out for:
TENGEN'S TETRIS (a black cartridge with a Russian castle in the background)
DRAGON WARRIOR IV
DRAGON WARRIOR III
DRAGON WARRIOR II
DONKEY KONG
PACMAN ( in the gray cartridge)
Top Ten (man, this was a tough one and many great games cannot make it, but here are the ones that did)
THE GUARDIAN LEGEND
SUPER MARIO BROS. 3
ZELDA & II
WARIO WOODS
METROID
CASTLEVANIA III
BIONIC COMMANDO
MEGA MAN II
KIRBY'S ADVENTURE
LIFE FORCE
Disappointing: THE LAST STARFIGHTER
Worst: SILENT SERVICE
Underrated: THE GUARDIAN LEGEND
SEGA MASTER SYSTEM(1986-1991) They ruled the arcades and now they enter the home market for the first time
In 1986, I saw some awesome arcade games at the time. Games like Space Harrier and Out Run blew me away back then and I started to become a SEGA fan. Now out comes this new game system BY SEGA, a 8-bit machine that looked even better than the Nintendo (at least on the screen shots). I was VERY disappointed to find weak arcade translations of After Burner, Space Harrier, and many others which often bored quickly. Sega (like Atari) got hammered by Nintendo. Sega did not give up though, it was cool to see a TWO-PLAYER Double Dragon and a home version of R TYPE (which was released by Nintendo in the arcades, btw) plus we can't forget Phantasy Star, a four meg role playing game that killed any RPG (Role Playing Games for short) for the old Nintendo. Buy a Genesis, then the Master Converter for under 20bucks and avoid the Master system if you can. 58/100
Top Ten (yeah right, as if Phantasy Star wouldn't win)
PHANTASY STAR
GOLVELLIUS
R TYPE
MIRACLE WARRIORS
GOLDEN AXE
ALEX KIDD IN MIRACLE WORLD
GALAXY FORCE
OUT RUN
PSYCHO FOX
CYBORG HUNTER
Disappointing: AFTER BURNER

Worst: GREAT FOOTBALL
Underrated: GOLVELLIUS
Here's the common ones:
HANG ON/SAFARI HUNT
Here's the rarest ones:
ALF
PHANTASY STAR
Y'S
SONIC THE HEDGEHOG (LAST GAME released here)

The REAL NINTENDO GAME BOY(1989-????) was released in 1989 AND IT'S STILL GOING!!
Remember that big bulky white Gameboy with only 4shades of black and white? Remember the 30% smaller Gameboy pocket? Although Nintendo will no longer make these old Gameboys anymore, the Gameboy itself is easily the most successful system of all time. With hits like Tetris, Zelda, and of course Pokemon (we can't forgot all those kids out there) it's no wonder it's selling like crazy. Nintendo isn't stopping there, they making a new 32-bit Gameboy called the Gameboy Advance (maybe?) and yes; it will still play all those old Gameboy games too. So get any Gameboy but don't get over more than one, that's going too far I think. 69/100
Top Ten (Tetris beats out Pokemon, but Pokemon is still strong)
TETRIS DX
ZELDA
POKEMON
SUPER MARIO BROS. DX
SUPER MARIO LAND 2
POKEMON PINBALL
METRIOD II
BIONIC COMMANDO
FINAL FANTASY ADVENTURE
POWER QUEST
Disappointing: MORTAL KOMBAT 4
Worst: DOUBLE DRAGON 3
Underrated: BIONIC COMMANDO
ATARI LYNX(1989-1992,1998-1999) The first colour portable system and it's 16-bit too!
"You can tell Atari is pissed off now!" They released a system far superior to the weak black and white Gameboy, it was called the Atari Lynx. The games looked incredible (they were 16-bit after all) but sadly, there just wasn't enough of them or the big names either to keep it alive in the long run. Also the size of the Lynx is huge, the size of four Gameboy Colour's. Buy one just to see what Ninja Gaiden was like in the arcades. 47/100
Top Ten (I only own a few of these games so some bad ones made the list too)
KLAX
BLUE LIGHTNING
NINJA GAIDEN
MS. PAC MAN
NINJA GAIDEN III
STUN RUNNER
RYGAR
DOUBLE DRAGON
QIX
RAIDEN
Disappointing: KUNG FOOD
Worst: KUNG FOOD
Underrated: NINJA GAIDEN
SEGA GAME GEAR(1990-1996) The portable Master system
Sega said "Me too!" Sega made it easy for themselves and used the Master system engine, which would explain all remakes. The games looked way better than their rival Gameboy, just look at hits like Mortal Kombat, Mega Man, and Pac Man. Unfortunately the Game Gear lost support when Sega focused they efforts on their recent system the Sega Saturn... too bad, it could of lasted a lot longer. Think of it as a bigger Gameboy Color. 65/100
Top Ten (SHINING FORCE, SHINING FORCE!!)
SHINING FORCE
MEGA MAN
BUBBLE BOBBLE
MR. ROBOTNIX
BUST A MOVE
SONIC THE HEDGEHOG
MS. PAC MAN
SHINOBI
SUPER COLUMNS
STAR WARS
Disappointing: SONIC DRIFT 2
Worst: NIKKI
Underrated: DR. ROBOTNIK
NEC'S TURBOGRAFX-16(1989-1993) The best looking 8-bit ever, just not 16-bit
NEC's PC Engine was a huge hit in Japan and it came to North America as the TurboGrafx-16, even though it was in reality it was just a 8-bit system with two processors. This helped to shorten the life of underrated little system. The TurboGrafx (turbo for short) had tons of shooters like Blazing Lazers, and some of them you won't find anywhere else. If you're lucky, you may also find a TurboGrafx-16CD add on, the first CD-ROM game system ever. Even better than that was the TurboDuo, a 3in1 game system that played turbochip cards, turboCD's, and SuperCD's for the system itself. I like the Turbo enough to give it a passing grade but I don't like how hard it is to find the games now today. Some of the TurboDuo SuperCDgames are even rarer. 55/100

Common:
KEITH COURAGE

Rare:
BEYOND SHADOWGATE SCD
JOHN MADDEN SCD
FIGHTING STREET CD
MILITARY MADNESS
BOMBERMAN '93
Top Ten (even if you don't care)
MILITARY MADNESS
BOMBER MAN '93
BONK'S REVENGE
SUPER STAR SOLDIER
R TYPE
LEGENDARY AXE
NINJA SPIRIT
AERO BLASTERS
BLAZING LAZERS
PARASOL STARS
Disappointing: DARKWING DUCK
Worst: FALCON
Underrated: VEIGUS:TG

SEGA GENESIS(1989-1998) A true 16-bit system enters the market and the Nintendo finally has some real completion
I didn't like this system at first, because it killed off the my TurboGrafx. I bought one off my cousin and I still didn't like it (maybe it was the games I had). Then Phantasy Star 4 was for sale. I started playing this system non-stop for weeks into I finally started to like this machine. The things I hate about this system is for one the sound, the Genesis just can't do voices, plus the colours suck too sometimes. But the good definitely out way the bad, thanks to all those games (over 500). The Genesis is a very smart buy now because of all the great games you can get, cheap! "Welcome to the next level!" 78/100

Most common, store owners beware!:

ALL SPORTS GAMES
SONIC 2
SUBTERRIANIA

The hard to find ones:
WARSONG
HERZOG ZWEI
PHANTASY STAR 2
Top Ten (Phantasy Star Conquers again)
PHANTASY STAR II
SHINING FORCE II
PHANTASY STAR IV
SONIC & KNUCKLES
STRIDER
REVENGE OF SHINOBI
STREETS OF RAGE
MYSTIC DEFENDER
SAGAIA
GUNSTAR HEROES
Disappointing: DOUBLE DRAGON 3
Worst: ROAR OF THE BEAST
Underrated: MYSTIC DEFENDER
NINTENDO'S SUPER NINTENDO(1991-1998) Another 16-bit system but with more stuff
The Super Nintendo looked amazing when it first came out, the "Mode 7" blew me away! The way Super Mario World has that cool pixel fade in to the scaling effects in Politwings. I was sold on this new Nintendo. "This system is one of my all time favorites!" Any down sides? Well, some games have been known to slow down when the action gets too heavy (Super R TYPE for example) Still one great 16-bit system. 89/100

Common:

ALL SPORTS GAMES

Rare:

FINAL FANTASY III
OGRE BATTLE
EARTHBOUND
MEGA MAN 7
BOBBY'S WORLD
Top Ten (no surprises here)
ZELDA
FF 3
DONKEY KONG COUNTRY 2
WARIO WOODS
CHRONO TRIGGER
SUPER MARIO WORLD
SUPER METROID
SUPER PUNCH OUT!!
SUPER BOMBERMAN 2
MYSTICAL NINJA

Disappointing: NHL 95
Worst: PIT FIGHTER
Underrated: GRADIUS III
SEGA'S SEGA CD(1991-1995) The first successful CD add on
SegaCD, when it was first introduced, it sold out completely and the gaming world embraced this new little add on well. It's no wonder, the games looks like the best dam games ever because of the FMV (Full Motion Video). But sadly these FMV games didn't play very well and people started to lose interest.... fast. Remember you have to own a Genesis if you want the SegaCD to work, but not if you get the SegaCDX. 53/100

Common:
80% of them

Rare:
LUNAR II
POPFULMAIL
SHINING FORCE CD
Top Ten (I haven't played Lunar 2 and I didn't like Lunar 1 all that much either, so Sonic rules)
SONIC CD
SHINING FORCE CD
POPFULMAIL
SNATCHER
EARTHWORM JIM CD
SLIPHEED
VAY
LUNAR
FINAL FIGHT CD
LORDS OF THUNDER
Disappointing: TIME GAL
Worst: SEWER SHARK
Underrated: REVENGERS OF VENGEANCE

ATARI'S JAGUAR(1993-1996,1998) The first 64-bit system.... just not a very good one
Atari's final entry in the console gaming market was the Jaguar, a 64-bit system with 16-bit like graphics. The main reason this system failed is because of the lack of software, owners would go months without a new game. Because of its low sales this system is more of a collectors item for video gamers. 36/100
Top Ten (Tempest just beats out Rayman. Remember that I only own 12 Jaguar games, so some crappy ones make the list too)
TEMPEST 2000
RAYMAN
CANNON FOLDER
RAIDEN
CYBERMORPH
ALIEN VS. PREDATOR
DOOM
WOLFENSTIEN 3D
KASUMI NINJA
TREVOR MCFUR
Disappointing: DINO DUDES
Worst: DRAGON
Underrated: ???????
PANASONIC'S 3DO(1993-1996) A VERY strong system with movie like graphics and a scary price
"THIS SYSTEM WAS 1GRAND!!!" I'm not kidding here, the first time I saw this thing in real life it looked good, but not a thousand bucks good. Let me explain; this is Canada, and that alone nearly doubles the price, plus their are not too many of these 3DO's going around, so it was mainly aimed for the rich. I finally got one when it was at death's door for a hundred and I still think I got ripped off. If there one cool thing about this system, it's the fact you can use the 3DO connection wires for the Playstation (the older model anyway) too and vice versa. Avoid this now outdated piece of hardware. 21/100
Top Ten (what can I say, I like Samurai Shodown)
SAMURAI SHODOWN
TWISTED
SUPER STREET FIGHTER II TURBO
ROAD RASH
REBEL ASSAULT
GEX
RETURN FIRE
GUARDIAN WAR
DEMOLITION MAN
DENNIS MILLER
Disappointing: STAR BLADE
Worst: ALL NON-GAMES
Underrated: TWISTED
SEGA'S 32X(1994-1995) Supercharge your Genesis into CRAP!
My least favorite cartridge system simply because its too confusing to operate. You got a bunch of wires and connecters with the system itself, and you better have a few hours free because it's gonna take while to set up to your Genesis. "It just isn't worth it", there are better 32-bit systems out there 'that's for sure!'. Put it up if you're only getting it cheap and if you are serious about videogame collecting. 25/100
Top Ten (Knuckles goes it alone here)
KNUCKLES CHAOTIX
VIRTUAL FIGHTER
AFTER BURNER
BLACKTHRONE
SPACE HARRIER
VIRTUAL RACING DX
PRIMAL RAGE
MORTAL KOMBAT
COSMIC CARNAGE
STAR WARS ARCADE
Disappointing: METAL HEAD
Worst: MOTO CROSS
Underrated: AFTER BURNER
NINTENDO'S VIRTUAL BOY(1995-1996) A good idea.... at least
Poor Nintendo, they can't all be winners. For most of you guys out there who don't know what a Virtual Boy is (who could blame you) here what it was. A portable but bulky virtual headset that displays 3D images using a 16,32-bit engine, but only uses the colour red which could lead to sore eyes after a hour of playing it. Only 14 games were released over here, but Japanese games will still play on it. It was sad to see this one go. Buy this system just for the experience. 50/100
Top Ten (remember to stop playing after a hour)
GALACTIC PINBALL
WARIO LAND
PANIC BOMBER
V-TETRIS
VERTICAL FORCE
JACK BROS.
RED ALARM
MARIO TENNIS
NESTER FUNKY BOWLING
MARIO CLASH
Disappointing: MARIO CLASH
Worst: BASEBALL
Underrated: GALACTIC PINBALL
SEGA SATURN(1995-1998) Enter the next generation wars
"Daddy! why does it have to die?" Remember when this system was still on the market? The Saturn got killed by a lot of things: N64, Playstation, lack of faint in Sega (32X, Sega CD anyone?), and a weak 3Dengine just to name a few. In its run the Saturn had some pretty good Role Playing Games like Panzer Dragoon Saga, and 2Dgames like Shinobi Legions. Now is the time to buy, because it's getting harder and harder to find these games in the discount bins. 67/100

Common:

VIRTUA FIGHTER I & II
VIRTUA COP
DAYTONA USA

Rare:

PANZER DRAGOON SAGA
SHINING FORCE III
SONIC JAM
Top Ten (good luck finding most of these)
PANZER DRAGOON SAGA
SHINING FORCE III
SATURN BOMBERMAN
SONIC R
FIGHTERS MEGAMIX
SONIC JAM
TETRIS PLUS
DAYTONA USA
BUST A MOVE 2X
STREET FIGHTER ALPHA 2
Disappointing: MR. BONES
Worst: TOSHINDEN URA

Underrated: SONIC R/ SATURN GAMES IN GENERAL
SONY PLAYSTATION(1995-????) Sony knows there stuff
This system was suppose to be the Super Nintendo CD add on, then Nintendo didn't want it anymore after the falling sales of SegaCD. Sony just released the Playstation themselves in 1994 in Japan, marketing it has a powerful 3D system. As the Playstation grew so did the support. Big companies like Capcom, Konami, and of course Namco only released their best games. After Square released Final Fantasy 7 there was no stopping the Playstation. It's 1999 and the PS is still on fire plus it still has a few years left in it, making it a smart buy, hmmm....maybe next year we can see a original Crash game. 80/100
GOOD POINTS
*TONS OF GAMES IN ALL CATEGORIES
*CD'S HAVE WAY MORE MEMORY THEN CARTRIDGES
*MANY FAMOUS DEVELOPERS (I.E. SQUARE, NAMCO)
*CHEAP PRICES FOR MANY GAMES (10-80bucks, LUNAR is 80 btw)
*NOT TOO MANY FMV GAMES
BAD POINTS

*LOADING TIMES CAN BE A LONG WAIT IN SOME GAMES
*SOME WEAK 2D FEATURES
*LOTS OF SEQUELS WITH LITTLE IMPROVEMENTS (I.E. TOMB RAIDER III)

Common:

Any sport games from past years
LOADED
RIDGE RACER

Rare:

DRAGON BALLZ GT
THE RAIDEN PROJECT
BATMAN FOREVER
Top Ten ( Final Fantasy 7 conquers all, while FF8 does not even make the list)
FFVII
CASTLEVANIA SOTN
SOUL BLADE
NECTARIS
STREET FIGHTER ALPHA 3
TEKKEN 3
GRAN TURISMO 2
PARAPPA THE RAPPER
R TYPES
RAIDEN PROJECT
Disappointing: WCW THUNDER
Worst: SAMURAI SHODOWN 3
Underrated: NECTARIS
NINTENDO's NINTENDO 64(1996-????) 64-bit muscle with nintendo power
When the Nintendo 64 was released in Japan, it was the fastest selling system ever, but it lacked games in the coming months and the Japanese forgot this system when FF 7 was released for the PS. In just three months, Nintendo releases the N64 over here, but it's a different story this time. Super Mario 64 wowed everybody and many American Companies (Midway, Lucas Arts) released games for the N64 which kept it alive and selling sometimes better than the rival PS. The N64 still got hurt by massive delays, Zelda was suppose to come out summer1997 not fall 1998, and this year is no exception, Perfect Dark is now coming out April 11 2000 (don't hold your breath) NOT December 9, 1999. Despites some flaws you won't find better 3D games anywhere else, the N64 kicks ass in that department. 82/100
GOOD POINTS
*NO LOADING TIMES (EXCEPT IN DUAL HEROES AND WIPEOUT 64)
*LOTS OF MULTI-PLAYER GAMES
*ORIGINAL CONTROLLER

BAD POINTS
*LACK OF SUPPORT FROM MANY JAPANESE DEVELOPERS
*EXPENSIVE GAMES (20-115, I saw WARGODS for $115 at some places btw. I'm not kidding here.)
*NOT COMPATIBLE WITH OLDER NINTENDO SYSTEMS
Top Ten (look at this list.... are you surprised at all?)
ZELDA: OCARINA OF TIME
DONKEY KONG 64
BANJO-KAZOOIE
SUPER MARIO 64
STAR FOX 64
SUPER SMASH BROS.
TETRISPHERE
CASTLEVANIA: LEGACY OF DARKNESS
STAR SOLDIER
DIDDY KONG RACING
Disappointing: KNIFE EDGE
Worst: AERO FIGHTERS
Underrated: STARSOLDIER
SEGA DREAMCAST Sega tries again
"Welcome back Sega!" It's safe to say that the Dreamcast is here to stay. Sonic Adventure, Soul Calibur, and NFL Y2K were all huge hits and that free modem is cool too (the PS2 won't have that feature). It's too expensive right now (three hundred is a little high) but next year for sure. I can't wait for the new Phantasy Star game and I also wanna try Shenmue too. If you have the cash, 'go for it!' 75/100
SONY PLAYSTATION 2 A DVD powerhouse
Sony's on a roll, and their ready to crush the completion again with the PS2. The PS2 is a DVD player, a Playstation, and most importantly a powerful new 3D system that uses something called the Emotion Engine. The downside? THE PRICE it gonna cost around $400-$550 Canadian when it comes out September 2000, so it better be worth it. The games I want the most are Gradius III & IV, Ridge Racer V, and Tekken Tag Tournament.
NINTENDO'S DOLPHIN?? It's 128-bit and that all they're telling us
It's a wait and see thing with the next Nintendo. No games previewed, no designs given, no nothin. We do know that it's compatible with the up coming Gameboy Advance, but not the N64 (that's pretty dumb, isn't it).

MATTEL WONDERSWAN a new spin on black and white
Already out in Japan, this new portable unit is starting to make a name for itself even though it's still black and white. Mattel has already bought the rights to release it over here and we should finally see what all the fuss is about.

Thanks for looking!