PHANTASY STAR IV: The end of the Millennium
(Sega, 1994)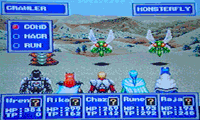 Phantasy Star 4 takes place a thousand years after the events of Phantasy Star 3. Dark Force returns yet again to suck the life from the Algo star system but there is now a even more powerful Demon at work that leads the deadly assault to control the balance of power in the universe. If you manage to finish the game then you also close the chapter on the Phantasy Star series because this is suppose to be the last official PS game according to Sega (the newer Phantasy Star Online games don't count because they are more spin offs than sequels).

You help Hunters Chaz Ashley (the rookie swordsman) and Ayls Brangwin (the veteran slasher thrower) on a mission to kill any monsters for cash in this huge 24 meg game. Things get more serious for the two when they meet others like Rika, Wren, and Rune who want to help you to get rid of the multiple creatures and you soon discover that something's very big is behind all these troubles and you're the only ones who could stop the evil.

Phantasy Star 4 plays more like the critically acclaimed Phantasy Star 2 rather than the last prequel Phantasy Star 3. Although part 3 was a good game, many felt it was too slow and sometimes those battle scenes looked a little goofy, so Sega switched back to the series classic feel instead. I just wish that Sega would have added more originality into the character development because Rika looks a lot like Nei, Wren looks like Rolf, Ayls looks like Anne and so on, even parts of the story are very similar too but I don't wanna spoil too much for ya.

Sega thought of everything to make this the best playing and easiest to control of the series. Like Phantasy Star 3 you can have 5 playable characters at once and you can see the backs of your heroes like in Phantasy Star 2 so you get the best of both worlds. A nice new feature to save time includes a option for 8 programmable set of attacks that you can custom to avoid going through a lot of menus in battles. The controls and menus are still enough that you don't even need this but it's still a great feature. Another new feature to the series is that some characters can perform at random combo attacks to do some additional damage.

Despite Final Fantasy II & III larger budgets, Phantasy Star 4 still looks better than those games in my opinion. Why? Your characters aren't super deformed for one and that's before the Final Fantasy games ditched the whole cute look! The enemies also animate during the battle scenes and they even have a unique terrain backgrounds behind them which really brings the game to life. I also noticed the amazing amount of detail almost everywhere I went.

The sound however wasn't as impressive as the graphics though and my Genesis's questionable audio raises it's ugly head once again. Although the music is fitting for the game with it's unique battle music, dungeon room tracks, and much more, it's also sounds fairly sratchy at times too unfortunately.

Overall Phantasy Star 4 is too similar to part 2 with very few enhancements so it kinda hurts this game a little, plus I felt that the character development was a little weak especially for the main figures like Chaz and Rika. I still really enjoyed playing this awesome game from beginning to end and I still wanted more after the game was finally completed. The graphics were awesome, the music was still good, the battles were fun, the game was never too slow, and there were even cameos and info from past games of the series which was great for me because I played them all. Phantasy Star 4 the end of the Millennium is still a great RPG that you still shouldn't miss if your looking for a exciting RPG for the Sega Genesis.

Conclusion:




*Battery

back up game saves up to 3 files!

PHANTASY STAR IV
overall rating: 92/100


For 1 player only
graphics: 8/10
sound: 7/10
gameplay: 9/10



-StarSoldier1

(Ryan Genno) 2007





See the other Games of the Month