SECRET CITY: Genesis Codes
AFTER BURNER II
Contiune:
Press Left, Left, Left, B, B, B, C, C, C, and Start at the title screen.
GUNSTAR HEROES
Best weapon:
Combine the Chaser weapon and Lightning weapon to create a cool and very powerful homing laser weapon.

LIGHTNING FORCE
99 lives:
Press and hold A then press Start during the intro and title screen. When you go to the menu screen select 0 instead of 5 and then start the game and you should now have 99 lives.
MORTAL KOMBAT
Here's the Genesis blood code: ABACABB at opening code screen.
Liu Kang fatality:
Spinning double kick
can be done from any distance
360 degree spin (can use the Block to stop from jumping)
Johnny Cage fatality:
Uppercut the head off there body
Close distance
Forward, Forward, Forward, and High Punch
Kano fatality:
Rip out the heart
Close distance
Back, Back, and Low Punch
Raiden fatality:
Lightning destroys head
Close distance
Forward, Back, Back, Back, and High Punch
Scorpion fatality:
Your fired!
Stand about sweeping distance
hold Block then press Up, Up
Sub-Zero fatality:
Pull out the head and spine
Close distance
Forward, Down, Forward, and High Punch
Sonya fatality:
Kiss of death
Far away
Forward, Forward, Back, Back, and Block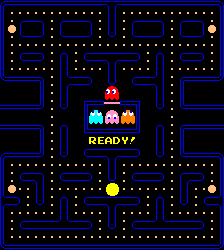 PAC MAN 2: the New Adventures
Pac Man password: PCMNORG
Pac Man Jr. password: PCJRDPW
SHADOW DANCER
Three 1ups:
At the bonus stages, kill all 50 ninjas and you'll earn three lives. This should be easier if you stay to the left and keep shooting.

SONIC THE HEDGEHOG 3
Debug menu:
On the Sonic zooming 3D intro QUICKLY press Up, Up, Down, Down, Up, Up, Up, Up. A small chime will sound if it worked.
SPLATTER HOUSE 2
Passwords:
Level 2: EDK NAI ZOL LDL
Level 3: IDO GEM IAL LDL
Level 4: ADE XOE ZOL OME
Level 5: EFH VEI RAG ORD
Level 6: ADE NAI WRA LKA
Level 7: EFH XOE IAL LDL
Level 8: EDK VEI IAL LDL
SPLATTER HOUSE 3
Passwords:
Level 2: REISOR
Level 3: ETLBUD
Level 4: TEKROH
Level 5: ELPOEB
Level 6: LILITH
Level X: GOFMTS

The REVENGE OF SHINOBI
Unlimited Shurikens:
On the Option screen change the shuriken numbers to 00 and wait for about a minute and it should change to a infinity symbol <><> and when you start the game you'll have unlimited throwing knives.
More Lives:
On Stage 4-2, there is a 2up hidden right under the first conveyer belt, just use your air multi-knife strike. Even though you have to die to get the 2up, this is still a great way to earn some extra lives.

TWIN COBRA
More Power:
Pause your current game and press Up, Down, Right, Left, and Hold down the A button then unpause to increase your main weapon.
8 Bombs:
Pause your current game and press Up, Down, Right, Left, and Hold down the B button then unpause to increase your bombs.
Repeat these codes whenever you like.