SECRET CITY 8-bit NINTENDO (NES)
1943: the battle of Midway
level 23 password: TY19U

BIONIC COMMANDO
BC is sure a tough game so here is some help on your rescue mission:
The Red Communicator works on stages 1, 4, and 5
The Green Communicator works on stages 2, 3, and 6
The Blue Communicator works on stages 8, 7, and 9
The Orange Communicator works on stages 10, 11, and 12
Destroy the gate on Stage 6 with the Bazooka (found on stage 5)
Destroy the gate on Stage 9 with the 3way Flame Thrower (found on stage 7)
Don't forget to pick up Silver Eagles during the overhead green Convoy scenes, these are easy Continues!
You can get the Machine Gun from Area 17 by talking to Destroy-3 and answering Yes to his question. Just ignore the first two Destroyers and answer No to there questions, they are just lying to you.
Always go into the communication rooms. If you don't get all the information from these special rooms then some of the Boss room maybe closed when you reach them.
If you're stuck in a level use the quick escape by holding B, A, Select, and then Start.
BLASTER MASTER
The original Blaster Master is easily one of the hardest games out there for NES. Don't worry though, it is beatable.
If you hold down the A button while firing in the overhead mode you'll be able to strafe and shoot.
Kill bosses 2,4,6,7 easily by using a bomb and then quickly pause it while the creature it is flashing. Wait aboot 30-45seconds and it should be finished. Everybody should know this trick by now.
Kill boss #1 easily: Just use your bombs and not your gun, stay inside it's ring. Kill it before it has a chance to hit you.
Kill boss #3: Use the fully powered gun this time and stay far away from them. The first batch appear near the top.
Kill boss #5: Don't fight this crab WITHOUT a fully powered gun. Stay at the bottom center of the screen and just shoot it from a distance.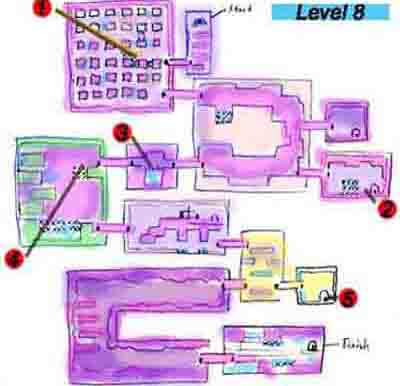 LEVEL 8 of Blaster Master is pretty dam tough, so I drew a map! Numbers 1 though 5 give some hints.
1. SHORTCUT! Drive straight and fall though the set of spikes. You'll lose 2 points of health but you'll save lots of time and hassle.
2. If you go inside this room you'll have a chance to get some 'Hover' power ups. It is important for the spot with the 3 on it.
3. Use Hover to get across from this bed of spikes. It should take about 3 to 4 units of Hover power.
4. ANOTHER SHORTCUT! Jump though to the first set of spikes and land at the exit door.
5. If you enter this room you'll get Gun power ups. Just re-enter to get full power if you need it.
Kill boss #8A: Kill the guardian boss (the one on the game cover) by using bombs on it's head when the bouncing orbs are safely at the side.
Kill boss #8B: To kill this powerful gold soldier with the whip, you'll need to lure him to the right wall so that he now can't whip you from a angle. Continue to bomb him like crazy while just standing right under him or it may not work. Good luck.
CASTLEVANIA III DRACULA'S CURSE
10 lives:
At the name register screen enter your name as HELP ME and you'll start the game with Ten lives.

CONTRA
30 lives:
At the Contra title screen quickly press up, up, down, down, left, right, left, right, B, A, (select for 2players) then start.
DEADLY TOWERS
Ultimate password:
Enter 'EF' or 'FE' as the first letters and you'll be fully powered up! You can now go to the far right gate (it should now be open) and finish the final level.
DR MARIO
Reset the game:
During any game Press Select, Start, B, A at the same time to reset the game from the controller.
FINAL FANTASY
Secret game:
If you're in the Airship at any time during the game Press and hold A and then press B 55times. Finish the game and you'll earn a 100gil.
FLYING DRAGON
World Tournament code:
B A A A
GHOST N' GOBLINS
Level select:
At the title screen hit and hold Right and press B three times, Hold Up and press B three times, Hold Left and press B three times, and Hold Down and press B three times.
GRADIUS
Power up code:
Pause the game and press Up, Up, Down, Down, Left, Right, Left, Right, B, A then Start.
Warp a Level:
Kill the boss in or under 5seconds to skip a level, this is easier to do with the laser weapon.


GUARDIAN LEGEND
GO TO THE COMPLETE GUILD FOR THIS GAME
END PASSWORD!
hWml ju0m mqmm pQKk
sGnM SSv5 r2uc rZfP
This code gives 21 units of health, 4 guns, 7 seven, all weapon upgrades, and 222 EE bombs.
SOUND TEST:
Hold down A and B before you turn on the game.
SHOOTER LEVELS ONLY:
Enter password: Simply enter TGL and then pick end.
GUN NAC
Stage Select:
Go to the Config menu and then go to the Sound Test and select 05. After that then go to Area and now you can pick a level by pressing Left and Right.
GYROMITE
Game Genie Codes:
SUZAAI Infinite lives
ZEAAUS Slow down timer
PEUAGLIA Start with 1 life
ZEUAGLIE Start with 10 lives
GOUAGLIA Start with 20 lives
GYRUSS
30 Lives:
At the title screen press A, B, Right, Left, Right, Left, Down, Down, Up, Up.
KID ICARUS
Full Power Password:
DANGER TERROR HORROR !!!!!!
LEGEND OF ZELDA
Play the second quest from the start:
Enter your name has ZELDA to play an altered version of the original game with Dungeons and maps in different areas, also know as the second quest.
LEGEND OF ZELDA II: The adventures of LINK
The four secret Heart containers:
The first one is easy to find because it right below the first palace in a small grass area by the mountains.
The second one is a cave blocked by a boulder just past the swamp area, you need a Hammer to destroy a boulder.
The next one is the most tricky one to find because it's in the water by the 5th Palace. You need the special Boots found in the 4th Palace to walk on water then walk on the path that leads straight to the 5th Palace but half way through you can go up an invisible walkway to the 3rd Heart.
The final Heart is on the South-East shore line just across to the right from the secret 6th Palace.
Kill the Giant Falcon:
The second last boss in the Final Palace can only be killed by using the Thunder Spell and then hitting it in the head. Be careful, with each strike the fireballs get more intense. If you don't have enough magic then try and break the bricks to the left just before the boss room to either get a red potion or a Red Falcon enemy.

LIFE FORCE
30 lives
At the Life Force title screen press up, up, down, down, left, right, left, right, B, A, (select for 2players) then start. look familiar??
LOLO
Final password:
Stage 10-3: D Z V Y.
LOLO 2
Final password:
Stage 10-5: V H T K.
MEGA MAN
Kill the bosses:
You can do a lot more damage to your opponent if pause your game (use select) just as the weapon hits the target, use this trick with the weapons Electric and Fire.
CUTMAN: Use two GUTS POWER BLOCKS
BOMBMAN: Use FIRE SHOT
FIREMAN: Use ICE BLAST
GUTSMAN: Use three BOMBS
ICEMAN: Use three ELECTRIC blasts
ELECMAN: Use three CUT BLADES
GIANT MUDMAN: Use ELECTIC SHOCK and the pause trick on it's eye. Study it's pattern and time your jumps carefully.
COPYCAT MEGA MAN: Use ELECTRIC SHOCK and the pause trick. Be sure to nail him if he jumps too high.
BUBBLE BOSSES: Use your normal gun to take out the first three then use GUTS POWER for the last ones.
DR WILY: Use the ELECTIC SHOCK and the pause trick on both versions. Try to time his shots so they go right over your head on the second part.

MEGA MAN II
If you pause your game and then non pause it, you'll be invincible for a few seconds, which is great when you're fighting the vicious Multi-Guns Boss on the 4th stage of the Dr. Wily levels.
| | |
| --- | --- |
| METAL MAN | Use QUICK |
| WOOD MAN | Use ONE FULL POWER HEAT SHOT |
| AIR MAN | Use LEAF SHIELD |
| CLASH MAN | Use AIR |
| BUBBLE MAN | Use METAL |
| FLASH MAN | Use CLASH |
| QUICK MAN | Use FLASH And then NORMAL WEAPON |
| HEAT MAN | Use BUBBLE LEAD |
| ROBO DRAGON | USE QUICK on the head, and stand on the top platform. |
| GATE WALL | Use QUICK or METAL |
| GUTS DOZER | Use QUICK on the face. |
| MULTI GUNS | Use CLASH AND #3 and #1 Destroy a gate only if you absolutely need to. |
| DR. WILY SHIP | Use HEAT and then use CLASH and Normal on his second form. |
| ALIEN WILY | Use BUBBLE LEAD |
MEGA MAN III
Kill the Bosses:
Snake Man: Use Needles
Gemini Man: Use Snake
Top Man: Use Hard Punch
Needle Man: Use Gemini Laser
Magnet Man: Use Spark shot
Shadow Man: Use TopSpin
Shock Man: Use Shadow Star
Hard Man: Use Magnets
Robot Turtles: Use TopSpin
Giant MudMan: Use Hard Punch on it's eye.
Fake Mega Men: Use Needles on the real clone of the Mega Men as it appears.
Dr. Wily: Use Hard Punch on the super gun then use either Normal or Gemini for Part II.
Final Giant Ape Dr. Wily: Use Shadow on the first head then use Search snake after climbing the right fist to the top platform then go for the head.
MEGA MAN IV
| | |
| --- | --- |
| Bright Man | Use Toad |
| Ring Man | Use Pharaoh |
| Toad Man | Use Drill |
| Skull Man | Use Dust |
| Dive Man | Use Skull |
| Dust Man | Use Ring |
| Pharaoh Man | Use Bright |
| Drill Man | Use Dive Missile |
| Drill Truck Boss | Use Ring |
| Triple layer Base | Use Dust |
| Twin Walkers | Use Dust or Normal for the first one then use Dive missiles for the second. |
| Dr. Crossack | Use Dust |
| Giant Construct Bot | Use Ring |
| Giant Bomber | Use Ring |
| Dr. Wily Flying Skull Base | Use Ring and stay right under it's mouth to avoid the fireballs. Now on Part II use a full powered Mega Buster shot on the lens. |
| Final Wily | Use a full powered Pharaoh shot but you don't have to fire it because Wily will hit it himself sometimes as he reappears. |
MEGA MAN V
Kill the bosses:
Gyro Man: Use Gravity then Normal shots
Wave Man: Use Charge Kick
Star Man: Use Wave or Normal
Stone Man: Use Napalm bombs
Charge Man: Use Power Stones
Napalm Man: Use Crystal ball
Gravity Man: Use Star Shield
Crystal Man: Use Gyro blades
Tank Bot: Use Wave
Shield Bot: Use Napalm
Cannon Bot: Use Crystal and Star to shield yourself from its freeze attack.
Pnoto Bot: Use Beat
Spike Tower: Use Crystal on the head.
Shielded Gate: Use Gyro blades
Dr. Wily: Use the Mega Buster
Skull Base: Napalm and the first part and use Beat on the second.
MEGA MAN VI
| | |
| --- | --- |
| Tomahawk Man | Use Plant Shield |
| Yamato Man | Use Tomahawk |
| Centaur Man | Use Knight Mace |
| Blizzard Man | Use Flame |
| Flame Man | Use Wind |
| Knight Man | Use Yamato Spear |
| Plant Man | Use Blizzard |
| Wind Man | Use Centaur Flash |
| Twin Panels | Use Mega Punch |
| Rumble Bot | Use Tomahawk |
| Construction Bot Truck | Use Normal because this guy is really weak! |
| Mr. X | Use Flame |
| Giant Dragon | Use Yamato Spear on the head. |
| Moto Bomber | Use Wind on the head and use normal shots on the wheel to move it back if you need to. |
| Dr. Wily Crusher | Use Tomahawk both times. |
| Dr. Wily Space Ship | Use Knight Mace |
METRIOD
Destroy a Metroid
These tricky buggers can only be killed by freezing them with the Ice Beam and blasting them with 5missiles.
Armourless Samus and most weapons and items
enter this password:
JUSTIN BAILEY
------ ------
MILON'S SECRET CASTLE
Continue
After you defeat the first the first boss and get the crystal, you'll be able to contiune your game after you die by holding Left and then hit Start.
RAD RACER
Stage Select:
Start the game and select a car. Now, on the demo screen press B one time less than the course you want (so, for course 5, press Bx4), or press Bx60 if you want to see the ending of the game. Now, hold U+R and press START.
Continue:
After losing a race, hold A and press START to continue.
RAD RACER II
Stage Select:
On title screen, press B one time less than the # of the track you want, then hold U+L and press START.
Continue:
When the title screen reappears, hold A and press START.
STAR SOLDIER
Secret Weapon:
On the title screen, Press on Controller 1: SELECTx10. On Controller 2: press D+R On Controller 1: U+L+A+B and press Controller 1: Start 2times. Now, use SELECT to choose between the five-shot and the laser.
Game Genie Codes:
1: SZOEAPVG-Infinite lives
2: PEOAPPAA-Start with laser
3: GXVPXTVG-Infinite shield power
4: ZAOOOYIE + ZENOGLIE - Double shield power.
SUPER C
10 lives
At the Super C title screen hit Right, Left, Down, Up, A, B, (select for 2players) then Start.
SUPER MARIO BROS. 3
Warp Whistles:
In world 1-3, squat on the first white block (it looks like it has screws in it) until you fall through it. Run to the end of the world, and you will end up BEHIND the background blackness, and you'll find Toad's secret House.
In the world 1 fortress, go to the platform containing a Super Leaf block and a door. Grab the Super Leaf, run, and fly straight up along the wall above this platform. Press right, and you will land on top of the ceiling (out of view). Walk right until you are stopped, then press Up.
On world 2 map, take the hammer and smash the rock in the top right corner of the world map to reveal a secret area. Kill the wandering Hammer Bros. (Fire Bros.) to get the whistle.
In level 3-9 find a white block and do the ducking down trick. Run to the end of the level to another warp whistle.
TETRIS
Mario and other Nintendo characters will make a cameo appearance on Tetris if you're in the Type B game on Level 9, the higher the difficultly, the more characters you'll see.
WORLD RUNNER 3D
CONTINUE:
Hold down A and hit Start at the game over flying dragon screen and you'll start on the last world you died on.