TURBOGRAFX-16 CODES
ADDAMS FAMILY
79 lives:
During the intermission where Gomez says: "Tully my good man, how about a round of golf?" wait for the picture to appear enter U, U, R, D, L, U.

AERO BLASTERS
Extra Credits and Sound Test:
Simply press Right, Right, Right, and Select, Select on the title screen to get these features.
Level Select:
Enter the code above and Press button I 10 times for level 2. Press I once more for every further level you wish to go. After that is done press Select twice, and Run.
BLAZING LAZERS
30 Contnues:
Hold down the Select button before you start a game and when the game starts you'll have 30 extra continues.
Bonus 16 lives and 36 bombs:
If you don't destroy any of the pieces of the first boss eventually the boss will leave and you will be awarded with 16 lives and 36 bombs. You can try this on some other bosses too.
Secret Difficulties:
At the title screen hold down the buttons II, I, and Select. The screen should soon fade into a menu where if you fool around with the buttons a little you can pick from 4 difficulties.
BONK 3: BONK'S BIG ADVENTURE
Debug Menu:
At the Mode Select screen have the heart icon on 'QUIT', press and hold down-left, I and II and then press Run. A secret new menu should appear where you can edit your speed, jump height, and even which level you start on. "Great, the game is even easier now!"

BONK'S REVENGE
Wrap a world:
If you manage to collect 50 or over smiley faces in a world and defeat the level boss. The end level elevator will go all the way to the top to the warp train. If you manage to collect the right amount of smiley faces then Princess Za will wrap you pass one whole level (i.e. if you finish level 1 and got right amount slimey faces then you go directly to World 3). You can't do this trick in levels 6 and 7 obliviously.

DUNGEON EXPLORER
Play as the Princess Password:
JBBNJ
HDCOG
Ultimate Password:
DEBDE
DEBDA
then hold Run and I button.
This password will read has a error but push button II and pick a character and now your character should be maxed out and you can even go through walls or become king if Natas has already taking control.
FIGHTING STREET
High score cheats:
Achieve a high score and input one of the following: ".LK",".AS",".HU",".SD" then allow the coninue timer to run out. To activate your codes at the title screen hold Left ,I,II, press SELECT. The codes will do this:
.LK allows easier use of the special moves. Push pad in direction of enemy and press SELECT to throw a Fireball. Press pad away and press SELECT for Hurricane Kick. Press pad D and towards enemy to do an Dragon Uppercut.
.AS allows stage selection.
.HU gives 7 credits.
.SD does all three of the above!
Not only is this game not much to look at but it's also isn't very easy to control and therefore it's very difficult to pick up a win. There is a little tactic that can really help you though. If you a Turbo controller with a Slow Motion feature, use it and the enemies will barely ever attack you.
GALAGA '90
More power ups:
At the title screen start the game by holding U and pressing RUN. Capsule above ship selection should be red, not blue. At the first level, shoot the last enemy, and it will release a red capsule of the Triple shot ship.
Secret Bonus:
During the Challenge stages don't shoot down any enemies or move and you'll recieve 10, 000 for doing nothing.
GATES OF THUNDER 3 IN 1 SUPER CD
Hidden BOMBERMAN game:
At the screen where you would chose from the usual 3 game press Up, Right, Down, Left, and hit II and now you get the complete version of Turbo Grafx Bomberman.
Level Select:
At the Gate of Thunder title screen press I, II, II, I, Select, I, II, I, II, Select, Select, and finally Run. You should now have a new 'Stage' option.
KEITH COURAGE IN ALPHA ZONES
Debug Menu:
Hold down the Run, Select, II, I buttons on the title srceen and press Up Eight times to go to a secret menu.
Kill the last boss easily:
Before you fall into the lair of the final boss first jump to the left platform. Once on the platform run off it while holding Right on the Dpad. If you did it right the end boss should be frozen in place. Remember to damage the yellow torso to get the job done.
LAST ALERT
Secret Weapons:
You can have bonus weapons at the start of the game if you choose the Continue option at the beginning instead of the usual Start.

LEGENDARY AXE
Extra Contiunes:
Press Right as fast as you can on the Game Over screen before the game tells you how many contiunes you have left and the music fades.

MILITARY MADNESS
Passwords:
1. REVOLT
2. ICARUS
3. CYRANO
4. RAMSEY
5. NEWTON
6. SENECA
7. SABINE
8. ARATUS
9. GALIOS
10. DARWIN
11. PASCAL
12. HALLEY
13. BORMAN
14. APOLLO
15. KAISER
16. NECTOR
SECOND QUEST MISSIONS:
17. MILTON
18. IRAGAN
19. LIPTUS
20. INAKKA
21. TETROS
22. ARBINE
23. RECTOS
24. YEANTA
25. MONOGA
26. ATTAYA
27. DESHTA
28. NEKOSE
29. ERATIN
30. SOLCIS
31. SAGINE
32. WINNER
Sound Test password: ONGUKA
You can also hold down Select to play as the Green army while entering a password.
MONSTER LAIR
Unlimited Continues
Achieve a high score and input one of the following initials 68K while holding down Select. As long the 68K is on the score board then you have unlimited continues believe me for a game this tough you're gonna need them.

RAIDEN
Bonus power ups:
If you lose all your lives and the countdown begins on the contiune screen Press Run when the counter reaches Zero and you'll recieve more power ups when you start a new game.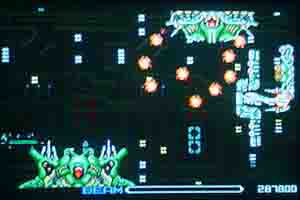 R * TYPE
More Credits:
At the title screen Hold Select and button I (use the top rapid-fire) to increase your credits, the credits will reset if the demo starts before you hit Run.
Defeat the turbo's bonus Boss 6 easily:
Fly into the small gap on the Middle-Right side (pictured) that protect the side piece of the boss. The red lense eye that pops out won't kill you either and it's the perfect place to kill this odd three piece creature fast.
Kill Boss 8:
Shoot your Force unit into Bydo mouth when he starts to shoot another spiral enemy at you. Good Luck!

SPACE HARRIER
3 Contiunes:
At the high score table enter as your initials as CNT. You can continue now if you reach level 7 and beyond.
SUPER STAR SOLDIER
Secret Menu:
Hold down Select + Run and then turn on the system, release then press Left II, Up II, Right II, Down II, Left I, Up I, Right I, Down I, then press II & I at the same time eight times, and finally press Select and I eight times.
Just as a general tip the Green weapon is the best gun in the game because it can burn through everything and its fairly powerful too.

TURRICAN
Invincibility:
At the option screen hit I and II five times and then Run to get some new options.