Down and Dirty Reviews: Wii VC -- N - Z
I love my Wii but sometimes the older stuff can be even better then the newer titles. Super Mario Bros. 3 is still ten times better then Balls of Fury for example! Of course Nintendo also re-releases a lot of duds on the Virtual Console too so be careful and read the reviews just to be warned ahead of time.

Virtual Console- You need to download these games via internet connection in the Wii Shop.

The scores are out of 100.

The graphics, sounds, and game play are out of 10.

Score / Name
44 OPERATION WOLF (Taito, 2008)
*500 points
One of the few light gun games that doesn't require an actually gun but sadly you can't play with the Wii Zapper in this edition so it loses a lot points for that. Operation Wolf is a very tough game has you are lone soldier trying to survive behind enemy lines and where have I heard that before I wonder? Anyway Operation Wolf may be a one trick pony but has a lot of different vehicles and soldiers to shoot at so there is a lot of action here at least.
For 1 player only
graphics: 6
sound: 5
gameplay: 5
Find this game on eBay here!

65 PAC MAN (Namco, 2006)
*500 points
Remember the Pac Man Fever record or the Pac Man Cereal? It's the legendary 1980's Pac Man right here on the NES. Midway's classic from 1980 features a dot eating, round, yellow hero who has to clear the screen of dots of a blue maze but there are 4 multi-coloured ghosts that will try to stop him. Always a great game although it's kind of repetitive since the maze never changes and you are pretty much doing the same till you die. Its still cool to see how far you can get by looking at the fruit at the bottom of the screen and the game does get progressively faster and more intense. Sadly, the game isn't quite arcade perfect since the colours are a bit duller compared to the arcade game but everything is here and it's still a great old school game to have on the 8-bit machine. There are three different versions Pac Man for the NES you can find altogether alone, two are licensed by Nintendo while one isn't. Pac Man may be a simple title but it is still a classic!
For 1 or 2 players
graphics: 4
sound: 5
gameplay: 5
Find this game on eBay here!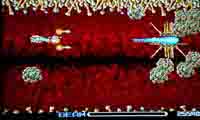 80 R * TYPE (Hudson Soft/Irem, 2006)
*800 points
What the fu#$? OK, normally Turbografx Wii games are 600 points but here is one that's 800. I think I know why this happened though. R Type for the Turbo was one of the larger games for the system so maybe they had to cover the cost of the extra size here. Another reason for the higher price is this was R Type: a freakin awesome shooter, baby! Here is one tough as nails game but it's also one of the best shooters ever made too so don't be afraid to look this up. Each stage is totally different from one another and this the first game to use the Charge Beam weapon by holding down the fire button, a very cool idea! Unlike the Japanese PC Engine counterparts, this game has all 8 stages in it and is a complete 4 meg game too. What makes this shooter so different from the usual is that you have really study the stage carefully if want to survive. R * Type for the turbo is almost arcade perfect and that alone is worth recommendation!
For 1 player only
graphics: 8
sound: 7
gameplay: 9
Find this game on eBay here!

73 R TYPE III The third Lightning (Jaleco/Irem, 1994)
*800 points
To answer the problems of Super R Type, Irem would release a new shooter to the SNES that would fix some of the showdown and balance issues. R Type III now features three different Force Pods to select from and each unit has different attack patterns. It's a very short game with only 6 levels to master but it's still not a easy one so expect another challenging shoot em up.
For 1 or 2 players
graphics: 8
sound: 7
gameplay: 7
Find this game on eBay here!

58 RENEGADE (Taito, January 1988)
*500 points
Before Double Dragon hit the scene there was this old school beat'em up here. The game is simple enough. You help your tough street fighter survive the subways, waterfronts, and more dangerous areas filled with the brutal local gangs and even ladies with purses. Renegade doesn't look or sound too great and a real two player option would have been nice but at least there are tons of people to fight here and you can't go wrong with that.
For 1 or 2 players
graphics: 6
sound: 6
gameplay: 6
Find this game on eBay here!

84 RIVER CITY RANSOM (American Technos Inc., April 2008)
*500 points
The cult and very underrated Final Fight/Double Dragon-like game comes with the option to beat up street thugs and to buy items, books, and food in shops to build your character stats as well. In the game you help teenagers Alex and Ryan save their girlfriend from a tough rival school gang. I would have rated this even higher if I didn't finish it so quickly and if the graphics didn't suck but still this game is loaded with features.
For 1 or 2 players
graphics: 4
sound: 6
gameplay: 9
Find this game on eBay here!

GAME OF THE MONTH COLLECTION!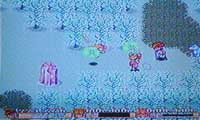 87 SECRET of MANA (Square, Summer 1993)
*800 points
Here's a underrated game! Secret of Mana was quietly released by SquareSoft in the third year of the SNES and the North American market was still a little unsure about RPG's at that moment so it didn't get a lot of attention over here, unfortunately. Secret of Mana is an action/role playing game where you control the destiny of a young man trying to find a mysterious and magical giant tree. I could not stop playing it till I see every new land, hear every rich sound track, got every 8 charging strikes, and learned that secret of mana of course. Mana is a very addictive and it's just a blast to play!
*Uncommon SNES game
*Battery back up game holds four files
For 1 to 3 players
graphics: 7
sound: 9
gameplay: 9
Find this game on eBay here!

78 SIM CITY (Nintendo/Maxis, September 1991)
*800 points
One of the Super Nintendo's launch titles was this Will Wight PC classic here. If you never heard of this game before (where have you been) you are aloud to create your very own town or city from scratch or from various scenarios. Sim City is a addictive strategy game that gives you tons of power to rule everything and the game throws enough problems at you so the game never becomes too easy. Although the game play can get very repetitive, if you are sick of the same old platformers and Street Fighter clones Sim City is a great change of pace.
*Battery back up game
For 1 player only
graphics: 5
sound: 6
gameplay: 8
Find this game on eBay here!

72 SKATE or DIE (Ultra/Electronic Arts, December 2007)
*500 points
Skate or Die the name sounds stupid but the game here let's you compete in many skating events like half pipe, road adventure, or one on one jousting contests in either single or tournaments competitions. Definitely one of the better skateboarding games with some solid graphics and sounds on the NES but the controls take a lot of practice to master.
For 1 or 2 players
graphics: 6
sound: 7
gameplay: 7
Find this game on eBay here!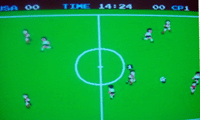 12 SOCCER (Nintendo, 2006)
*500 points
What the hell! Nintendo's first ever Soccer game for the NES is about as bland as it gets thanks to some average looks and slow controls and it has no business being released here on the Wii. Just try passing the ball to another player here for example. If the tiny players and dull play field don't make you stop playing then the annoying looping soundtrack definitely will. I know this is their first try at the sport but there are so many other games Nintendo could have gave us so don't bother protecting your privates for this Soccer. Download this one if you want to torture anyone.
For 1 or 2 players
graphics: 2
sound: 2
gameplay: 2
Find this game on eBay here!

62 SOLOMON'S KEY (Tecmo, 2006)
*500 points
This is prehaps the first puzzle game for the NES that will make you want to pull your hair out. In this adventure you play as a young wizard with the ability to create blocks in order to bypass enemies, get the key, and find the exit. The graphics suck, the music is annoying, but still the game is very challenging and addictive too. Solomon's Key is definitely a good download but not great.
For 1 player only
graphics: 5
sound: 5
gameplay: 5
Find this game on eBay here!

55 STAR SOLDIER (Hudson Soft, 2007)
*500 points
This classic shooting game sure has a cool name, eh? Is it any good you say? Unfortunately, it has its share of problems with it's stupid map overlay system and its rather high difficulty but Star Soldier is still a challenging adventure across 16 levels. Can you fly through dangerous stages in order to destroy the evil Star Brains and save the galaxy? OK, this game may have some big control issues but I love the power up system plus the fast and crazy shooting action as well.
For 1 player only
graphics: 6
sound: 6
gameplay: 6
Find this game on eBay here!

59 STAR TROPICS (Nintendo, 2008)
*500 points
Here is Nintendo's dumb looking RPG/adventure game that just didn't catch on and with good reason. The game features the generic hero Mike Jones and his quest on a remote island to fight off invading aliens. Seriously, that's the plot! The biggest problem with the game is that it has a major identity crisis; it begins as a basic role playing game where you talk to villagers and learn the boring story, then the game shifts to a overhead action game where your main weapon is a lame Yo-yo (they obliviously stole that one from the Goonies II). Star Tropics is definitely not a classic but it's still kind of a fun adventure once you get pass the odd plot and ugly visuals.
For 1 player only
graphics: 4
sound: 4
gameplay: 7
Find this game on eBay here!

74 STREET FIGHTER II TURBO (Capcom, 1993)
*800 pionts
In this 20 meg upgrade to Capcom's one on one fighting hit and it is slightly better now. The four bosses are now playable, there are a few new moves for the original 8 fighters, and the game speed is now adjustable for even faster game play. Other then that the game is exactly the same and some players may not be that impressed. This is fun for a decent week unless you're a true Street Fighter II hard-core nut.
For 1 or 2 players
graphics: 7
sound: 7
gameplay: 8
Find this game on eBay here!

78 SUPER C (Konami, March 1990)
*500 points
This game here is actually the long awaited Contra sequel but in a dumb move by Konami they completely renamed it for whatever reason. What kind of name is Super C? Anyway this game features all new levels and new weapons as well but ultimately the game remains the same run and gun adventure we all know and love but now the graphics and sounds are improved. The old favourites like the Spread weapon and the Laser guns even make their return and there is a new Fire weapon to replace that awkward circle shot as well. Contra is always a excellent two player game and this here is no different.
For 1 or 2 players
graphics: 8
sound: 8
gameplay: 6
Find this game on eBay here!

StarSoldier's Game of the Month!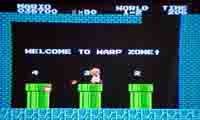 81 SUPER MARIO BROS. (Nintendo, 2006)
*500 points
We've all played this awesome platform game to death back in the 80's haven't we? There is still a reason why so many love this ground breaking action title and many liked how it that changed how we play video games today. The story is simple: help skilled plumbers Mario or Luigi rescue the Princess of the Mushroom Kingdom from the evil King of the Koopas: Bowser. The game is simple platforming action with tons of depth in the level design itself.
For 1 or 2 players
graphics: 6
sound: 6
gameplay: 8
Find this game on eBay here!


78 SUPER MARIO BROS. 2 Mario Madness (Nintendo, 2007)
*500 points
Super Mario Brothers 2 is actually the Japanese game Doki Doki Panic but now the game has Mario sprites instead of the Arabian characters now. The game is a impressive looking and sounding sequel with 4 different characters to choose from including the now playable Toad and Princess Peach. Another new feature to the game is the ability to grab vegetables from the ground and use them on your enemies that range from weird little dudes with masks to giant snakes. The game is a little on the short side with only 7 worlds and limited secrets but it's still a lot of fun and has a fairly cool looking ending too.
For 1 player only
graphics: 8
sound: 8
gameplay: 8
Find this game on eBay here!

StarSoldier's Game of the Month!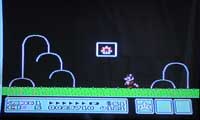 99 SUPER MARIO BROS. 3 (Nintendo, December 2007)
*500 points
Everything humanly possible is improved in this third installment of this mega popular Super Mario series. You get new all weapons and techniques like the Raccoon Tail (which can make you fly), new worlds that are filled with secrets, and there are even some new enemies to worry about as well. In Mario 3 it's your job to rescue all the 7 kingdoms from a powerful spell caused by the 7 rotten Koppa kids and after you're done all that it's then time to go after Bowser himself. It's even a great two player game with a original Mario Bros.-like Battle game included so you could steal your friends cards. The only thing missing in SMB3 is a save option like the Super Nintendo version has in the All Stars Collection. Its still easily one of the top games of 1990 so if you own a NES (or Wii of course) you have to own the easy to get into and very challenging Super Mario Bros. 3!
For 1 or 2 players
graphics: 9
sound: 9
gameplay: 10
Find this game on eBay here!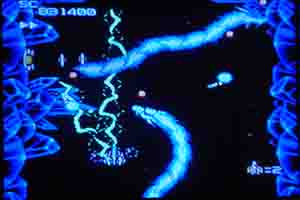 84 SUPER STAR SOLDIER (Hudson soft/Interstate/Kaneko, 2006)
*600 points
Oh ya! One of the first Turbografx games on the Wii is this very intense game where you have to destroy the evil Star Brain empire to save to galaxy. This plays very similar to Compile's popular shoot em up Blazing Lazers but this shooter game is a lot harder of course since there are fewer power ups and more aggressive enemies (wait till you see the nearly impossible end boss here). The graphics are nothing special but it looks very colourful and I also love the game's music here too. Although the game isn't very innovative, if you want more killing and destroying action for the Wii then be sure to look this up.
For 1 player only
graphics: 6
sound: 9
gameplay: 8
Find this game on eBay here!

70 TECMO BOWL (Tecmo, 2006)
*500 points
If you're a football fan than Tecmo Bowl is an excellent choice if you also have a NES or the VC here. Although the graphics are little crude thanks to all the on screen flickers and tiny players, the game is good for both pro or casual football fans thanks to some easy to learn controls, fast game play and tough challenge. This version has no NFL players in the game whatsoever but Tecmo Bowl still plays great.
For 1 or 2 players
graphics: 5
sound: 7
gameplay: 8
Find this game on eBay here!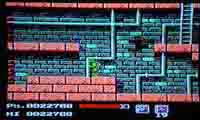 57 TEENAGE MUTANT NINJA TURTLES (Ultra, April 2007)
*600 points
This super challenging platform adventure features the once popular ninja turtles going after the evil Shedder and his minions. Can you turn your Master from a rat back into a human again, you can if you manage to finish this tough 2D NES action game here but that's easier said then done. The original Turtles game has very choppy graphics and often cheap game play but action fans may still like it.
For 1 player only
graphics: 5
sound: 7
gameplay: 7
Find this game on eBay here!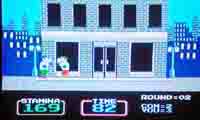 16 URBAN CHAMPION (Nintendo, 2006)
*500 points
Here is a really bad one on one NES fighting game that's very, VERY repetitive. In this one on one beat em up you fight the same guy over and over again until you get tired of doing it. This game provides instant boredom and thankfully this wasn't a big hit for Nintendo. This game is also available on Nintendo's E-reader card system if you want to punish yourself even more.
For 1 or 2 players
graphics: 3
sound: 3
gameplay: 1
Find this game on eBay here!


70 VICTORY RUN (Hudson Soft, 2006)
*600 points
The premier racing title for the Turbografx-16 may not look like much but under the hood is a rather deep racer. First let's talk about the graphics; they suck. They look very chunky compared to Sega's popular Out Run and that game was already a few years old. Other then some familiar looks though, Victory Run has a different and interesting concept. The game play is very difficult because your car can receive damage in five areas and this vehicle must survive the drive down 8 tough levels. This is not your typical arcade style racer: Victory Run is more of a simulation. I'll give some points to Victory Run's originality.
For 1 player only
graphics: 5
sound: 6
gameplay: 8
Find this game on eBay here!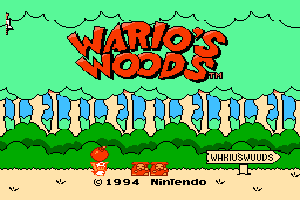 94 WARIO'S WOODS (Nintendo, 2006)
*500 points
Nintendo saved one of their best for last during it's NES era and it is also one of the first on the Wii. Wario's Woods is a awesome platform/puzzle game starring the unlikely hero Toad the Mushroom dude and his evil nemesis Wario that wants to conquer the peaceful forest. Toad must throw around different enemies and bombs to eliminate them from giant trees but you lose if you get crushed from too much junk on screen. The puzzle game has lots of modes for one or two players and each one comes with very addictive game play especially if you like these type of titles. This kind of plays like Tetris Attack, but better in my opinion!
For 1 or 2 players
Rated (E) for Everyone
graphics: 5
sound: 5
gameplay: 9
Find this game on eBay here!

62 WORLD HEROES (SNK/Adk, October 2007)
*900 points
This Neo Geo game was perhaps SNK's first big attempt to cash in on the big Street Fighter II franchise here. This was a standard one on one beat them up where you have two ninjas that are your Ryu and Ken clones plus you get 6 other top fighters from around the world but the kicker here that they from different time periods. World Heroes also features Death Matches where some of the stages are booby trapped so the game did try some innovative ideas. It's not bad but the lack of moves and originality hurts the experience and I recommend the sequels instead.
For 1 or 2 players
graphics: 6
sound: 7
gameplay: 6
Find this game on eBay here!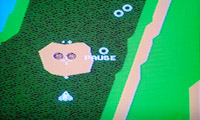 28 XEVIOUS (Bandai/Namco, 2006)
*500 points
OK, who is the idiot that wanted to play this NES title again? Xevious is a very simple arcade shooter where you can shoot enemies down from the sky and ground. In the game you pilot the Solvalou star ship in order to defend the people against an evil alien attack. The game not only has very basic graphics but it also comes with some super annoying music. This game was also a part of Nintendo's special 8-bit classic re-issue for the Gameboy Advance during 2004 season but when did this boring junk here become a classic?
For 1 player only
graphics: 4
sound: 1 ..............very annoying!
gameplay: 3
Find this game on eBay here!

67 YOSHI'S COOKIE (Nintendo/Bullet Proof Software, April 7, 2008)
*500 points
Mario and Yoshi from Super Mario World fame now try and match up cookie designs in this fun little Puzzle game here. Yoshi Cookie is far better than the earlier Yoshi NES game because you have more control of the board and the graphics and sounds are also pretty good for a simple puzzle game at least. Although it gets repetitive, Yoshi's Cookie is worth a cheap download.
For 1 or 2 players
graphics: 6
sound: 6
gameplay: 7
Find this game on eBay here!

62 ZANAC (FCI/Compile, December 1988)
*500 points
This is what the Guardian Legend would look like if it wasn't as good. It's a OK game really with a lot of on screen action and some cool weapons but there is nothing too special in the presentation. The game very fast paced but the background graphics are just lack luster and I wasn't a fan of the annoying soundtracks either. Zanac may have its problems but it was a good stepping stone for better games like Blazing Lazers and Space Mega Force.
For 1 player only
graphics: 5
sound: 4
gameplay: 7
Find this game on eBay here!

83 ZELDA II: The Adventures of Link (Nintendo, 2007)
*500 points
This second NES Zelda game features some newer RPG elements so you can now increase your magic, power, and defensive skills over the course of the game. The game is now it's an action side platformer much like a Super Mario or a Metroid and not an overhead adventure this time. The new look may turn some people away but it's still a lot of fun.
For 1 player only
graphics: 6
sound: 7
gameplay: 8
Find this game on eBay here!


Regular Wii Reviews > >