Down and Dirty Reviews: Atari 2600 -- N - Z
No memory back up, no
polygons, and nothing over a Megabyte. The ratio of these scores is much lower compared to newer system like the PS2 and Nintendo DS, but you still need skill to play most of these games here and that's what counts. Moon Patrol is still number 1 here. I also added the model number for most Atari games to help people who go by number.

The overall scores are out of 100!

The graphics, sounds, and gameplay are out of 10!

SCORE / NAME
47 OINK! (Activision, 1983)
Remember that famous nursery rhythm about the three little pigs? Now it's a video game I guess. In this you help these pigs to escape from the big bad wolf by laying bricks to rebuild your respective houses after the wolf removes pieces one by one. I only wish that we could play as the wolf instead since he doesn't need to move all over the place or go as fast to remove bricks. Not one of the better Activision games here.
For 1 player only
graphics: 4
sound: 2
gameplay: 2
Find Oink on eBay here!


TTR DUD OF THE MONTH COLLECTION!
<![if !vml]>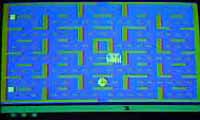 <![endif]> 38 PAC MAN (Atari/Namco, 1980, 1982)
Here's one of the greatest success stories of the 80's and Atari scores the big license coup from Namco. Atari got 'Pac Man' and the Atari 2600 would be the first game system in the world to translate the fun pellet muncher home. Sadly, the system's limited technology destroys the game we all know and love. Despite everything wrong here with Atari Pac Man it's still kind of fun though with new and unique sound effects, and beeps exclusive to this cart, you may even have heard these weird sound effects on certain TV shows if anybody is playing a video game (this game or Atari Donkey Kong for that matter) in the background. Don't expect to play the real Pac Man though because it just isn't here. This game is worth the dollar in the discount bins but not much more.
Model #2646
For 1 or 2 players
graphics: 1
sound: 3
gameplay: 4
Find Pac Man on eBay here!

47 PETE ROSE BASEBALL (Absolute, 1987)
Sure, ol' Pete may not get in the Baseball hall of fame but at least he as his own video game and why not bet on that? The graphics here are some of the greatest for the old system with a decent amount of detail on the players but the control are questionable for a Baseball title. Now if we can only keep him away from that big wrestler called Kane?
For 1 player only
graphics: 6
sound: 5
gameplay: 2
Find Pete Rose Baseball on eBay here!

72 PHOENIX (Atari/Centuri, 1982)
Phoenix is a cool retro shooter that has three different styles of levels to separate itself from all the clones out there. One area is where you fight your standard strange spaceships, in the other ones you fight aggressive robotic birds, and the finally one is a big fight a giant battleship. Phoenix has great variety for a early 1980's game.
For 1 or 2 players
graphics: 7
sound: 6
gameplay: 7
Find Phoenix on eBay here!

<![if !vml]>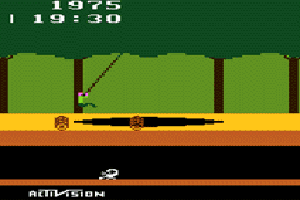 <![endif]> 78 PITFALL (Activision, 1982)
Pitfall was one of those rare games for the Atari 2600 that broke new ground for action back in the early eighties and it really helped the new company Activision (who were actually made up of ex-Atari employees mad about not getting any credit for their work) get on the map. Sadly though, adventure games have come a long way since Pitfall especially in terms of options so that why I gave it such an average rating but Pitfall is still very playable even today and it was still way better than that ugly NES game Super Pitfall. David Crane's Pitfall is a landmark in video games and it deserves to be in every body's classic gaming collection!
For 1 player only
graphics: 3
sound: 2
gameplay: 5
Find Pitfall on eBay here!

<![if !vml]>
<![endif]> 79 PITFALL II: The LOST CAVERNS (Activision, 1983)
This rare Pitfall game features a cool new no die system, much improved graphics, and this title even has some decent background music, a very rare thing for the old Atari 2600 here. Pitfall II is a simply great non linear adventure game with lots of challenge plus this is the closest thing to Super Mario Brothers on the 2600 you can get!
For 1 player only
graphics: 6
sound: 7
gameplay: 6
Find Pitfall II on eBay here!

<![if !vml]>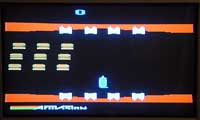 <![endif]> 66 PLAQUE ATTACK (Activision, 1983)
Plaque Attack is a very weird shooter where you have to defend your teeth from various flying food products like hamburgers, candy canes, and more with your trusty toothpaste? Sure, the game is quite unusual but it is still a fun shooting game that actually warns the kids (and some careless adults too) about the dangers of not brushing their teeth. Plaque Attack is easy to play and it can be quite addictive too.
For 1 player only
graphics: 3
sound: 4
gameplay: 5
Find Plaque Attack on eBay here!

61 POLE POSITION (Atari/Namco, 1983)
The popular racing game comes to the Atari 2600 and it plays fairly good even though there's only one button to use here. For those of you who don't know what Pole Position is all about this was the ultimate racing game in the early eighties. Control your F-1 racer and pass the other racers to cross the finish line before you run out of time. It's still kind of fun to play but it's very outdated now of days.
For 1 player only
graphics: 3
sound: 2
gameplay: 4
Find Pole Position on eBay here!

<![if !vml]>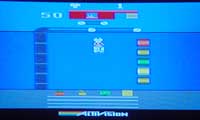 <![endif]> 75 PRESSURE COOKER (Activision, 1983)
Pressure Cooker is an very original game that shows the pain at working for a place like McDonalds, Burger King or to a lesser extend Wendy's. Help a chef make the correct orders of hamburgers all the while the clock continues to be your enemy as people want these specially made burgers in a hurry! This game was so good that I always hoped that there would be some kind of sequel but I guess Activision is too busy now with games like Tony Hawk Prostaker. Although the game isn't big on action, it was pretty fun.
For 1 player only
graphics: 3
sound: 6
gameplay: 7
Find Pressure Cooker on eBay here!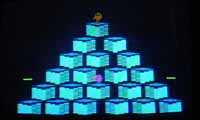 75 Q*BERT (Parker Bros., 1982)
If you can get the unusual 45 degree angle controls down and the simple graphics then this hopping arcade game on a pyramid can be very challenging. In this game if you don't know you help old' Q*Bert change the coloured tiles to beat the levels but be careful of the evil snakes and different fuzz balls. Q*Bert is about as fun as watching paint change colour but that also sounds like a cool acid trip so I'm not complainting.
For 1 or 2 players
graphics: 5
sound: 3
gameplay: 4
Find Q Bert on eBay here!


29 RAMPAGE (Activision/Midway, 1987)
As hard as it is to believe this is a translation of the building destroyer arcade game for the Atari 2600. At first this appears to be a good looking game but after a few plays you realize the controls are just too unresponsive so you're pretty much wasting your time here destroying these kiddish lego-like buildings.
*Uncommon 2600 game
For 1 or 2 players
graphics: 3
sound: 4
gameplay: 5
Find Rampage on eBay here!

32 Real Sports BOXING (Atari, 1987)
Atari's Real Sports Boxing title is about as good as a boxing game for the Atari 2600 but also remember that isn't saying much. It's hard to tell what's going on with these blocky graphics and it also doesn't help matters when the collision detection is horrible too. Seriously, is there a good boxing game for this system?
For 1 or 2 players
graphics: 3
sound: 3
gameplay: 2
Find Real Sports Boxing on eBay here!

10 Real Sports FOOTBALL (Atari, 1982)
This isn't real football! Where are all the players, where 's the NFL license, where's the trades, where's the drunken parties with hookers, where's the different strategies with each play?! OK, the animation is alright on the limited players on the field but directing the ball for passes or plays is tough with the one button control here. Maybe Football games like EA's Madden and Sega's ESPN spoils us or maybe Atari didn't try hard enough? Take your pick.
For 1 or 2 players
graphics: 2
sound: 1
gameplay: 2
Find Real Sports Football on eBay here!

26 Real Sports SOCCER *FOOTBALL* (Atari)
Remember Real Sports Soccer '95? How bout Real Sports Soccer 2K1, uh? "There was no sequel because nobody likes a basic Soccer 2600 game where there isn't even a goalie here!" I guess it's a step up from the lame Pele's Championship Soccer but barely.
For 1 or 2 players
graphics: 1
sound: 1
gameplay: 2
Find Real Sports Soccer on eBay here!

<![if !vml]>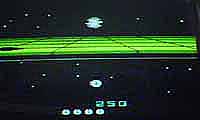 <![endif]> 53 RETURN OF THE JEDI: Death Star Battle (Parker Bros., 1983)
The Star Wars franchise was even around way back then and here is the infamous Episode VI in the series. This Return of the Jedi game controls fairly well and the action was quite impressive too as you pilot the Millennium Falcon to destroy the reconstructed Death Star.
*Uncommon 2600 game
For 1 player only
graphics: 5
sound: 4
gameplay: 5
Find Gorf on eBay here!

<![if !vml]>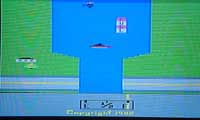 <![endif]> 77 RIVER RAID (Activision, 1982)
Another popular Activision legend on the Atari 2600 here. In this overhead shooter you blast away anything that gets in the way like enemy boats, planes, helicopters, and even bridges while you try to survive down a long river bank. Not only to you need to watch out for terrorists but you also have to be careful of your fuel supply as well. Although the graphics and sound are very plain, River Raid is an excellent old school shooter.
For 1 player only
graphics: 3
sound: 2
gameplay: 5
Find River Raid on eBay here!

40 RIVER RAID II (Activision, 1984)
Sometimes sequels work and sometimes they don't. The sequel to River Raid is the same old air combat game over raging waters but now the game features adjustable attitude (much like Sega's Zaxxon) but it only messes up the game play when you have to worry about tons of enemies and your at the same time. River Raid II feels too much like work now.
For 1 or 2 players
graphics: 5
sound: 4
gameplay: 5
Find River Raid II on eBay here!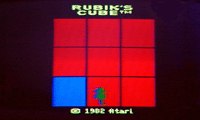 30 RUBIK'S CUBE (Atari, 1982)
Now here is an interesting Atari 2600 game. When Atari got the rights to do a game based on the then popular Rubik's Cube they only released it through their mail order catalog and when you play it you'll understand why. The reason the original Rubik's Cube toy was so fun was because you can easily look around the 6 sided cube so you match up the colours the way you want. The problem with the Atari edition is that you can only see one side at a time. The graphics are nice for a Atari 2600 game but in the end Rubik's Cube is just too hard to play.
*Rare Atari 2600 game
For 1 player only
graphics: 7
sound: 4
gameplay: 4
Find Rubik's Cube on eBay here!

38 SKIING (Activision, 1983)
Just like the name implies you simply race down snowy hills and clear the course in the best time possible. Although the game ends after you cross the finish line there are many difficulties to pick from so you don't have to play the same track every time. Sure it's a basic game of downhill skiing but it can be fun after a few tries despite its limitations.
For 1 player only
graphics: 4
sound: 1
gameplay: 5
Find Skiing on eBay here!

01 SLOT RACERS (Atari, 1978)
"What the heck is this!" Slot Racers is only a two player game where the two of you have to skillfully race and kill one another with shots in a enclosed maze. Sure, that sounds pretty fun but this early car combat game comes with controls are so terrible that it makes it nearly impossible to do simple tasks like change lanes and speed up. Slot Racer also comes with Atari's first generation graphics and sounds which only add to the bland experience.
For 2 players only
graphics: 1
sound: 1
gameplay: 1
Find Slot Racers on eBay here!

<![if !vml]>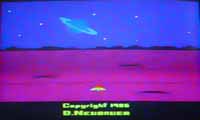 <![endif]> 33 SOLARIS (Atari, 1988)
Solaris is a very confusing shooter that's kind of a sequel to the first person shooter Star Raiders (which also sucks) it seems. Even the cover artwork was the same as Star Raiders! The game may not be very much fun to play but the colourful and detailed graphics were fairly nice especially considering they were on the 2600.
For 1 player only
graphics: 8
sound: 3
gameplay: 4
Find Solaris on eBay here!
SECOND OPINION!
While Moon Patrol is a good game, it shouldn't be #1. Solaris is the best game for 2600, by far!! It's really hard, and a little confusing when you go to warp, but I still think the modes for battle are way better than Moon Patrol. Think about it, Solaris you can fight on the planet, in the Corridors of the Planet, and you can engage in space battles, some of which are really challenging, like those holographic skulls.
-Tom Paris

11 SPACE ATTACK (Mattel, 1981)
This odd first person shooter not only looks awful but why is this game so short. It should only take a half a hour mission to beat then the game freezes. There is no score, the graphics stink, and the map system sucks. Space Attack has absolutely no replay value.
For 1 player only
graphics: 2
sound: 1
gameplay: 1
Find Space Attack on eBay here!

GAME OF THE MONTH COLLECTION!
<![if !vml]>
<![endif]> 80 SPACE INVADERS (Atari/Taito, 1978, 1980)
Kewl! The legendary classic shoot them up by Taito in the late 1970's (yes, we're going WAY back here) comes home for the first time with over a hundred types of options available for you lucky Atari VCS owners still there. Don't forget the incredible shooter itself with it's stylist graphics, eerie sound effects, plus the unique offensive and defensive action that made Space Invaders sure fire arcade hit to begin with. Although there isn't too much deep gameplay here because you can only move your tank left to right and you just shoot but the Atari 2600 version has so many game variations for the players like invisible aliens, no blockers, insane difficulties, and even two players can fight the invaders at once, boredom was rare. Space Invaders with its arcade feel and loads of play modes demands to be every body's retro collection and the best news about this retro game is that it's still going fairly cheap too; a new copy should go for a mere $2-5 dollars.
Model #2632
For 1 or 2 players
graphics: 4
sound: 4
gameplay: 6
Find Space Invaders on eBay here!

74 STAMPEDE (Activision, 1983)
Name how many games where you control a cowboy trying to rope run away steers, eh? In Activision's Stampede you and your horse move up and down in order to catch these steers and bulls but if too many escape to the left then its game over. The game is tough but the frantic action keeps it from being boring.
For 1 player only
graphics: 5
sound: 3
gameplay: 6
Find Stampede on eBay here!

58 SPIDER FIGHTER (Activision, 1983)
In this highly intense shooter you blast away tons of angry insects and spiders that are not afraid to shoot back. Spider Fighter acts like Atari's Centipede minus the Centipede creature but to its credit there is more even chaotic action here. Spider Fighter lacks originality but it was still fun to play.
For 1 or 2 players
graphics: 4
sound: 2
gameplay: 4
Find Spider Fighter on eBay here!

31 STAKEBOARDIN' (Absolute, 1987)
Skateboardin' is a much tougher stake boarding game than it needs to be and you Tony Hawk freaks should stay far away from this. To make your character 'duck' you need to press down twice in a instant, which is really confusing since you have move down a lot as well.
For 1 player only
graphics: 4
sound: 5
gameplay: 5
Find Stakeboardin on eBay here!

50 STARGATE (Atari/Williams, 1984)
This is actually Defender II but with a different name. Star Gate plays great like the intense arcade game and it was also featured in a News Radio episode as well if anybody remembers that show?
For 1 or 2 players
graphics: 5
sound: 4
gameplay: 5
Find Stargate on eBay here!

06 STAR MASTER (Activision, 1983)
The Activision version of Atari's Star Raiders not only forces the player to use the switches on the system itself (which can be annoying to reach when you have a controller in your hand) but the game also has almost no action on the various game screens at all. Please buy this game with the instructions or your going to be in huge trouble.
For 1 player only
graphics: 3
sound: 2
gameplay: 7
Find Star Master on eBay here!
SECOND OPINION!
I was surprised to see this game rated so low...it's one of my top favourites for the 2600. But I also want to say thanks for putting up such a great website!
-Chuck (44 and still defending the universe)
SECOND OPINION!
wtf are you talking about saying starmaster were one of the worst Atari games ever?! It was sweet as hell, like every other activision game on the 2600. Having multiple game screens was innovative back then, although you had to sit by your console to switch between them. It had a "3d" world going on and everything. There are games out there that are much worse than starmaster, like porky's, or superman. They sucked a$$. Starmaster was cool.
-Mike Covin (March 13, 2003)

41 STAR RAIDERS (Atari, 1982)
This first person 3D space shooter was Atari's attempt to create an advance PC-like game on the 2600 and it even came with a free Keypad and DC comic included too. The game itself is great for simulation fans but everyone else with be bored to tears.
*Keypad required
For 1 player only
graphics: 3
sound: 2
gameplay: 6
Find Star Raiders on eBay here!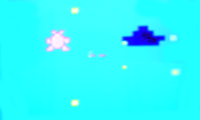 21 STAR SHIP (Atari, 1977)
Here is another Atari launch title that tried to show off the new graphics powers of the 2600 but it didn't have much success. In Star Ship you have to blast away has many alien space ships as possible before the time runs out. This game is perhaps the first ever First Person Shooter in history and this game visuals really surprised me for a game done in 1977 but once you get over the novelty fake 3D look here this time trial only game quickly loses it luster.
For 1 player only
graphics: 3
sound: 1
gameplay: 1
Find Star Ship on eBay here!

35 SUPER BREAKOUT (Atari, 1978)
The sequel to the once popular Break Out features a few new options to help you destroy that annoying multi-coloured wall with your paddle(s) and ball. Improvements include the ability to have double the defenders to increase your chances of hitting that tiny ball, the wall can now grow over time if you like, and there is even the option to get more balls too to add some more innovation to the rather dull game play. These improvements are nice but don't expect to play Arkanoid (a great new age version of Breakout) here!
*paddles required
For 1 or 2 players
graphics: 1
sound: 1
gameplay: 2
Find Super Breakout on eBay here!

51 SURROUND (Atari, 1977)
In this game you must paint your way around your friend to beat em. That's pretty much it for the game play however, but people still seem to like this because it reminds them of the legendary Tron movie. You better have a darn good imagination if you're going to compare this to Tron, that's all I have to say but to be fair this came out first.
For 2 players only
graphics: 1
sound: 1
gameplay: 2
Find Surround on eBay here!

09 SWORDQUEST: EARTHWORLD (Atari, 1983)
Swordquest is the Adventure 2600 sequel that was too big for one game, so Atari planned 4 theme Sword Quest games in a grand series. Earth World is one of the first games in this hard to play Sword Quest series and this is certainly not a good start at all. The original Adventure was way better that this or any other Sword Quest game because of the poorly made map and bad use of the item system. The graphic are better than Adventure's thanks to the new details in the main figure and there are more moving objects on the screen than ever before but this is the Atari 2600, so don't expect to be very impressed. Best to avoid them all except maybe Sword Quest: Water World game, which is kind of a rare item.
For 1 player only
graphics: 2
sound: 1
gameplay: 2
Find Swordquest on eBay here!

04 SWORDQUEST: FIREWORLD (Atari, 1983)
The second game in the Swordquest role playing game is an even more tedious adventure then the lackluster Earthworld believe it or not. Most of the rooms still look the same, it's hard to figure out where to go without all the game's booklets and hints, and because of this the overly hyped series of four dies very early here as Fire World fails to sell well.
For 1 player only
graphics: 2
sound: 1
gameplay: 4
Find Swordquest Fireworld on eBay here!

<![if !vml]>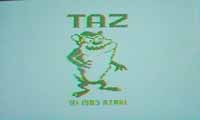 <![endif]> 70 TAZ (Atari, 1983)
Taz here is a fairly simple action game of avoiding dynamite and eating food across a giant grid. This game here stars that same wild Tazmania devil from the old Warner Bros. cartoons but no other WB characters like Bugs Bunny show up here. Although it starts out easy, the game quickly gets tougher only after the fourth level where the speed is nearly three times as bad. It a good thing that it also makes the action even more intense so that experts can enjoy the game, but this may quickly turn off casual players. Taz is a simple but really addictive game.
For 1 or 2 players
graphics: 4
sound: 2
gameplay: 2
Find Taz on eBay here!

<![if !vml]>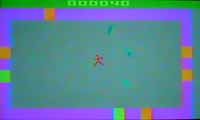 <![endif]> 63 TRON'S DEADLY DISCS (Mattel, 1982)
Tron's Deadly Discs is a action game where you fight up to do three different opponents in an enclosed arena. In this Tron game you must destroy your opponents by firing a single disc that works like a boomerang but be a where that you are always out numbered. Tron's Double D's here is decent enough action especially if you liked that old movie.
For 1 player only
graphics: 3
sound: 3
gameplay: 5
Find Tron's Deadly Discs on eBay here!

66 VANGUARD (Atari/Centuri, 1982)
One of the first shooters on the 2600 to feature scrolling backgrounds and four direction fire capabilities. Certainly not a bad game and the multiple stages are pretty cool but controlling the ship and aiming the gun are both used with the joystick which can be very little confusing. Vanguard comes with a lot of variety at least.
For 1 or 2 players
graphics: 4
sound: 4
gameplay: 6
Find Vanguard on eBay here!

52 VENTURE (Exidy/Coleco/Atari, 1981, 1987)
In this generically named game you play the role of Winky (yes, that's his name!) and you must guide him through several dark dungeons in search for lost treasures. Venture is a cool but limited overhead action/adventure game.
Model #26145
For 1 player only
graphics: 2
sound: 2
gameplay: 4
Find Venture on eBay here!

40 VIDEO PINBALL (Atari, 1978)
Atari's first pinball game looks very different than a real pinball table thanks to the use wider screen and dismal graphics but to be fair, I have played worse pinball games out there. Video Pinball has fast arcade-like action and decent controls but true Pinball fans will most likely raise their nose at this one.
For 1 or 2 players
graphics: 2
sound: 2
gameplay: 5
Find Video Pinball on eBay here!

68 WARLORDS (Atari, 1980)
*paddles required
Warlords is a unique four corners type of Break Out game that can actually be played with up to four players thanks to the Atari split paddles believe it or not. Who knew that there were multi-player games ways back then, eh? Unfortunately, a Break Out style game may not appeal to your friends like a game of Halo would? Warlords is basic but it works.
For 1 to 4 players
graphics: 2
sound: 1
gameplay: 6
Find Warlords on eBay here!

<![if !vml]>
<![endif]> 68 YAR'S REVENGE (Atari, 1981)
This oddly named game is like no other shooter I ever played. Yar's Revenge features a bug trying to destroy a well guarded enemy nest in deep space. Once you remove enough of the enemy's barrier you then have a chance to destroy the headquarters to finish the level and start it all again but now with the difficulty increased. Although this game has some cool defensive tactics as well to go with the usually 'shoot anything that moves' theme, Yar's Revenge is still a very repetitive game unfortunately despite its originality. Did you know that this game was named after the former Atari president Ray Kassar but the first name was spelled backwards? Mr. Kassar was not a fan favourite in the programmer's eyes by the way.
For 1 or 2 players
graphics: 6
sound: 7
gameplay: 5
Find Yar's Revenge on eBay here!

<![if !vml]>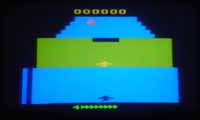 <![endif]> 53 ZAXXON (Coleco/Sega, 1983)
Sega's legendary Zaxxon makes a appearance on the 2600! This game has a new true 3D view and not a isometric view we have come to expect in the classic Sega arcade and it actually works. It's a little hard to play this way especially when the limited all the characters and background are one solid colour but if you think there are no 3D games on the Atari 2600 then you would be wrong.
For 1 player only
graphics: 4
sound: 3
gameplay: 6
Find Zaxxon on eBay here!