Score / Name
49 36 GREAT HOLES GOLF: Featuring Fred Couples (Sega/Flashpoint, 1995)
There are some good graphics here and there but when it's all said and done, it's just another boring game of golf with not much else going for it. The interface is boring, the in-game visuals are fairly dry, and even the sound presentation is weak. This game contains some rare Full Motion Video and the option to customize your own golfer but the game play is not very easy to get into and that isn't a good thing for this leisurely sport.
*Battery back up game

For 1 or 2 players
graphics: 7
sound: 5
gameplay: 4
Find Golf on eBay here!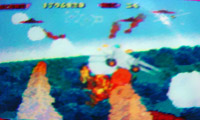 75 AFTERBURNER COMPLETE (Sega, November 1994)
Here is a great arcade 3D flight simulation game done right! Sure, Afterburner is getting up there in years but it's still a very fast and intense shoot them up just like the sit down original from the 75 cent arcade machine. This legend comes complete with all 23 missions and that includes the bonus levels right from the hit arcade game. Don't fly by (no pun intended) this one retro fans.

For 1 player only
graphics: 8
sound: 7
gameplay: 5

Find After Burner on eBay here!
72 BLACK THRONE (Interplay/Blizzard Entertainment, 1995)
Blackthrone is just like the original
Super NES
counterpart except the backgrounds are more detailed for this 32X entry. If you don't know this game Blackthrone is a fun and very dark 2D action title with game play that is more realistic that the typical platformer. This is similar to the popular
Out of this World
and
Flashback
games so if you know what those titles are like then you should know what to expect here.
*Uncommon 32X game
For 1 player only
graphics: 7
sound: 6
gameplay: 8
Find Black Throne on eBay here!

50 BRUTAL: Above The Claw (GameTek, 1995)
Brutal: Above the Claw is yet another 2D fighting game must like all the other
Street Fighter II
clones that were popping up in that era. What separates Brutal from the pack is that all the fighters are wild animals skilled in the martial arts. Who doesn't love to cute looking animals beating up one another up? It kind of reminds me of those violent
Happy Tree Friends
cartoons, eh? If you played the original
SNES
and
Genesis
versions of Brutal (all twenty of you) you'll be happy to know that this version comes with moves and more characters but the slow and generic game play is still as dull as it ever was. Brutal: Above the Claw is not even above average.
For 1 or 2 players
graphics: 6
sound: 6
gameplay: 5
Find Brutal on eBay here!

54 COSMIC CARNAGE (Sega, 1994)
Are you looking something different in your fighting game? Cosmic Carnage is a cool idea since you can alter your characters with different weapons and armour but this slow moving fighting game only has four of the eight characters having this changeable feature. The game has lots of gore and easy to learn game play but be prepared for some sloppy and slow action as well. Another disappointing feature here is the lousy endings too. Cosmic Carnage is serviceable for fight fans but just barely.

For 1 or 2 players
graphics: 6
sound: 7
gameplay: 7

Find Cosmic Carnage on eBay here!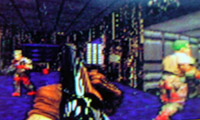 62 DOOM (Sega, September 1994)
When the mega popular first person 3D shooter Doom arrived on the 32X, people really started to notice of the system. Sadly, the game may be a decent translation of the PC thriller but it also has some big problems too. One of the issues I have with Doom is that some of the later levels just seem to go on forever and the action scenes can be few and far between. What's worse though is the fact that Doom on the 32X is only one player. What's Doom without the Deathmatch? If that wasn't enough the screen is always covered by a border all the time and the music is better on the Super Nintendo as well. If you want to play Doom then stick with the PC!

For 1 player only............... which sucks!
graphics: 7
sound: 4
gameplay: 6

Find Doom on eBay here!
BEST 32X GAME!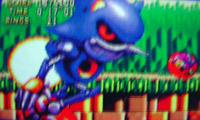 84
KNUCKLES CHAOTIX (Sega, June 1995)
Chaotix is a very strange, but fun Sonic-like game by famous Sega producer
Yuji Naka
. The game's selling point comes with the ability to control two characters on screen at once and your five heroes have to fight through 26 levels. At times the magic ring cable that joins the two heroes together can get annoying and slows down the pace of the game but it's something new at least. The 3D bonus levels look cool and do a good job of showing off the 3D powers of the 32X. Chaotix is a must own for the few 32X owners out there.
For 1 or 2 players
graphics: 7
sound: 7
gameplay: 8

Find Knuckles Chaotix on eBay here!
SECOND OPINION!
85 Knuckles Chaotix (Pretty much agree)
This is the 2nd Best 32X game. Sonic is cool and all but It never was my favorite. If you like Sonic but wanted a different twist this can possibly be your game. People complain about the bungee system but with practice its no bother at all and does have its innovations. This game is great and has several selectable players with different powers. Give it a shot, Metal Head was underrated but its fine since its just a game to see some possible 32X potential and was very flawed anyway. This game was underrated and its a shame because its very good, well worth playing and can be one of your favorites not 32X favorite but favorite period. Give it a shot and give it a chance before you think the bungee system sucks.
Graphics-9
Sound-8
Gameplay-8
(John Malgapo, 10-14-02)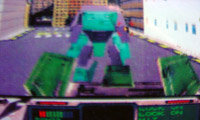 36 METAL HEAD (Sega, April 1995)
Here's a game that showed a lot of promise. Imagine being a giant Mech packed with tons of big guns in a fully 3D world. Unfortunately, Sega couldn't pull it off. Metal Head is a really bad looking 3D mech shooter with equally unimpressive music and sloppy game play. This game may appeal to some mech fans looking for a decent Mech Warrior or Gundam-type of action game but I couldn't stand the choppiness here myself.
For 1 player only
graphics: 3
sound: 3
gameplay: 4
Find Metal Head on eBay here!

SECOND OPINION!
65 Metal Head (Disagree)
I think this game is severely underrated for being a 32X game. Am I saying its great? no. Will it make you run out and buy a 32X? nope. Be remembered as a classic? Nope. Make you want to wake up early to play a few rounds? Nope. So why do I need to defend it? I bought it for 2$ and knew I was to expect a total crappy game. If you go by 1995 standards though this game looks damn good. Iron soldier for Jaguar was so well liked and this game looks way better. The controls are fine, they respond well and there's enough things to shoot. Some games with outdated graphics become praised forever this one wont because it is flawed. More weapons, better explosions, blowing up buildings and not being lost as much would of made this a classic, What it is today is a respectable game that really does show 32X potential. Its way to limited. Really can Super Nintendo pull this off? Music does suck though but the voice acting is so bad its funny. The "later chump" line is great. A good game that's worth wasting some time on if you find it cheap.
Graphics-7 (think 1995)
Sound-5
Gameplay-6
(John Malgapo, 10-14-02)

48 MORTAL KOMBAT II (Acclaim/Midway, 1995)
I like the second Mortal Kombat as much has the next guy but this is nothing more than the same old one on one fighting game that we all played to death and it's not even arcade perfect despite the whole 32-bit upgrade here. What when wrong? The characters are well animated and look fairly large too but the backgrounds are definitely not as sharp as the arcade and the audio just sucks too. This is too similar to the lackluster Genesis version and it's not enough like the awesome SNES game which doesn't make much scent because the 32X should be able to run circles around both systems. MK II is a real disappointment and it sure helped turn people away from this system.
For 1 or 2 players
graphics: 6
sound: 5
gameplay: 6
Find Mortal Kombat II on eBay here!

13 MOTOCROSS CHAMPIONSHIP (Sega/Artech Studios, 1995)
What the hell went wrong here!? This 3D motocross game looks absolutely horrible with its chunky sprite based graphics and animation plus the sounds are nothing special either despite all the power of this system! This is easily one of the worst games on this add on system and if you read most of the rest of the reviews here you already know that a lot of the games are pretty damn bad.
For 1 or 2 players
graphics: 2
sound: 1
gameplay: 2
Find Motocross on eBay here!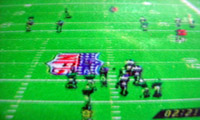 58 NFL QUARTERBACK CLUB '96 (Acclaim/Iguana, 1995)
"I want my quarter back for what I paid for this awful NFL football game!" OK, there is nothing really wrong with the football title to be honest. It has decent controls, it sound realistic, and some of the graphics are actually not too bad. For a 32-bit game though the players are sure pretty tiny so the action can get quite confusing in a hurry. Strangely enough this is the only football game for the 32X so you don't have much of a choice if you own this system add on yet I still bet you can get it dirt cheap.
For 1 or 2 players
graphics: 6
sound: 4
gameplay: 5
Find NFL QB 96 on eBay here!

56 PITFALL: The Mayan Adventure (Activision, 1995)
This Pitfall game is just like the 16-bit editions out there but it has slightly better graphics the others at least. The problem is the frame rate is much slower now for some reason. In the game you play as Pitfall Harry Junior on a mission to rescue his father in the harsh jungles of Mayan. It's nice to have the original Atari 2600 version included with this new game but even that feature wears thin here.
For 1 player only
graphics: 7
sound: 5
gameplay: 6
Find Pitfall on eBay here!

59 PRIMAL RAGE (Time Warner/Atari Games, 1995)
Much like Mortal Kombat II on 32X, this game is too similar to its Sega Genesis counterpart so it isn't a very smart purchase. The only improved feature I noticed was the larger characters. This is a solid beat em up that had some fun moments like being able to throw caveman around and trying some of the finishing moves (although some are very hard to pull off) but with only 7 dinosaurs and no bosses there is little here to last over a week.
For 1 or 2 players
graphics: 7
sound: 5
gameplay: 5
Find Primal Rage on eBay here!

57 RBI BASEBALL 95 (Time Warner, 1994)
This baseball game looks great I must admit. The players here are detailed plus it even sounds realistic too. The controls are interesting too and you even have control of the ball when it's in the air during a pitch. Some gamers may not like that feature though. Unfortunately, the game looks a little too much like Sega's World Series Baseball 95 so I knocked off a few points for its lack of originality.
For 1 or 2 players
graphics: 8
sound: 4
gameplay: 8
Find RBI 95 on eBay here!

61 SHADOW SQUADRON (Sega, 1995)
Being a huge fan of polygon shooters like Star Fox and Slipheed I was really looking forward to this game. In the end though Shadow Squadron is a merely OK looking polygonal 3D space shooter that's a little too slow and uninteresting to be addictive. I did like the music here and there is a lot of nice bit variety of action too but everything else is just plain. The game is passable if anything else.
For 1 player only
graphics: 7
sound: 7
gameplay: 8
Find Shadow Squadron on eBay here!
SECOND OPINION!
79 Shadow Squadron (Slightly Disagree)
This is a great game period. Not for being 32x but its flat out good. This is in my opinion the 3rd best 32x game. The graphics were good for its time, not at all ugly to look at now. A tiny bit less difficulty, some story, split screen and better music and sound effects would of made this a triple A title. Why is this game good? Despite the extreme difficulty at times it has the quality of making you want to go back and try harder, and do a little better than last time. Any game with that quality is a winner. If you are a shooter fan the 32X is worth buying for this game, only if that's your favorite genre though. Star Wars is OK but this game is better.
Graphics-7
Sound-6
Gameplay-8
(John Malgapo, 10-14-02)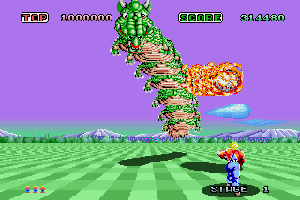 71 SPACE HARRIER (Sega, 1994)
Space Harrier is easily one of the coolest 3D looking games I ever witnessed when I was growing up and I'm glad to see it back in action here and now it is a perfect arcade translation this time too. This Sega classic on the 32X looks even better than Space Harrier II for the old Genesis believe it or not. The story here is about a plasma gun holding hero who must defend the once peaceful Fantasy Zone from invading monsters and deadly machines across 18 long stages. Space Harrier is one tough game especially since only one hit will kill you but it also comes very recommend for people looking for some simple but very intense arcade 3D action.
For 1 player only
graphics: 7
sound: 6
gameplay: 4
Find Space Harrier on eBay here!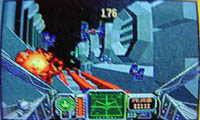 61 STAR WARS ARCADE (Sega, 1994)
This Star Wars game looks real good because of the advance and cool polygon based 3D graphics that good ol' 32x can spill out. The game also has some realistic sound effects but the game play falls aparts because it can be hard to hit all your targets in time especially since those Tie Fighters ships are so small and fast. The game is still fun to play but Star Wars Arcade just doesn't relive the magic of the hit movies for me.
For 1 player only
graphics: 7
sound: 7
gameplay: 7
Find Star Wars on eBay here!

52 TEMPO (Sega, 1995)
Sega never released a true Sonic game for the 32X but they did try to introduce another mascot. Sadly, Tempo is a super corny action title starring a very goofy rocking bug in a standard 2D platformer. You can kick, glide, and jump here but that's it and other then a few scaling effects the graphics certainly don't push the limits of the system. I only recommend this game to smaller children because I bet most people will puke at the sight of these dancing insects here.
For 1 player only
graphics: 6
sound: 4
gameplay: 5
Find Tempo on eBay here!

37 TOUGHMAN CONTEST (Electronic Arts, 1995)
This boxing game is very similar to Nintendo's Punch Out in terms of the wire frame third person perspective but the actual game itself ended up being too tedious and hard to play to be much fun. It's hard to tell when your opponent is going to throw a punch so the game play involves too much button mashing and luck. Maybe we can get Butterbean to do another Boxing game instead.
For 1 or 2 players
graphics: 7
sound: 4
gameplay: 6
Find Toughman on eBay here!


The StarSoldier Game of the Month!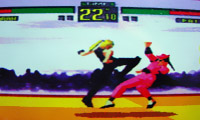 83 VIRTUA FIGHTER (Sega/AM2, 1995)
This is almost like the popular Saturn version but this 32X VF game came without all the hype unfortunately. I bet a few of you didn't even know that there was a Virtua Fighter game on the 32X here, eh? If you're not familiar with VF then you're missing a super realistic 3D polygonal fighter game that has 8 different characters to master each with their own list of moves and special techniques. What makes the game so special however, is that there are no wacky weapons, no phony fireballs, just pure realistic one on one fighting! The game isn't perfect though. Although the music sounds fine, the game's sound effects don't hold up as well. For example: why does the sexy Sarah Byrant sound like a guy here? The game also has a bit more blocky look then it's arcade counterpart but on the plus side of things there are no annoying load times found in this version of VF and believe me, that's a huge bonus. The only thing missing in this awesome 3D fighter is a Save feature to record some of my best scores. Other than some minor issues, Virtua Fighter on the 32X is a real diamond in the rough.
For 1 or 2 players
graphics: 8
sound: 7
gameplay: 8
Find Virtua Fighter on eBay here!
SECOND OPINION!
90 Virtua Fighter (Almost Agree)
This is the best 32X game if you like fighters. This is considered the only triple A 32X game and it deserves it. 32X has the reputation of being a Super Nintendo equal well this game puts that notion to rest. Super Nintendo could not pull off a polygon fighter, it had one in the works but canceled it cause SNES could not push polygons. This game was a act of pride by Sega to prove 32X can be good. This game did not have to be ported because 32X was dead when it was finished. How is the game. Awesome all the way. The graphics are dated but this was the first polygon fighter so its fine. IF it was made now then it would have problems. Think 8 years ago. The animations are still awesome, some of the moves look brutal. One of the deepest fighters of all time, ranking mode can be downright addictive. A must have and a game that will make you proud to have a 32X and a act of pride by Sega.
Graphics-8
sound-8
Gameplay-10
(John Malgapo, 10-14-02)

82 VIRTUA RACING DELUXE (Sega/AM2, 1994)
Virtua Racing on the 32X is a very solid F1 racing game with some decent first generation polygon graphics that also run at a smooth frame rate. It would have been nice if there was a save feature so it was possible to record the best scores but you can't get it all, I guess. It's not perfect but Virtua Racing Deluxe is still worth the money and it shouldn't be worth that much since it's on the super lame 32X here.
For 1 or 2 players
graphics: 7
sound: 6
gameplay: 6
Find Virtua Racing on eBay here!

58 ZAXXON: Motherbase 2000 (Sega, 1995)
Holy crap, I remember Zaxxon! It was a cool isometric shooter and one Sega's first blockbusters in the early 1980's. Lets see if the 32x plastic surgury can help this aging franchise though? Like it's precessor this is a shoot em up where you blast away at anything that moves but the attitude controls are gone and replaced with a new jump ability. This means you can earn new weapons by jumping into certain vehicles. Sadly, there is nothing special about the game play here since the action is quite slow and the presentation isn't very impressive either. Zaxxon Motherbase 2000 is just too average.
For 1 player only
graphics: 5
sound: 6
gameplay: 6
Find Zaxxon on eBay here!

-All the reviews here are written by the StarSoldier unless noted.