Down and Dirty Reviews: Atari 7800 -- A - Z
There are some good games here, but not great by any means. There are some newer ones like

Choplifter

and

F-18 Hornet

but they totally stink! There are 21 reviews here in total.



The scores are out of 100.



The graphics, sounds, and game play are out of 10.




Score / Name
43 ONE ON ONE featuring Dr. J vs. Larry Bird (Atari/EA, 1987)
In this fun but very short lived basketball game it's just Dr. J vs. Larry Bird one on one (hence the name) so don't expect a lot from this basketball title although it has a lot of nice options for a 7800 game. This is the prequel to Electronic Arts Jorden vs. Bird by the way.
Model #7824
For 1 or 2 players
graphics: 5
sound: 4
gameplay: 5
Find on Dr. J vs. Larry Bird eBay here!

66 ASTEROIDS (Atari, 1987)
The legendary arcade classic comes to the 7800 with far better detail and it even has sharper sound effects on this early 1980's shooter. It's still the same game of Asteroids though, even after all these years things have not changed all too much. This is one of the better editions of the space survival game thanks to the excellent controls and the superior collision detection. If you do manage to find this title expect to pay next to nothing for it which is a rather nice bonus.
Model #7802
For 1 or 2 players
graphics: 5
sound: 4
gameplay: 3
Find Asteroids on eBay here!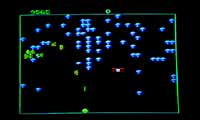 68 CENTIPEDE (Atari, 1987)
This Centipede is not too different from the impressive 2600 and 5200 versions and the game isn't even full screen like the others for what ever reason. This bug shooting game has really aged and I wonder why Atari even released it again especially when this edition wasn't even arcade perfect. If you're still a fan of Centipede though this is a good way to kill time I guess since the action is intense as ever and you even can play it with two players at once.
Model #7801
For 1 or 2 players
graphics: 3
sound: 3
gameplay: 2
Find Centipede on eBay here!

13 CHOPLIFTER (Atari, 1988)
Choplifter is a boring helicopter shooter with lack luster controls and super annoying rescue missions. The main problems I have here is the awkward angles your shots go so it can be hard to hit the multiple targets and it's also annoying rescuing prisoners since they drop any power ups like in the famous NES game Jackal. Even the Sega Master system version of Choplifter is better than this and I hated that game too.
Model #7821
For 1 player only
graphics: 5
sound: 2
gameplay: 4
Find Choplifter on eBay here!

31 CROSSBOW (Atari/Exidy, 1987)
Crossbow is a weird light gun game where you help protect a group of warriors over several dangerous landscapes. The concept is cool but the game comes with graphics and sounds that can't compare with other Light Gun games like Duck Hunt or Safari Hunt on rival game machines. If you hated those gun games then you will absolutely loath this title.
Model #7844
For 1 or 2 players
graphics: 4
sound: 2
gameplay: 6
Find Crossbow on eBay here!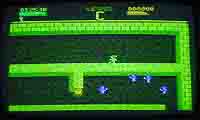 56 DARK CHAMBERS (Atari, 1988)
Dark Chambers here is a Gauntlet style adventure game that no longer has any major headaches like how your health slowly eats away over time but this game sadly has much slower game play. There is nothing special here in this overhead game and you can tell Atari was sure running out of great ideas.
Model #7837
For 1 or 2 players
graphics: 5
sound: 3
gameplay: 6
Find Dark Chambers on eBay here!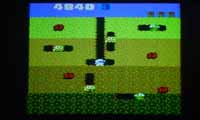 57 DIG DUG (Atari/Namco, 1987)
Atari's 7800 version of Dig Dug is a near perfect arcade translation of the lovable game minus the high score table and smaller number fonts. This is the Namco classic where guide your hero through the dirt so you can pump and pop your multiple enemies in the underground. The game doesn't have too much to offer outside of early arcade era so don't be surprised if you'll be bored after a few minutes despite the cool concept.
Model #7803
For 1 or 2 players
graphics: 5
sound: 5
gameplay: 4
Find Dig Dug on eBay here!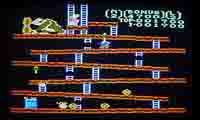 53 DONKEY KONG (Atari/Nintendo, 1988)
The legendary action game about a plumber trying to rescue his love from a giant ape also comes to the Atari 7800. There is still a missing level from the original game (The infamous pie factory stage) but it's almost like the fun arcade game. The 7800 stick controller is too unresponsive for this game but you could do a lot worse (Atari 2600 or Intellivision anyone?).
Model #7848
For 1 or 2 players
graphics: 5
sound: 4
gameplay: 4
Find Donkey Kong on eBay here!

59 DONKEY KONG JR. (Atari/Nintendo, 1988)
Here is a almost perfect arcade port with all the four levels but the sound is little a weak here though. If you don't know what's going on here then here's the big twist in this sequel. Instead of controlling Mario like before, you must help Donkey Kong's son (DK jr.) rescue his captured dad from Mario before he becomes a side show. DK JR. is a fun platformer with some cool diverse stages.
Model #7849
For 1 or 2 players
graphics: 5
sound: 3
gameplay: 4
Find Donkey Kong Junior on eBay here!

29 DOUBLE DRAGON (Activision/Technos, 1988)
It's cool that this arcade classic ported to three major 8-bit consoles during the late 1980's and I was excited to see what the 7800 could do with the popular beat em up franchise. I'm sad to say it isn't pretty. First off the controls and game play feel even slower then the other versions so it feels like a completely different experience now and not for the better. Double Dragon is a great arcade game because you and or a friend get to beat up a bunch of dangerous thugs after they stole your girlfriend but the once intense game play becomes a chore to play here. The presentation is also lacking thanks to the lack of detail in the fighters and backgrounds plus the music is heavily muffled and it's torture to the ears. Double Dragon 7800 is under developed and tough to play for all the wrong reasons.
For 1 or 2 players
graphics: 4
sound: 4
gameplay: 5
Find Double Dragon on eBay here!

09 F-18 HORNET (Absolute, 1988)
F-18 Hornet is a 3D flight simulator for the 7800....... why? This game does sport some good graphics at least but if you're looking for killer speed and high octane action then look else where.
*Uncommon 7800 game
For 1 player only
graphics: 6
sound: 2
gameplay: 3
Find F-18 Hornet on eBay here!

BEST ATARI 7800 GAME!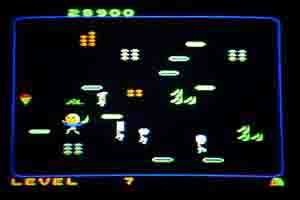 78 FOOD FIGHT (Atari, 1987)
If I could describe Food Fight in anyway, I would say it's very goofy fun. The objective is simple: guide the kid with the big head over to the ice cream cone on the left side of the screen before it melts. Be careful of those rotten kitchen chefs though because they will try everything to stop you from getting it even if it means they have to throw food at you. Fortunately for you, your hero can throw stuff at them too so you can get them out of your face. The game can get repetitive but Food Fight is still a very original and arcade-like game for the 7800.
Model #7804
For 1 or 2 players (alternate)
graphics: 6
sound: 4
gameplay: 5
Find Food Fight on eBay here!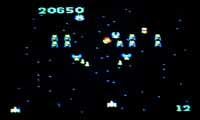 68 GALAGA (Atari/Namco, 1987)
Galaga is a great classic shoot them up by Namco in 1981 that's still fairly popular to this day. The sequel to Galaxian not only features better graphics and sounds but the game play rocks too! In the game you're still a spaceship shooting at giant bugs but now you can power up your ship with double fire power by losing one of other ships to a tractor beam enemy and by getting it back. The graphics look more blocky and it's a little slower than the arcade or NES versions, but that's only in the first 10 levels. Once you try the Expert levels you'll see it's mostly all here. Galaga is an awesome bug killing game even today.
Model #7805
For 1 or 2 players
graphics: 4
sound: 4
gameplay: 5
Find Galaga on eBay here!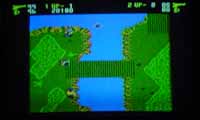 53 IKARI WARRIORS (Atari/SNK, 1989)
This game would have rated higher if it wasn't for the choppy frame rate and the low detail on this classic arcade overhead war shooter by SNK (the Neo Geo guys). The NES version wasn't all that great either too btw but this is still a passable shooting game if you play it right but be prepared for a challenge since the controls were better in the arcades.
Model #7855
*Uncommon 7800 game
For 1 or 2 players
graphics: 3
sound: 4
gameplay: 7
Find Ikari Warriors on eBay here!

30 JINKS (Atari, 1988)
Jinks is just like a new age version of Pong, but what hurts the game play here is that too annoying to play thanks to that awkward bouncing ball physics so it always seems to gets lost about 80 percent of the time. Jinks had potential feels like a complete waste of time.
Model #7857
For 1 or 2 players
graphics: 4
sound: 4
gameplay: 2
Find Jinks on eBay here!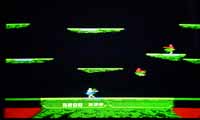 71 JOUST (Atari/Williams, 1987)
This game is a very good version of the medieval arcade game featuring rival knights on giant Jousting birds fighting for it out for survival. The person who is higher after a good hit gets to live but it isn't as easy as it sounds because you are fighting multiple opponents and even some indestructible ones too. This 7800 version of Joust is fairly close to the arcade original but since this was released in 1987 it had better be. Why didn't we get Joust 2 instead?
Model #7806
For 1 or 2 players
graphics: 5
sound: 4
gameplay: 4
Find Joust on eBay here!

07 KARATEKA (Atari/Broderbund Software, 1988)
This has to be easily one of the worst fighting games ever made, no lie! Even the controls work against you in the heat of battle and that's not good for an old school one of one adventure/fighting game especially when the computer can defeat you with one well timed hit. Karateka sucks so don't play it!
Model #7822
For 1 player only
graphics: 3
sound: 3
gameplay: 0
Find Karateka on eBay here!

The StarSoldier's Game of the Month!
76 MS. PAC MAN (Atari/Namco, 1987)
Here is a very good translation of one of the coolest arcade video games ever! It's so good that's its almost perfect but this comes with a new level select and you can even have 5 lives to start instead of 3. This is Midway's sequel to the popular Namco classic but now Pac Man is out and a new female pellet muncher is here to outwit those 4 annoying ghosts. This is a good reason to have an old Atari 7800 although there is nothing that we haven't seen before.
Model #7807
For 1 or 2 players
graphics: 6
sound: 7
gameplay: 7
Find Ms. Pac Man on eBay here!

67 POLE POSITION II (Atari/Namco, 1987)
If some of you gamers out there can manage to find a new Atari 7800 (good luck!) then there is a chance that you could find this old school racer packed in already. This can't compare to the real arcade racing game since the graphics are down graded slightly but this is one the best home versions of Namco's Pole Position out there I know of.
Model #7808
For 1 player only
graphics: 5
sound: 5
gameplay: 5
Find Pole Position II on eBay here!

71 ROBOTRON 2084 (Atari/Williams, 1987)
If you want to play the game just like the arcade version you need two controllers to it right just like the original but you can still play it well with one stick as well. You remember those Smash TV types of games, this is one of the earlier type of shoot everywhere shooters. Robotron is intense and crazy arcade action plus the 7800 version is near arcade perfect.
Model #7809
For 1 or 2 players
graphics: 5
sound: 5
gameplay: 5
Find Robotron on eBay here!

43 SCRAPYARD DOG (Atari, 1989)
Scarpyard Dog is a very simply action platform game is Atari's Super Mario Bros. clone with unusual controls and some very cheap enemies. The standard 7800 controller Atari gives you is no help at all as you try and rescue your dog from the rotten dude named after a candy bar (Mr. Big). This is dog alright.
For 1 player only
graphics: 4
sound: 3
gameplay: 5
Find Scrapyard Dog on eBay here!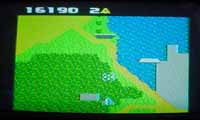 50 XEVIOUS (Atari/Namco, 1987)
Xevious is a basic overhead shooter with rendered graphics (for 1981 anyway) and the most annoying theme music in the world (although it still sounds arcade perfect). The game play is too long and very unrewarding to hold my interest but a game like this is rare type of game for the Atari 7800 I guess. This is not one of Namco's finest arcade games but shooter fans may like it anyway.
For 1 or 2 players
graphics: 5
sound: 2
gameplay: 4
Find Xevious on eBay here!