GAME OF THE MONTH COLLECTION!
FINAL FANTASY VII
(Square, September 9, 1997)

Final Fantasy 7 was for many the introduction to this popular Role Playing series, and to some many even the best game of this long running million selling RPG's. Why you say? Who could the game's huge jump to 3D and how the story told the main characters struggled to retain his sanity during some intense situations of the storyline or the game's scary head villain, eh? Part 7 was also the most impressive major shift in the series thanks to the graphics, souped up CD music, and even the newer game play. Final Fantasy 7 was very groundbreaking in so many ways.

Final Fantasy 64?

When the new Ultra 64 (later named the Nintendo 64) game system was being hyped in 1996, Square soft was already on board preparing a new Final Fantasy for the next Nintendo machine. Things seemed to be going well between the two companies but that all changed when Sony made a deal with Square to release Final Fantasy VII exclusively for the Playstation. The deal was so good that Square wouldn't release any new games for the N64, Game boy, Saturn, or any other competitor at all. Square soft has been well known for making some of the highest acclaimed video games for the Super Nintendo like Final Fantasy III, Secret of Evermore, and Chrono Trigger, so many people were shocked when Square started to make games for Nintendo's new rival Sony and their Playstation but in the end, moving the series to the Playstation was a great decision because this PS exclusive would prove to be a great game.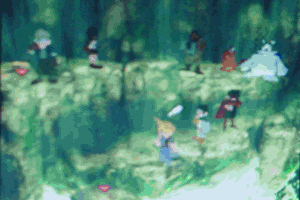 Do I exist?

"You want an insane storyline, you got one!" In the game you play in a fictional universe kind of similar to present day earth. You assume the role of Cloud Strife, a former Shin-ra Soldier (or was he?) who is looking for former friend and mentor named Sephiroth that betrayed you years ago in your home town. Cloud is currently a mercenary for hire for a man named Barret (a big bad Mr. T look a like with a artificial gun arm), and he doesn't care if he attacks his former company to find some extra cash, however Cloud has a terrible past that soon comes back to haunt him. Sure, Cloud is as tough as it gets, but during the game his emotional state really comes into question, sometimes you watch helplessly as he goes mad and the man he once respected (Sephiroth) appears to be at the center of it all. Fortunately our hero has two good (and very lovely) friends Tifa and Aeris who support him on his mission, and the three have a strange love triangle too that's fun to watch. Throughout the lengthy game you help Cloud and his friends try to stop a fiendish plot by Sephiroth before he manages to destroy the world.
The world of Final Fantasy wouldn't be the same without the use of magic and this game is no different. The only way to use spells here now is by linking special multi-coloured gems called 'Materia' to your characters weapons. Some of the weapons have anything from 1 to 8 slots for Materia so it always a good idea to be a where of what your weapon can handle. Guys like Barret and Cid mostly have weapons that low slots for Materia while guys like Cait Sith have weapons with high slots that are perfect for lots of those little magic gems. Materia is fairly complex to new players thanks to some stat altering effects but once learned the spell system is really fun to play around with especially if you pair them up for different effects. Final Fantasy 7 is such a deep game that even the Materia can earn experience after each battle just like your characters. The only thing that drove me nuts about the Materia was when that goofy Yuffie girl stole all them at one time because I spend a great deal of time to set up my perfect mixture for each person, it was very annoying when I had to re-configure the whole system all over again and that's why that girl drives me nuts.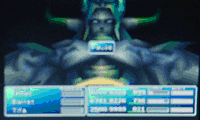 Fear the power!

Final Fantasy 7's graphics easily set the standard for Playstation and video games in general back in its day. I think everyone's jaw dropped they seen some of the over the top Summon spells (some of these spells are actually from Final Fantasy VI) in the fight scenes and who could forget all the awesome Computer Generated cinemas that set the mood of a particle moment. This Final Fantasy also has several cool looking 3D bonus games like a Motorbike chase (like in Road Rash), a free snowboarding game, and even some Chocobo Racing. Forget about those cheesy super deformed 8 and 16-bit Final Fantasies, this is far superior looking compared to those in the older style RPGs. The only problem with these character models is that there are super blocky during the map scenes plus some the animations of the battles are a little choppy but these are very minor complaints.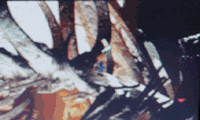 Hear your fate.

Square soft knows their music and they do it again because FF7 also has one of the best soundtracks in the industry. Just to get an idea just how big this game is in scale, there are over 50 different music tracks here all together; even the 9 playable characters have their unique music track. Wait till you hear the stuff during the final battle, it's truly awesome! The only thing weak about the sound in Final Fantasy VII is the sound effects, you hear some minor crashes and beeps during battles but yours fighters don't talk at all in this game and some may be disappointed by this (although I'm glad that Cloud doesn't sound like oddball Tidus from FFX, so maybe it's a mixed blessing).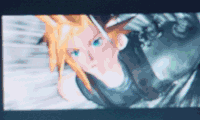 The battle within?

Final Fantasy 7 still remands my all time favourite Playstation game, even though I played over a hundred games for this system alone. I absolutely loved the twist and turns of the story, I liked all the characters (except for Yuffie of course), and I don't even care that the characters look super blocky when compared to the guys in Final Fantasy X. If all that wasn't enough the game has a great story, great music, great graphics, and a very long quest across 3 discs that should take a large amount of time to complete. Not even the FF sequels were as good as this game in my opinion. I heard there were rumours about a true sequel to the events in FF7 but they only remand rumours at this point but I wouldn't mind playing another even if it means another re-release (that crappy Dirge of Cerberus doesn't count) for the Playstation 3. If you haven't played this game yet then you'll be missing one of the biggest gaming events that even eclipses most big movies (including that stupid CG Final Fantasy that had little to do with the games by the way). Can Cloud fight the battle in his mind to become strong enough to save the world or will he lose himself to the chaos in his head? That's up to you. Final Fantasy 7 is still the king of the RPG's; it's truly unforgettable!
Conclusion:

FINAL FANTASY VII
overall rating: 99/100
Find Final Fantasy 7 on eBay here!
For 1 player only
Rated (T) for Teen
graphics: 9/10 ................ great scenery, unforgettable battles.

sound: 9/10 .................. excellent music but some poor sound effects.

gameplay: 9/10 ................ lots of items and materia to discover.

-StarSoldier1
(Ryan Genno) 2003



Other Games of the Month!