Down and Dirty Reviews: Genesis -- A - E
There are over a hundred games here! Sega has really out done themselves with the Genesis. You'll see a lot classic shoot em ups, action platformers, and much more but there are not a lot of those sports games reviewed because they are not my favourites. All reviews are by StarSoldier unless noted.

The overall scores are out of 100.

The graphics, sounds, and game play are out of 10.
Score / Name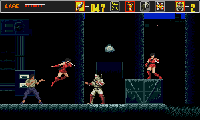 92 6 PAK (Sega, 1996)
This great cart comes packed with 6 huge hits like Sonic (excellent!), Revenge of Shinobi (awesome!), Streets of Rage (very cool!), Golden Axe (not bad), Super Hang On (a little dated but good), and Columns (poor man's Tetris). Mostly all great and diverse games in one solid package. There are no new features and the menu selection screen is pretty boring too but 6 Pak still is an excellent game to have around especially for the first time Sega Genesis player out there.
For 1 or 2 players
graphics: 8
sound: 7
gameplay: 10
Find the 6 Pak on eBay here!

40 ACTION 52 (Active Interactive, 1991)
This awful NES game comes to the Sega Genesis here with some slightly improved graphics and sounds but the games are still really basic and very repetitive in an extremely boring kind of way. All the 52 games here are no name losers too so don't expect to play anything you heard of before or anything fun for that matter either.
*Rare Genesis game
For 1 or 2 players
graphics: 4
sound: 4
gameplay: 3
Find Action 52 on eBay here!

62 ADVENTURES of BATMAN and ROBIN (Sega, 1995)
"Here's a review for ya, the music here sucks!" This plays more like a arcade game since your heroes have unlimited throwing stars and the stages are very linear compared to the action game found on the Super Nintendo. The game play isn't very realistic but the graphics were sharp and this is a good game for two players.
For 1 or 2 players
graphics: 7
sound: 3
gameplay: 6
Find Batman & Robin on eBay here!


75 AIR BUSTER (Kaneko, 1991)
This is just like Aero Blasters for the TurboGrafx-16 but with nicer graphics that are nearly arcade perfect but the music is not quite as good though. Both are great side scrolling shooters where you blast away at an invading alien fleet and try to save the earth and all that crap. The difference here in this typical story line is all that constant action and cool primary and secondary weapons here to collect. The game is still a bit too hard in spots but if you are a fan of these types of games then be sure to look this up.
For 1 or 2 players
graphics: 9
sound: 6
gameplay: 6
Find Air Buster on eBay here!

44 AIR DIVER (Asmik, 1990)
Air Diver is your standard first person shoot em up in the unfriendly skies much like Sega's After Burner or G Loc. Sadly with these graphics and sounds this game doesn't stand the test of time very well and the game play is nothing new either. Air Diver is a very early Genesis title and it shows.
For 1 player only
graphics: 3
sound: 3
gameplay: 3
Find Air Diver on eBay here!

70 ALEX KIDD In The ENCHANTED CASTLE (Sega, 1990)
This is the last known Alex Kidd game ever to be released on a gaming console and fortunately this is another good looking game for the series. EC is very similar to the amazing Alex Kidd in Miracle World for the SMS upset for the much improved graphics, that also means you better be prepared for a challenging action game since the game moves slow and Alex can die rather easily. Enchanted Castle is a very good find but I can see why Sega switched over to Sonic as their mascot.
*Uncommon Genesis game
For 1 player only
graphics: 7
sound: 6
gameplay: 7
Find Alex Kidd on eBay here!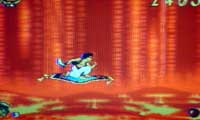 70 ALADDIN (Sega/Interplay, 1993)
This Disney action game features some great cartoon-like graphics and background music that look like they were ripped right from the hit movie but it is just a standard platformer once that is taking away. Your short sword weapon is almost useless at times and the platforming can get very tricky thanks to the loose controls for example. The game is still better then most action Genesis titles but get ready for a hard title as well.
For 1 player only
graphics: 8
sound: 7
gameplay: 5
Find Aladdin on eBay here!


63 ALTERED BEAST (Sega, 1989)
Here is the original pack in game for the Sega Genesis but was it the killer app people really wanted? The story involves two dead Greek warriors that are now resurrected in order to save Zeus's kidnapped daughter. The men not only have to power to muscle up but they also have the power to transform into different animals like a werewolf, dragon and more. Unfortunately, overall this is a average and very short action title can only be finished in a few minutes so this game will be gathering dust in no time.
For 1 or 2 players
graphics: 6
sound: 5
gameplay: 7
Find Altered Beast on eBay here!

69 ANIMANIACS (Konami, 1994)
Just like other action games out there (i.e. Square's Secret of Mana or Blizzard's the Lost Vikings) in Animaniacs you can switch between 1 of 3 characters to get your missions done in various Warner Bros. movie and television sets. The game is a fun action for kids with it's cute graphics and easy to use controls but the simple concept won't please everyone especially if you wanna kill stuff.
For 1 player only
graphics: 6
sound: 6
gameplay: 6
Find Animaniacs on eBay here!


35 ARCADE CLASSICS (Sega/Atari, 1997)
This one gamepak has the three Atari classic: Missile Command, Centipede, and Pong on it and that sounds great on paper. Sadly, each one is poorly made with high amounts flickers and slowdowns............... isn't this a 16-bit system that put Nintendo in it's place a few years ago? Stay away from this awful cart!
For 1 or 2 players
graphics: 2
sound: 2
gameplay: 4
Find Arcade Classics on eBay here!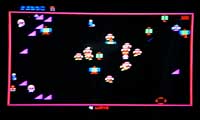 65 ARCADE'S GREATEST HITS: Midway Vol.1 (Midway, 1996)
These arcade classics are way better then Sega's first try at it up there. This 5 in 1 cart has the early 1980's arcade classics Defender (cool!), Defender II (better), Joust (challenging), Robotron 2084 (crazy!), and Sinistar (great voice samples!). All these cool retro games are on this one tiny cartridge and they all play great here but the lack of options and a save feature hurt these hits.
For 1 or 2 players
graphics: 3
sound: 6
gameplay: 8
Find Arcade's Greatest Hits on eBay here!

60 ARROW FLASH (Renovation, 1990)
Here in this game you pilot a transforming aircraft in this fun but very typical shooter here. Don't expect anything special here folks thanks to the basic graphics and sounds but it's still a fair enough shooting game with fast action and some decent weapons if you find it at a good price.
For 1 player only
graphics: 5
sound: 5
gameplay: 6
Find Arrow Flash on eBay here!


44 ART of FIGHTING (Sega/SNK, 1994)
OK, here is the medicore Neo Geo fighting ported on the weaker Genesis. If you don't know the deal you guide one of two heroes as they try to rescue a girl from a powerful crime boss. Alright that sounds cool enough and the two fighters have a wide array of special moves but annoying you have a limit bar so you have to be careful how you use them. Sadly both the characters you command in the story mode have nearly the same moves but now we get worse graphics (no scaling here), poor audio (ack, those voices) and the game is insanely difficult too because you only get a few credits to work with. That 500 dollar plus Neo Geo isn't looking too bad now, eh?
For 1 or 2 players
graphics: 5
sound: 5
gameplay: 6
Find Art of Fighting on eBay here!

63 ATOMIC ROBOKID (Temco, 1990)
One of the most obscure shooting games on the Sega Genesis. In Atomic Robo Kid you help a strange looking robot creature defeat various cool looking enemies in this tough little shooter with tons of levels to explore. The difficulty may be a bit much for some players since your hero is a pretty big target with weak armour but if you love shooters with a bit more freedom of movement then you may like this too.
*Uncommon Genesis game
For 1 player only
graphics: 7
sound: 6
gameplay: 6
Find Atomic Robokid on eBay here!

67 ATOMIC RUNNER (Data East, 1991)
Atomic Runner is a very weird but fun action title were the main hero is always running forward after a successful prison break. The game is a very tough game because only one hit will kill you and your enemies are all over the place here but it is a solid title that comes packed with a lot of action.
For 1 player only
graphics: 7
sound: 6
gameplay: 6
Find Atomic Runner on eBay here!


06 AWESOME POSSUM Kicks Dr. Machino's Butt (Tengen, 1993)
The name alone should be warning enough to stay far away from this but it you need more proof then here's a review. Awesome Possum is nothing but a blatant Sonic the Hedgehog clone right down to the robotic enemies and the generic spin jump attack. The game has a cool environmental message not to destroy the earth and to be nice to animals and junk like that but it is a shame the whole theme is in a sucky title like this. The game is extremely choppy, the graphics are ugly at best, and the voice acting makes the Gex games sound like Oscar winning material. Awesome Possum has dud written all over it.
For 1 player only
graphics: 3
sound: 1
gameplay: 3
Find Awesome Possum on eBay here!

11 BACK to the FUTURE III (Arena, 1991)
Do you want some tedious and overall simple game play? Then this shameless piece of crap is for here is for you! This game was based on the final movie of this trilogy where the time traveling doctor and his friend Marty Mcfly go back in time to the wild west. This game has some decent graphics back the highly repetitive action and high difficulty continues the Back to the Future legacy of some of the worse licensed video games in known existence.
*Uncommon Genesis game
For 1 player only
graphics: 6
sound: 3
gameplay: 2
Find Back to the Future on eBay here!

49 BALLZ (Accolade, 1994)
Each of the 8 fighters here are made up of several balls instead of usual polygons found in other 3D beat em ups. This game would have rated higher if the hit detection was better. Still this is as close to Virtua Fighter as you're ever going to get on the Genesis and yes that includes the dreadful Virtua Fighter 2 down there.
For 1 or 2 players
graphics: 5
sound: 6
gameplay: 8
Find Ballz on eBay here!

04 BARNEY & FRIENDS (Sega, 1993)
So here is a game so easy and forgiving that it's completely void of any challenge! Heck, just leave the controller alone for a bit and the game plays itself. The graphics are OK for smaller fans and the voices are decent but it's holy crap is this a piece of sh@#!
For 1 player only
graphics: 3
sound: 6
gameplay: 0
Find Barney & Friends on eBay here!


48 BART VS. The SPACE MUTANTS (Flying Edge/Acclaim, 1992)
This is a good upgrade of the original NES title with better graphics and music here on the Genesis but it's not not all rosy here. The hard as hell game remains the same though as you help Bart Simpson get rid of the invading Space Mutants in 5 tough missions. Sadly the controls are insanely frustrating to use and it only takes two hits to die so I don't recommend this one for the kids.
For 1 player only
graphics: 7
sound: 3
gameplay: 7
Find Bart vs. the Space Mutants on eBay here!

72 BATMAN (Sunsoft, 1991)
This Batman game is a great looking action title based on the dark hit movie. Unlike the NES game this has driving and shooting levels along with the platform levels. The game is a little short but I still wouldn't miss it if you manage to find a copy especially since this game almost never even made it here.
For 1 player only
graphics: 8
sound: 7
gameplay: 6
Find Batman on eBay here!

46 BATMAN RETURNS (Sega, 1992)
This Batman game is based on the dark Hollywood blockbuster where a crime fighter dressed up like a bat battles with goofy but deadly villians like the Penguin and Catwomen. Usually Sega does a good job with their licensed games but Batman Returns is just a standard action game with some bad controls especially when using the grabbling gun. Batman Returns is playable with a wide range of weapons and the graphics are pretty decent as well but the sound effects and dull levels make it a below average game.
For 1 player only
graphics: 5
sound: 3
gameplay: 5
Find Batman Returns on eBay here!

29 BATMAN Revenge of the Joker (Sunsoft, 1992)
The only difference between Revenge of the Joker and Sunsoft's earlier Return of the Joker on the 8-bit Nintendo is the slight name chance and the developer wasn't done in Japan. Sadly this means 'Revenge' of the Joker here is even worse than the 'Return' of the Joker NES version in terms of graphics, sound and style. Why? How?
*Uncommon Genesis game
For 1 player only
graphics: 3
sound: 3
gameplay: 4
Find Batman Revenge of the Joker on eBay here!

40 BATTLE SQUADRON (Electronic Arts, 1991)
This ugly shooting game tries to be like other popular arcade games on the Genesis but this is just way too hard and it feels like it has been rushed to market. I liked some of the music and visuals here but the problem is enemy fire is all over the place and it gets so annoying. Battle Squadron is hardly a classic like a Gradius, a Space Mega Force, or a R Type.
*Uncommon Genesis game
For 1 or 2 players
graphics: 5
sound: 6
gameplay: 3
Find Battle Squadron on eBay here!

70 BATTLETOADS (Tradewest/Rare, 1992)
This game is just like the cool and highly acclaimed NES original but with much better graphics and music here on the Genesis. In the game you play as one or two giant toads on a mission to rescue their friends from the evil Dark Queen slut. There is nothing new in the game play department though and that means that this intense fighting game isn't any easier either.
For 1 or 2 players
graphics: 8
sound: 7
gameplay: 7
Find Battletoads on eBay here!

64 BEYOND OASIS (Sega, 1995)
Beyond Oasis is a rather good looking action/RPG starring an Arabian warrior with blonde spikey hair. This action game would have been a really outstanding title if it wasn't for the terrible voices used and confusing game play. You can also find these type of Oasis games for the Saturn and Game Gear if you care.
*Battery back up game
For 1 player only
graphics: 8
sound: 5
gameplay: 7
Find Beyond Oasis on eBay here!

43 BIMINI RUN (NuVision, 1990)
Here's a boat action/racing game nobody even remembers and maybe there's good reason for that. This game had some OK 3D graphics for its day but the sloppy frame rate will give you a headache for what we are use to now, eh? Bimini Run is slow, hard to control, and overall it's just junk now.
*Uncommon Genesis game
For 1 player only
graphics: 5
sound: 4
gameplay: 4
Find Bimini Run on eBay here!

70 BIOHAZARD BATTLE (Sega, 1992)
This is a weird bug-like shooter and not an Resident Evil game by the way. To warn ya in advance the music here is just awful but the game play itself was still fairly intense with some nice weaponry available from 4 different bug ships. It may look weird but Biohazard Battle but the game packs a lot of action so it may surprise you.
For 1 player only
graphics: 7
sound: 2
gameplay: 7
Find Biohazard Battle on eBay here!

35 BLASTER MASTER 2 (Sunsoft, 1992)
Imagine my surprise when Sunsoft finally announced a sequel to an old favourite of mine right here on the Sega Genesis. Although the original Blaster Master was not a huge hit on the 8-bit Nintendo and you have to admit the name is very generic too, the game still won high acclaim for its challenging and unique action. Not only do we get another action game in this series but it's also on a stronger 16-bit game system now! You would think that Blaster Master 2 would add up to be a great game, eh? The one thing I hate the most about the new features in Blaster Master 2 is the new overhead levels, I actually hate them with a passion. These new levels are just way too long and easily too tedious to be any fun, plus what's the deal with the power ups only lasting a mere 10 seconds? In the end the game is just not nearly as fun as the original Blaster Master for NES but it's sadly it's one of the few sequels to the cult favourite.
*Uncommon Genesis game
For 1 player only
graphics: 6
sound: 3
gameplay: 7
Find Blaster Master 2 on eBay here!

74 BUBSY (Accolade, 1992)
This odd game you help this once popular Bobcat defeat evil aliens in 16 long and unique stages. This tough game here was Accolade's answer to Sonic the Hedgehog and Mario and the idea worked for a while anyway especially with the game's impressive cartoonish graphics and music. It's fun jumping around on stuff and beating up aliens so if you can find I say get it. "What could possibly go wrong?"
For 1 or 2 players
graphics: 7
sound: 7
gameplay: 7
Find Bubsy on eBay here!

46 BUBSY 2 (Accolode, 1993)
What could have been a good action game has turned into a very corny sequel with a bunch of cheesy new jokes, lame level design, and a new annoying music feature: the faster bubsy's runs the faster the music goes too. Bubsy 2 is too weird of a platform and shooting game that maybe better for kids instead.
For 1 player only
graphics: 6
sound: 3
gameplay: 6
Find Bubsy II on eBay here!

11 BUDOKAN: The Martial Spirit (Electronic Arts, 1990)
Here is a early karate simulator that makes Street Fighter II look like the greatest game of all time. The biggest problem is the controls are so stiff and awkward that it really makes the game virtually unplayable. If you played other hard to control games like Karate-ka before than you know what this game is all about.
*Uncommon Genesis game
For 1 or 2 players
graphics: 2
sound: 2
gameplay: 5
Find Budokan on eBay here!

67 BURNING FORCE (Namco, 1992)
I bet you don't remember this one, eh? Burning Force here is a fun 3D shooter starring a half naked girl bike rider (hot!) on a mission to shoot down anything that moves. During the later stages and boss fights she can even fly through the air. This was Namco's first game on the Sega Genesis by the way and it's a fairly good one too but the game can get repetitive.
For 1 player only
graphics: 7
sound: 6
gameplay: 6
Find Burning Force on eBay here!


70 CADASH (Taito, 1992)
Cadash is based on the arcade game of the same name and encase you haven't played that game before here is what it is all about. The game is 2D action/role playing game featuring a warrior and a wizard on a quest to rescue a princess. Sadly the game is very slow and uneventful plus the female mage and ninja aren't playable characters because they didn't make the cut and that means it isn't 4 player either as well. Cadash loses a lot in this translation but the action and role playing elements still work well here.
For 1 or 2 players
graphics: 6
sound: 4
gameplay: 6
Find Cadash on eBay here!

28 CALIFORNIA GAMES (Sega/Eypx, 1990)
California Games lets you play several boring, hard to control events in one out dated video game. You still get all the events here like Hackie Sack and Roller Blading but honestly, it doesn't look that much better then the 8-bit versions. The girl on the cover did have great legs though but if you buy this game because of that then you shouldn't be playing games to begin with.
For 1 or 8 players
graphics: 5
sound: 4
gameplay: 4
Find California Games on eBay here!

86 CASTLE OF ILLUSION Starring Mickey Mouse (Sega, 1990)
Here is a slow moving 4 Meg action title starring that famous Disney cartoon rat we all love to hate. The game may come with simple game play to keep the casual players happy but the game's great graphics help to sell the experience. Although Castle of Illusion is a above average action/adventure for the kids, there is still enough challenge for the adults too. Well worth picking up.
*Uncommon Genesis game
For 1 player only
graphics: 8
sound: 7
gameplay: 5
Find Castle of Illusion on eBay here!


91 CASTLEVANIA: BLOODLINES (Konami, 1994)
Bloodlines is a great version of Castlevania with two selectable characters, excellent music and of course lots of blood. The graphics and sounds are noticeable worse than Konami's earlier Super CastleVania IV on the Super Nintendo but the animation is pretty solid and the killing the undead is always fun especially with these great controls. If you want more CastleVania and you don't really care about some minor issues then Bloodlines is still a very good purchase.
For 1 player only
graphics: 8
sound: 7
gameplay: 8
Find Castlevania Bloodlines on eBay here!

42 CHAKAN: The Forever Man (Sega, 1992)
"I'm still waiting for Chakan 2 game, 'wait a minute' NO I'M NOT!" Chakan is a very slow, very bad sounding, and very chunky action game starring a undead warrior skilled with two swords. It sounds like a cool concept and the graphics are choppy but look creepy but Chakan The Fovever Man is stuck in the 90's.
For 1 player only
graphics: 5
sound: 4
gameplay: 6
Find Chakan on eBay here!

34 CHESTER CHEETAH Too Cool To Fool (Kaneko, 1991)
In this odd title you play as the Cheetos Cheese shack Mascot in this marketing disaster of a platformer. In this lame game you play as that cheese puff loving tiger with the big head on a mission to find all his motorcycle parts. The controls are stiff, there's a guitar power up here that doesn't do crap and the even the music stinks. Do be too cool to fool and don't buy this game because you'll only get a below average plat former here.
For 1 player only
graphics: 5
sound: 3
gameplay: 3
Find Chester Cheetah on eBay here!


65 CLAY FIGHTER (Interplay, 1994)
This one on one fighting game is actually pretty funny with a strange cast of characters like a angry snowman to a transforming green blob. The digital clay modelled graphics here are rather impressive and the sounds tracks are solid too but they are quite as sharp as the Super Nintendo edition. The fighting itself seems faster but it still isn't as intense or as fun as other big brawlers out there like Street Fighter 2 or Mortal Kombat. Clay Fighter is not the most original game out there but you gotta love that fat Elvis character, eh?
For 1 or 2 players
graphics: 7
sound: 6
gameplay: 7
Find Clay Fighter on eBay here!


44 COLUMNS (Sega, 1990)
Sega's answer to Tetris is merely a shell of the Russian classic. You line up multiple coloured gems of the same type to make them disappear, sounds familiar eh? One of the problems I have with the game is the lack of play modes here. There is just a basic Arcade mode for 1 or 2 players so this is barely passable as far as puzzlers go. The game can be playable but it has really aged badly so don't spend too much money on this in other words.
For 1 or 2 players
graphics: 3
sound: 2
gameplay: 4
Find Columns on eBay here!

76 COLUMNS III (Vic Tokai/Sega, 1994)
Who here remembers Columns II? Anyway Columns III is a great sequel to this puzzle series and now it features new multi-player modes and better controls so you can flip around these different coloured blocks a lot easier then before. It still the same game: match up colours, score point, all that crap. The one player game is fairly limited and the music loops too much but this game is still fun to play and great value for the money.
*Uncommon Genesis game
For 1 to 5 players
graphics: 6
sound: 4
gameplay: 8
Find Column III on eBay here!

72 COMIX ZONE (Sega, 1995)
Here is one awesome looking action game where you become part of your own comic book story line in a weird twist of faith. The game works great with a 6 button controller and the graphics are really amazing too since it looks just like a comic book adventure but it's still kind of hard and linear in design since you only get one life and no continues.
For 1 player only
graphics: 9
sound: 7
gameplay: 7
Find Comix Zone on eBay here!


84 CONTRA: HARD CORPS (Konami, 1994)
Here is another great Contra game but now it comes with 4 selectable characters, stylist graphics, and even nonlinear game play. Just like other action games of the series you get lots of guns and you destroy anything that gets in the way. Each character has their selection of weapons too so there's even a lot of depth to the game play. The only problem with the Sega Contra here is the over use of the game bosses. Contra Hard Corps is still an amazing action game but get ready for a serious challenge too.
For 1 or 2 players
graphics: 8
sound: 6
gameplay: 8
Find Contra: Hard Corps on eBay here!

74 COOL SPOT (Sega/Virgin, 1991)
This title may seem like a cheap product tie-in product but this little 7up creature that promotes a high sugar soda drink has a pretty good action game here. Cool Spot has a lot of intense game play like in Sega's later Vectorman and there are over 10 levels to master. The game would have rated higher if the game had more power ups or more moves in add some depth to the game's design but what's here is still good.
For 1 player only
graphics: 7
sound: 7
gameplay: 6
Find Cool Spot on eBay here!

69 CRUSADER of CENTY (Atlus/Sega, 1996)
This action adventure title plays a lot like Nintendo's Zelda series and although it's still a good game, I did bump a few points off for lack of originality and lack of action in many parts of game thanks to long story line bits. Sonic the Hedgehog also makes a cameo appearance in this game if you are interested but chances are you're not going to buy something called Crusader of Centy anyway, eh?
*Save feature included
*Rare Genesis game
For 1 player only
graphics: 6
sound: 5
gameplay: 7
Find Crusader of Centy on eBay here!

39 CYBORG JUSTICE (Sega, 1992)
Cyborg Junk... I mean Cyborg Justice is a well forgotten action/fighting title with ugly graphics, bad music, and confusing game play. You can customize you robot in all sorts of ways but it doesn't tell me enough about the parts in menus so it feels like a guessing game. If there was any justice, then there would be no video games this bad in the world.
For 1 or 2 players
graphics: 3
sound: 2
gameplay: 6
Find Cyborg Justice on eBay here!


02 DARK CASTLE (Electronic Arts, 1991)
Imagine a action platformer where your main hero is one of the biggest wimps in the world. In the game you control some dork trying to defeat a black knight the game is only a few stages long so it doesn't sound that bad, that's until die instantly from enemies less then three times your size. Maybe that wouldn't be so awful if this guy wasn't so hard to control. C'mon EA, you should be better then this.
For 1 player only
graphics: 2
sound: 2
gameplay: 1
Find Dark Castle on eBay here!

27 DEADLY MOVES (Kaneko, 1992)
Before one on one games were good like in Street Fighter II there were insanely unbalanced games like Deadly Moves here. In the game you play as a young martial artist that's much weaker then all the other characters he has to fight against. Is this guy Dan from Street Fighter Alpha or what? The generic characters and less than impressive controls don't help too much either to save this one from obscurity.
For 1 or 2 players
graphics: 6
sound: 2
gameplay: 3
Find Deadly Moves on eBay here!

35 DEATH DUEL (Razor Soft, 1990)
This one on one 8 Meg shooter got some complaints on being a tad too bloody for its time at least but it's nothing too bad by today's standards anyway (Grand Theft Auto anyone?). Death Duel is just a simple and not very exciting first person shooting game really where you to battle with many enemies one after one.
For 1 player only
graphics: 7
sound: 5
gameplay: 4
Find Death Duel on eBay here!


51 DICK TRACY (Sega, 1990)
Dick Tracy is a strange 3D action game based on the hit movie from the 1990's and the popular comic book series. The unique machine gun control system is innovative (this is where you can blast away enemies in the background) but it's also a pain in the neck because it can leave you open to a attack because you can't move while doing this. The game had a unique idea but the person who did this weird and hard to use control set up is the real Dick.
For 1 player only
graphics: 6
sound: 6
gameplay: 6
Find Dick Tracy on eBay here!


28 DJ BOY (Kaneko, 1990)
Here is a Double Dragon-like fighting game starring a cartoonish tough kid in roller blades looking to save his girlfriend from rival street gangs. All I'm saying is she better put out after all this crap! DJ Boy is a fun beat em up game at first but in the end it's a very unoriginal fighting video game that gets very repetitive and insanely difficult in a hurry thanks to the lack of continues and cheap enemies. Oh boy, just skip it.
For 1 player only
graphics: 5
sound: 5
gameplay: 6
Find DJ Boy on eBay here!


76 DOUBLE DRAGON (Accolade/Technos Japan, 1992)
Perhaps this is best arcade translations of this classic beat em up series thanks to the three button control being included and the graphics are almost dead on too. It even has Maria's white underpants being showed at the beginning after she gets punched in the gut and captured by the gang of thugs early in the game. OK, so that's what you do in the game, save a chick from a deadly street gang across 4 stages. It's not quite arcade perfect though thanks to some edited characters and the overall easy difficulty but it's still a fairly good game for fight fans out there. Too bad Accolade didn't make Double Dragon 3 though.
*Rare Genesis game
For 1 or 2 players
graphics: 7
sound: 6
gameplay: 7
Find Double Dragon on eBay here!


20 DOUBLE DRAGON 3: The Arcade Game (Arena/Technos Japan, 1992)
"How the mighty have fallen!" In this Billy and Jimmy Lee are on a mission to look for some stupid stones around the world. It's cool you can play as some other characters but they suck. Another problem with this weak beat em up sequel to the classic fighting series is far too easy and the hit detection is poor at best too. DD3 on the Genesis is a awful translation of a arcade game that wasn't that good to begin with.
For 1 or 2 players
graphics: 3
sound: 2
gameplay: 6
Find Double Dragon 3 on eBay here!


35 DOUBLE DRAGON V: The Shadow Falls (Tradewest, 1994)
I use to love this series but it sure went downhill after a few bad titles. Take Double Dragon V for example: just like the other games of the series you play as two brothers who are good at martial arts but now there are 8 other characters to play as and you all duke it out one on one. Yup, Double Dragon now does the Street Fighter II thing just like everybody else in the industry during the early 1990's and man, is it ever generic. It's cool that there are ten characters to pick from but they all look so stupid and even deformed. Despite the game's hard-core lineage this ended up being silly so it's a good idea to pass by this pitiful game.
For 1 or 2 players
graphics: 4
sound: 4
gameplay: 6
Find Double Dragon V on eBay here!

85 DRAGON'S FURY (Naxat Soft, 1990)
Some of you Turbografx-16 owners may recongize this one? Drogon's Fury is a medieval style pinball game with great control, good sounds, nice graphics, and all on a grand table. It's hard for me to get too excited over a Pinball video game especially since you're only playing on one (although fairly large) table but this title has tons of secret bonuses to unlock for bigger points and that's really enough to drive any player to continue here.
For 1 player only
graphics: 7
sound: 5
gameplay: 8
Find Dragon's Fury on eBay here!

68 DRAGON'S REVENGE (Tengen, 1995)
Here is the forgotten sequel to Devil's Crush and Dragon's Fury and Tengen even used the same artwork from the first Sega Genesis pinball game. Hire some Artist you lazy hacks! Dragon's Revenge is a good pinball game with very good graphics and all new bonus stages plus some stages even have half naked chicks but a save feature here would have been nice too.
For 1 player only
graphics: 7
sound: 6
gameplay: 7
Find Dragon's Revenge on eBay here!


78 DR. ROBOTNIX'S MEAN BEAN (Sega, 1993)
This is really a Puyo Puyo game that got renamed after the big bad guy of Sonic The Hedgehog fame. In the game you battle some of Dr. Robotnik's robots by matching up coloured blobs to make disappear. If your opponent screen gets filled with blobs you win. Although it didn't sell all that well its still one of the best selling puzzlers in Japan and the game is still pretty fun and easy to get into as well. The one player game is short but if Columns did nothing for you then maybe this addictive bean game here will?
For 1 or 2 players
graphics: 6
sound: 6
gameplay: 8
Find Dr. Robotnik on eBay here!

66 DYNAMITE HEADDY (Sega/Treasure, 1994)
I think Sega was making too many mascots because we have this odd game here. Dynamite Headdy is a very goofy looking title featuring renegade toys and a head changing hero. The game is definitely a little on the strange side so it will most likely appeal to a hard-core audience only but if you stick with it then it can be a bit of fun.
For 1 player only
graphics: 6
sound: 6
gameplay: 7
Find Dynamite Headdy on eBay here!

86 EARTHWORM JIM (Interplay, October 1994)
This game is not as nice looking as the Super Nes version but at least it has another level not found in that Nintendo system plus it even some better animations too. The story is pretty strange here. You were once a simple worm from earth minding your own business when a super intergalactic suit falls from the sky and turns ya into the hero, Earthworm Jim. This title is famous for its excellent graphics and action packed game play. Earthworm Jim is a great and funny 24 meg game with excellent comic overtones.
For 1 player only
graphics: 9
sound: 8
gameplay: 7
Find Earthworm Jim on eBay here!

77 EARTHWORM JIM 2 (Interplay, 1995)
The sequel to Earthworm Jim now features all new guns like the Barn Blaster, and the rather useless bubble gun plus you even had a new snot friend in your backpack to stick on sticky surfaces. Earthworm must now save the Princess What's Her Name (honestly that's her name) from his evil arch rival Psychow. The new levels try to mix things up a bit with shooting and puppies saving stages but they are not as much fun as the first game because of the tedious repetition. It's still a good game with a lot of action and stunning art.
For 1 player only
graphics: 8
sound: 9
gameplay: 7
Find Earthworm Jim 2 on eBay here!

50 ECCO The Dolphin (Sega, 1992)
I'm not a very big fan of this bad Fox special "When Dolphins go bad!" but you should at least give it a shot if you trying something new. In the game you help the super intelligent dolphin, Ecco, save the world from evil aliens by solving various puzzles and kicking some serious tuna butt. What Ecco lacks in action it makes up for in adventure at least.
For 1 player only
graphics: 7
sound: 6
gameplay: 6
Find Ecco on eBay here!
SECOND OPINION!
I extremely disagree with your review of Ecco the Dolphin and its sequel. Why do you give them such pathetic grades while retarded junk with not as much depth or fun like Mortal Kombat or Shaq Fu get away with higher scores? True, the Ecco games were slow and methodical, but that wasn't necessarily a bad thing, nor did it make the game boring. To the contrary, I have never seen a game with as rewarding an experience as Ecco with the exceptions of your games of the month like Guardian Legend and Panzer Dragoon Saga, which I do agree with you on. Ecco the Dolphin was unique and mesmerizing. The game play was original, as was the story that unfolded behind the stages. The puzzle solving aspect was challenging but rewarding and actually made sense, which is more than what I can say for the likes of Tomb Raider. Even still, there were still moments of action, yet unlike the action games, you could choose when to fight and when not to fight. This makes the game so NOT boring. The many thematic elements of the game, like the various environments, crystals, and sci-fi element, made the game fresh. At its heart, Ecco is an adventure, and it's an adventure the gaming world has never seen before. If I had to give them a score, it would be around the 90s. Your site still rocks, though.
- Mario, Ecco fan

54 ECCO: The Tides Of Time (Sega, 1994)
The sequel to the most boring game on earth........ OK, it's not that bad but don't expect any hardcore action either. Not only are the 2D graphics fairly good thanks to the realistic looking characters and detailed backgrounds but there are even some nice 3D graphics here as well. Ecco 2 had it's moments but it's definitely not for everybody.
For 1 player only
graphics: 7
sound: 6
gameplay: 5
Find Ecco on eBay here!

68 ELEMENTAL MASTER (Renovation/Techno Soft, 1994)
Here is a rare medieval vertical shooter from the makers of the acclaimed Thunder Force III and be thankful we even got this title because it was almost never released here. In the game you are a young spell caster on a quest to defeat your evil brother and his massive empire. The game has lots of action and lots of cool spells to use so be ready for an intense title here. Although the game looks very plain on the surface and it is very short as well, Elemental Master is still a very solid game.
*Uncommon Genesis game
For 1 player only
graphics: 7
sound: 7
gameplay: 7
Find Elemental Master on eBay here!

50 ETERNAL CHAMPIONS (Sega, 1993)
Although I might get in trouble for this, I never liked this overrated fighter with it's weird set of characters and boring game play as well. The story here is each characters get a second change at life if they win a one on one fighting tournament. This 24 meg fighting game is packed with options and 9 huge characters with a range of moves, but the main game is way too slow and unforgiving for its own good.
For 1 or 2 players
graphics: 6
sound: 4
gameplay: 8
Find Eternal Champions on eBay here!

61 E-SWAT (Sega, 1990)
In E Swat you help a lone street cop become a super cyborg crime fighter in this good Robocop rip off. There is nothing really wrong with the game but it's also your standard action platformer you seen a million times before; shoot stuff, jump, get upgrades. Also the game is for one player only. Didn't this use to be a two player game in the arcades?
For 1 player only
graphics: 6
sound: 6
gameplay: 6
Find E Swat on eBay here!


Sega Genesis reviews F to M > >