Link area of Videogames101:





Welcome to the link section of Videogames101 here. I have cleaned up things so its easier to find what you want. Here you will find some other sites with the lust for sweet video game madness like us!
Aetherbyte Studios - This is the website where you can find many cool homebrew titles like Insanity, Pyramid Plunder, and more!

Atari Age - The largest Atari website you can ever find! You can get tons of info and you can even buy stuff here and that includes exclusive Homebrew titles too :D.

Atari Times - This all Atari site features tons of reviews, articles, and other special features that will keep any fan glued to their monitor.
Blue Storm - Here is a great and redesigned gaming site that grades many favourites new and retro, go here and see how your games do.

CGCC - This forum is the main meeting place for some of the top Game Collectors in Canada. If you have a question about the games of the past these guys definitely will help you out.
Chameleonsden - Buy old and new video games right here.
ClassicgameCreations - Want new Vectrex Games! Who doesn't? If you want to get some classic games you have to visit this site.


Console Passion -The fans in the U.K. are some of the biggest of retro video games in the world and this site supplies both a lot of info and they even sell games here too.
Digital Press - This site is the head quarters for several top retro fanatics. If you want to know the rarity of your games this is a great place to go.
FriendsBehindBars - This series of pages has a cool Top 50 greatest games of all time list.


Flyingomelette -This website is for the true fan of video games because you can not only see lots of reviews but you can also learn lots of obscure gaming facts as well.
Gamedude - Here you pick from a ton of lists of used games from most systems.
Gamemobile -This website has all the info you need to play video games on your Cell Phones.

Games Talk - This cool page has lots of playable games, cheat and forums.


Gaming Sanctuary - A huge site with tons of reviews, ads, and much much more.



Genki - There are so many great games in Japan, this website provides a way to get some them for yourself.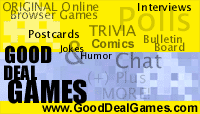 Gooddealgames - Get News, Forums, Contests, Sales, and lots more to get your classic gaming fix. Retro fans need to hit this site.
Hardcore Gaming 101 - This cool website has a lot of content and pictures on several popular video games.

Just Push Play - These guys helped me fixed my Ms. Pac Man arcade machine and they have tons of great games at their store too.
JVGS - Here you can find a huge collection of great reviews on several different consoles.
Kaotic Games - Here you will find a massive index of 7000 plus video games with several reviews, articles, and even cheats.
More Then Just a Game - This site has a vast time line on the gaming industry so you can learn what consoles were actually released plus it even has some of my photos on there too :).

NintendoAge - Just like Atari Age this site has a list of all the Lisensed, Unlisensed, and even some Homebrew games listed in the huge database. If you love the NES then you have to see this.


PC Engine Bible - Here you can learn more about both the awesome Turbografx-16 and the highly successful Japanese PC Engine.


Phantasy-star-pages - Having trouble with these some times difficult Role Playing games? This site is a must then!

Powerup Gaming - This is a huge new and retro gaming store in Barrie Ontario.

Retroscene - This site has tons of cool and rare video games and uniques consoles for sale. Well worth a look.

Screw Attack.com - This site includes several videos on gaming freaks that are even bigger nerds then me.

Sega CD Universe - Learn more about Sega's great CD add on unit to their most popular Gaming console.
Telegames - If Telegames sounds similar it's because these guys have been in the games business for decades now. You can still buy several new systems and older titles right here.

The Realm of Castlevania - If you are looking for Castlevania related stuff then go here. Also be sure to look for the work of writer Sam Mills here.
TheRonmower - Here is one of my Youtube friends and he covers a lot of different classics with tons of let's play videos.

The Video Game Critic - Looking for reviews? You'll find over 2,000 well written reviews right here over 20 consoles. I love this site!

Toyratt - Here is a cool gaming store in Milton Ontario. SEGA PUNCH!

Turbo Views - Ohya, if you want high quality reviews on several TG-16 legends then check out Spida1a's videos here.
Twingalaxies - Here you can see my record for the unbeatable high score for Air Zonk and much more.

VGCC.ca - Here is a forum with some of the most amazing gaming collections in Canada.

Videogames ED 101.net - No, this isn't another part of videogames101, this is Earl Arnol-Martin's new video game history website. He has a pretty huge collection as well.




Video Game Connection -This is a great site to find games both new and old.

Virtual-boy.Net - Learn more about Nintendo's stand alone virtual head set machine!




West Mansion - Are you afraid? Everything you wanted to know about the Splatter House series of games is right here.



Videogames101/Gamegrandpas.com Awards!







OTHER SITES



Epinions.com -Earn money with your opinions and you can write on almost anything!

Deviantart -If you want to see more of my different Artwork then you can visit these pages.

Shu ha ri -If you want to know more about my dojo and you live in the area then please check this website out.