Down and Dirty Reviews: NES -- O - Q
Sorry if it takes a while to load but there are over 500 games reviewed here. I still own around 700+ games for this old system and I'm still collecting em to this day. Remember that most Ljn games suck so don't spend too much on their titles while most Konami and Capcom titles are a safe bet but beware; there is a exception to every rule. I can only hope my reviews can help you pick out the right games if you are a collector too? Overall ratings on this page: 37 O: 4, P: 29, Q: 4

The overall scores are out of 100.

The graphics, sounds, and game play are out of 10.
SCORE / NAME
64 OPERATION WOLF (Taito, March 1990)
One of the few light gun games that doesn't require an actually light gun and it still plays pretty well. Operation Wolf is a very tough game has you are lone soldier trying to survive behind enemy lines and where have I heard that before I wonder? Anyway Operation Wolf may be a one trick pony but has a lot of different vehicles and soldiers to shoot at so there is a lot of action here at least.
*Light gun compatible
For 1 player only
graphics: 6
sound: 5
gameplay: 5
Find Operation Wolf on eBay here!


04 ORB 3D (Hi Tech, 1990)
What the hell is this S$%&! In this piece of crap you control a floating orb and you have to hit junk in space to stop some stupid magician blah blah blah. The story sucks and the game itself is even worse because the orb is constantly in motion so it's very tough to control and hit anything precisely. You even have to worry about your orb's fuel here and getting more is more tedious then a watching a non-adult Paris Hilton movie. Graphics are stale and hardly 3D, the music blows, the game is just awful in every other category you could possibly imagine. Nice one losers!
For 1 player only
graphics: 2
sound: 1
gameplay: 2
Find Orb 3D on eBay here!

40 OTHELLO (Acclaim, 1988)
Get the buzzer ready on your alarm clock because it's time for Othello! If you don't know the board game it's strictly an one on one game where you move white or black stones on a 8 by 8 grid and you can only move by over lapping the enemy's piece(s). Unfortunately, the game itself is absolutely no thrills. Other then seeing the pieces flip over the game's graphics are completely flat and boring. There is some music during the opening menus but there is nothing during the actual game itself. Honestly, couldn't we get some hot strippers or some heavy 80's Rock soundtracks here to liven things up here? The game is still quite challenging and the computer is smart enough to go after the corners for the best strategy but overall it won't help you stay awake.
For 1 or 2 players
graphics: 1
sound: 1
gameplay: 2
Find Othello on eBay here!

27 OVERLOAD (Virgin, 1991)
This game should have been called Overkill because in this demanding strategy game you have to manage multiple planet's food, weapons, defense, number of ships, fuel, taxes, and other boring stuff here. Maybe all this micro management wouldn't be so bad if I wasn't constantly under attack but I have to deal with this crap as well. The graphics and sounds are not that bad but everything else is.
*Uncommon NES game
For 1 player only
graphics: 5
sound: 5
gameplay: 6
Find Overload on eBay here!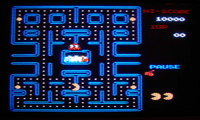 70 PAC MAN (Tengen/Namco, 1988)
Remember the Pac Man Fever record or the Pac Man Cereal? It's the legendary 1980's Pac Man right here on the NES. Midway's classic from 1980 features a dot eating, round, yellow hero who has to clear the screen of dots of a blue maze but there are 4 multi-coloured ghosts that will try to stop him. Always a great game although it's kind of repetitive since the maze never changes and you are pretty much doing the same till you die. Its still cool to see how far you can get by looking at the fruit at the bottom of the screen and the game does get progressively faster and more intense. Sadly, the game isn't quite arcade perfect since the colours are a bit duller compared to the arcade game but everything is here and it's still a great old school game to have on the 8-bit machine. There are three different versions Pac Man for the NES you can find altogether alone, two are licensed by Nintendo while one isn't. Pac Man may be a simple title but it is still a classic!
*Unlicensed NES game
*The 'Namco' release is the Rare edition
For 1 or 2 players
graphics: 4
sound: 5
gameplay: 5
Find Pac Man on eBay here!

51 PACMANIA (Tengen/Namco, 1991)
It's still good old Pac Man here but now it in this new 3D-like 3/4 isometric view and our yellow hero can now jump to spice things up a bit to the old collect the pellets formula. Pacmania is a good idea but it isn't the best of the series thanks to the awkward view of the action. Pacmania can still be a fun game that really gets difficult later on since your taking on more then 4 ghosts.
*Unlicensed NES game
*Uncommon NES game
For 1 player only
graphics: 7
sound: 7
gameplay: 6
Find Pacmania on eBay here!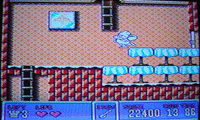 78 PANIC RESTAURANT (Taito, October 1992)
Panic Restaurant might as well be called 'Generic Platformer' because that's exactly what it is but at least it's a good one. In this game you control a chef that must bash in angry food from his restaurant in various strange stages like city streets or giant freezers. The graphics are nothing special but they are large and well defined plus the controls are very responsive so this is a great game for kids. Panic Restaurant wasn't a very big hit for Taito but that doesn't mean it was a bad game here so track in it down and get ready to smack around some carrots.
*Uncommon NES game
For 1 player only
graphics: 7
sound: 7
gameplay: 6
Find Panic Restaurant on eBay here!

59 PAPERBOY (Mindscape/Atari, December 1988)
Tired of the usual shoot em up out there? Why not throw newspapers to the selected homes on the block instead in Atari's famous Paperboy? It isn't has easy as it sounds though because you still have to avoid the many dangers like run away wheels, lawn mowers, cars, and even crazy people. Paperboy is a very creative arcade style game but like being a real life paperboy it does get very boring and repetitive after awhile.
For 1 player only
graphics: 5
sound: 6
gameplay: 6
Find Paperboy on eBay here!

53 PAPERBOY 2 (Midescape/Atari, April 1992)
This is not really a major improvement over the previous paperboy game but it's still a fun day on the job despite the rather high difficulty. In Paperboy 2 you can throw papers to both houses on the left and homes on the right plus you can either play as boy or girl now. Paperboy 2 is a good game for fans of the series but everyone else will be disappointed with the lack of changes and will tire of this one pretty fast.
*Uncommon NES game
For 1 player only
graphics: 5
sound: 5
gameplay: 5
Find Paperboy 2 on eBay here!

23 Fox's PETER PAN & The Pirates (Thq, 1991)
Who out there remembers this one, eh? I bet not too many do and there is a damn good reason since this game is terrible. If you don't know the story Peter Pan is a young man from the mystical world of Neverland and he is on a mission to save his sexy gal Wendy from the evil Captain Hook. There is nothing wrong with the story of course but this so called action game is sure tough to like. The first problem is Peter Pan is so weak here with a short range knife attack and slippery controls. Even Peter's flying powers suck here and the game can't seem to do anything right.
*Uncommon NES game
For 1 player only
graphics: 5
sound: 3
gameplay: 3
Find Peter Pan on eBay here!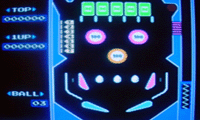 64 PINBALL (Nintendo, 1985)
One of the NES launch titles is this cool game of pinball here. Although the game plays very well with a lot of chances at some big bonus points, the Pinball itself is rather average because you can't even tilt the single table here and the two split screens are a bit annoying as well. The game doesn't even have any background music and the graphics are as plain as a game made from Ljn. At least there are a lot of targets to hit and Mario even makes a cameo appearance in his mini game plays like a small version of Break Out. You could do worse then Pinball but I wouldn't pay too much for it either. This is also hidden away in Animal Crossing if you can't find a old NES.
*Available in the 5 screw cart
For 1 or 2 players
graphics: 4
sound: 2
gameplay: 5
Find Pinball on eBay here!

66 PINBALL QUEST (Jaleco, June 1990)
Want something a little different? In Pinball Quest you try either the standard arcade-like tables or the really boring quest pinball game here. This is a good idea for a pinball video game at least and there is some good variety here as well but if your adding a quest game to a Pinball game then maybe you're in the wrong business, eh? The game is still passable but this is no Galactic Pinball.
*Uncommon NES game
For 1 or 2 players
graphics: 6
sound: 5
gameplay: 6
Find Pinball Quest on eBay here!

68 PINBOT (Nintendo/Rare, May 1990)
One of the better pinball games for the NES takes place on a giant robot game table in deep space. Pinbot uses a unique view of the action because when the screen scrolls you still have a view of your two bottom flippers even when the ball goes higher up the board. This impressive looking game would have scored a lot higher if there was some kind of save feature or more tables to increase the replay value but what's here is still good.
*Uncommon NES game
For 1 to 4 players (alternate)
graphics: 6
sound: 5
gameplay: 7
Find Pinbot on eBay here!

77 PIPE DREAMS (Bullet-proof Software, 1991)
This game has a real simple concept: you must create a pattern of pipes to successfully guide water for points and survival. Yeah, it doesn't sound that exciting and the graphics are not that impressive either but the game is still very challenging and lining up pipes in a limited amount of time can be insanely addictive. There are 3 difficulty modes, 2 players options, and brain teasing, frantic game play here so if you love puzzles then don't leave this one behind.
*Uncommon NES game
For 1 or 2 players
graphics: 4
sound: 5
gameplay: 8
Find Pipe Dreams on eBay here!

31 PHANTOM FIGHTER (FCI/Pony Canyon, March 1990)
Phantom Fighter is a very stupid fighting/action game where you have to fight off invading ghosts in your area but you have to do it with truly awful unresponsive controls, a very useless partner that does nothing to help you, and you also have to put up with some horrible graphics and sounds as well. Once you master the controls it gets slightly better....... slightly.
For 1 player only
graphics: 2
sound: 2
gameplay: 2
Find Phantom Fighter on eBay here!

66 PIRATES (Ultra Games, 1991)
The famous PC series also made an appearance here on the old NES so lets see what it's like to sail the open seas and steal some loot here. Just like other games in the series you start out the game small where you try to get a crew, funds, and weapons to become a better pirate the further you get into it. Of course you can get in fights with other vessels and even one on one fights with rival captains too which is cool and all but it far from perfect too. Pirates can get very repetitive when your doing the same old thing over and over again and the graphics are pretty crappy in some scenes as well but it's still fun marrying cute honeys and shooting cities 'n junks.
*Uncommon NES game
*Battery back up game
For 1 player only
graphics: 5
sound: 6
gameplay: 8
Find Pirates on eBay here!

47 PLATOON (Sunsoft, December 1988)
"If there was any movie you would want to see turned into a video game, I bet Platoon wasn't it, uh?" Remember that really depressing flick about soldiers surviving the horrors of a very bloody war? This is a standard action run 'n gun title with some decent graphics and music but it also comes with highly repetitive game play, confusing mazes, and a very high difficulty despite getting a lot of lives.
For 1 player only
graphics: 5
sound: 5
gameplay: 5
Find Platoon on eBay here!

82 POKER III 5 in 1 (Sachen, 1991)
Although most of Sachen made games on the NES are usually pretty bad (like Jurassic Boy and Thunder Blaster Man for example), Poker III here is actually pretty fun to play. In this naughty game you can either play 4 mini Poker games to practice your skills or you can play the interesting rag to riches RPG in the King of Casino mode. This isn't your typical Poker NES game either since you can even see some different anime females strip away their clothes if you make enough money. Poker III has a few moments of bad 'Engrish' and the music is kind of annoying as well but the game play is so easy to get into. It maybe hard to find but it is worth tracking down.
*Rare NES game
*Unlicensed NES game
*Contains nudity
For 1 player only
graphics: 7
sound: 6
gameplay: 8
Find Poker III on eBay here!


77 POPEYE (Nintendo, October 1985)
The original arcade classic comes to the NES and this is one of the better versions I played. The game is simple as you must collect hearts (plus musical notes and letters) from your love Olive Oil while avoiding the big bad Pluto and some other junk at the same time. If you like games that are only single screened then maybe you'll like this old game too but don't expect too much game play here since there are only three different stage. Also remember the original Popeye was released in 1982 so it is quite old even by NES standards. Still a very fun arcade game though.
*Available in the 5 screw cart
For 1 or 2 players
graphics: 5
sound: 6
gameplay: 5
Find Popeye on eBay here!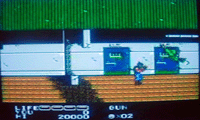 72 P.O.W. (SNK, October 1989)
P.O.W. is a Double Dragon-like fighting game that takes place in a dangerous Prisoners Of War camp and you must escape; definitely a good idea. Although this game is only one player unlike the 2 player arcade game, you'll be surprised by the large amount of weapons and power ups that can be found here. P.O.W. is tough but it's a good prison break style beat em up.
For 1 player only
graphics: 7
sound: 7
gameplay: 5
Find POW on eBay here!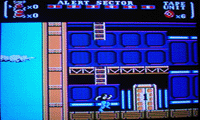 59 POWER BLADE (Taito, March 1991)
I wasn't expecting too much going in this 2D action game here and sure enough; Power Blade was as bland as a 3 thousand dollar car. In Power Blade you control a muscle head that looks like a complete knob because not only does he run like a goof but he uses a steel boomerang as a weapon against deadly terrorists. Guns work way better you moron! If you are looking for some action then maybe this game might interest you but Power Blade is slow, predictable, and it is just average in every single way.
For 1 player only
graphics: 6
sound: 5
gameplay: 5
Find Power Blade on eBay here!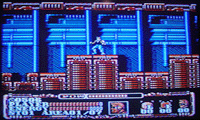 64 POWER BLADE 2 (Taito, 1993)
Power Blade returns and before you leave and click on a porn web site instead you should know the game is at least better than the original. The game is still your average action title where you control a boomerang throwing hero but now the graphics look a lot more detailed and our generic muscle head character no longer runs like a total pussy. Power Blade 2 is short but it's tough yet fun to play.
*Rare NES game
For 1 player only
graphics: 6
sound: 6
gameplay: 6
Find Power Blade 2 on eBay here!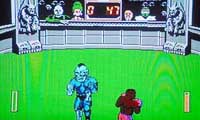 39 POWER PUNCH II (American Softworks, June 1992)
This game tries to be a semi-sequel to Nintendo's mega popular Punch Out but not only does this game have a asinine idea as you fight the toughest aliens and robots from around the universe but this boxing title also has absolutely terrible hit detection. At least the graphics are far better then Nintendo's effort but what isn't?
*Uncommon NES game
For 1 player only
graphics: 7
sound: 4
gameplay: 5
Find Power Punch II on eBay here!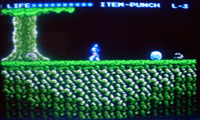 11 PREDATOR (Activision, April 1989)
Remember how intense the original 20th Century Fox movie from 1987 was? The plot involved a group of marines trying to survive a attack from a powerful alien looking to hunt them down for sport. The movie was pretty gritty and violent with a lot gore and I thought it would make a good video game. Man, I was wrong. Don't expect any of those real thrills out of this below average platform game because this game will drive anyone nuts. First this game looks like a piece of crap because the graphics are tiny and filled with lame enemies like bugs, sea horses, plants, other soldiers, and other stuff that weren't in the movie. If you thought that was bad the guy playing the role of actor Arnold Schwarzenegger here is pink here. The torture continues because the sound is very corny. Even the controls are hard to use and what's the deal with not being able to punch while ducking? All this does is make the game a chore to play.
For 1 player only
graphics: 3
sound: 2
gameplay: 2
Find Predator on eBay here!

50 PRINCE of PERSIA (Virgin, 1992)
The popular computer game arrived on several different machine and yes, even the NES got one too believe it or not. In the game you are tossed into prison by the King's minster and if you don't find a way to escape the 12 stages filled with dungeons, rogue guards, and traps before he kills the Princess in one hour. Sadly, the game itself has no intro so if you are new to this game you're going to be very confused to what is going on here. The game actually has some fairly sharp graphics thanks to the excellent animation and solid amount of detail but the controls feel like they have a delay to them and this is really bad news since the game is still hard as hell. With all of the game's flaws here like lack of content and stiff control, to be fair it can still be fun to play... for a bit at least.
*Uncommon NES game
For 1 player only
graphics: 7
sound: 5
gameplay: 6
Find Prince of Persia on eBay here!

72 PRINCESS TOMATO in The Salad Kingdom (Hudson Soft, 1991)
This has to be one of the weirdest games I ever put into my NES. Just like other titles like Shadowgate or Deja Vu this is a point and click adventure you are Sir Curcumber trying to save the peaceful Salad Kingdom from the evil King Pumpkin. Weird story or not the game is actually pretty good thanks to a good variety of vegatable characters here and tons of commands to use. Another cool thing about the game is it's a bit more forgiving then then some Kemco's adventure titles where one wrong usually kills ya instantly. OK, the name may sound totally lame and the game can be kind of slow too but it is still fairly challenging though and quite addictive as well.
*Uncommon NES game
For 1 player only
graphics: 5
sound: 5
gameplay: 7
Find Prince Tomato on eBay here!


82 PRO WRESTLING (Nintendo, March 1987)
Sometimes the simple stuff is usually the best thing for a game and this wrestling title is no exception. Although the graphics and sounds are borderline average here, the game still packs almost all of the elements you'll expect from a great wrestling game. Nintendo gives us easy to learn controls, 6 tough and unusual fighters, and a excellent selection of moves per characters. The Starman dude from Mexico was one of my favourites here and he's just one of the few oddballs here. It was a shame Nintendo didn't follow through with a sequel because this could have been a good series but I guess there is a reason Nintendo has gotten its butt kicked by the Sony Playstation in 1995, eh?
*Available in the 5 screw cart
For 1 or 2 players
graphics: 7
sound: 6
gameplay: 8
Find Pro Wtrestling on eBay here!

70 PUNCH OUT!! (Nintendo, 1990)
This is the same game has Mike Tyson's Punch Out but since Nintendo wanted to make money off the old game and since they were too lazy to do a sequel here is the re-release. The problem is old Mikey was currently serving jail time yet again so Nintendo dropped him like a bad habit so he's been replaced by the generic white dude known as Mr. Dream. Unfortunately, Nintendo didn't even bother fixing the game's biggest problems like how the main character Little Mac still looks way too small to be fighting monsters twice his size and the other cast of weirdoes are way too stereotypical as well (C' mon, Great Tiger's disappearing act?). Punch Out is still a lot of fun and one of the best boxing games out there but be warned its not a new game.
For 1 player only
graphics: 3
sound: 5
gameplay: 8
Find Punchout on eBay here!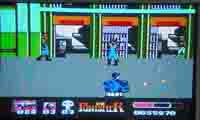 60 The PUNISHER (Ljn/Beam Software, January 1991)
The dark comic book anti-hero comes to NES and it's not that bad considering it is from the jerks at Ljn. This is a semi-fun third person shooter where you gun down undesirables in the neighborhood plus you can destroy crates and other things to gain extra power ups. I wish the Punisher would move a bit faster and if there was some sound added to the mix but it's still a good action title that's lacking depth.
For 1 player only
graphics: 6
sound: 3
gameplay: 6
Find The Punisher on eBay here!

49 PUSS N' BOOTS (Taxan, 1990)
This game is close to being good but there are just too many problems with it. In this corny action platformer you get to play that cat from that popular children's fable and you travel around the world and fight off rival felines in the way. The story has something to do with time traveling but it's stupid so lets move on. The game starts off all right enough with large, colourful characters and cool weapons like bombs to use but the game is seriously lacking any detail in the art and maybe the controls are too user friendly because you'll beat this one no time flat. Puss N' Boots has a good mixture of stages too with several platforming and flying but in the end the game is just too short so you don't get a lot of meat on these bones.
*Uncommon NES game
For 1 player only
graphics: 5
sound: 4
gameplay: 5
Find Puss N' Boots on eBay here!

63 PUZZNIC (Taito, 1990)
Although almost every NES owner has a copy of Tetris out there, I bet many of you don't know what the hell Puzznic is. In this simple puzzle game you have to match blocks of the colour to make them disappear, score points blah blah blah. OK, that's pretty much the whole game right there and the graphics and music pretty sucky too but at least where you can it arcade style or go in a more brain teasing scenarios where you get to mess with the game's gravity. Puzznic won't be as addictive as crack but it can still make you lazy enough to avoid a few chores around the house anyway.
*Uncommon NES game
For 1 player only
graphics: 3
sound: 3
gameplay: 5
Find Puzznic on eBay here!

44 PYRAMID (American Video Entertainment, 1990)
I was actually looking forward to this because here is a clone of Tetris, one of the greatest puzzle games of all time. Pieces still fall from the top and you have to create a complete line to make it disappear but Pyramid's blocks have a lot of angels and they are far more confusing to use. Pyramid is just a pain in the neck to play.
*Unlicensed NES game
*Uncommon NES game
For 1 player only
graphics: 5
sound: 5
gameplay: 4
Find Pyramid on eBay here!

48 PYRAMID II (Sachen, 1992)
I wasn't a big fan of the original and guess what: I'm still not a fan of the sequel either. The game now comes with a nice list of options like difficulty select and you can even do some two player battles here as well. Unfortunately the game is still the same old awkward Tetris clone with annoying puzzle pieces and horrible music. Like the original Pyramid II is a below average title.
*Unlicensed NES game
*Uncommon NES game
For 1 player only
graphics: 5
sound: 5
gameplay: 4
Find Pyramid II on eBay here!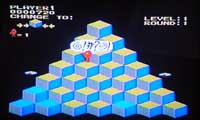 39 Q BERT (Ultra/Gottleib, February 1989)
The famous arcade classic comes to the NES and it arrived with some mixed results. Like the arcade game you move around the hopping little orange creature Qbert so he can change the colour of the floor on a giant pyramid. It sounds easy but what happened to the controls here? If you master these controls than they are not so bad but it's not really worth it considering since the game is so old now. You can bump up the score if you have the NES advantage or some other larger joystick thing that help with the stiff controls on a standard digital pad a little bit here but who cares?
For 1 or 2 players
graphics: 4
sound: 2
gameplay: 3
Find Q Bert on eBay here!

60 Q BOY (Sachen, 1993)
I bet most of you never heard of a NES called Q Boy before, uh? This is one of those rare unlicensed carts from the company Sachen, one rebellious group of developers that don't answer to Nintendo strict codes of game conduct. Q Boy is still a very family friendly platformer similar to Kirby's Adventure but this game doesn't even hide the fact that you can alter your hero to look like Nintendo's Mario. Although the game here is fun, it's also a little on the slow side so action buffs should stay away.
*Unlicensed NES game
*Rare NES game
For 1 player only
graphics: 7
sound: 6
gameplay: 6
Find Q Boy on eBay here!

71 QIX (Taito, February 1991)
Qix is a very original drawing type game where you try to create space on the playing field while having to survive from dangerous electric sparks and the tricky Qix enemies. The game isn't for the action crowd and the game doesn't change too much level to level but if you can find it then this clever arcade classic is a great buy for puzzle freaks.
*Rare NES game
For 1 or 2 players
graphics: 5
sound: 6
gameplay: 7
Find Qix on eBay here!


63 QUATTRO ADVENTURE (Camerica, 1991)
Camerica was kind enough to give us 4 unique video games on one cart but the question is are they any good? The first game is Boomerang Kid, a simple search and escape platformer where you can't even attack but its still fun to see how far you can get in the outback here. The second game is Linus Spacehead, a fairly boring and very repetitive action where you can't attack here either. Linus suffers from weak level design. The next game is Super Robin Hood, the only title here where you can actually attack but you can only shoot arrows while he's standing. Super Robin Hood comes with a excellent mix of action and adventure but the difficulty may drive you nuts. Treasure Island Dizzy plays like a PC-like adventure game where you must collect important items to advance in the quest but be careful because you only have one life and only one hit with kill you. A fun if limited game. Quatto Adventure may have some graphical and sound issues but at least the animation isn't all choppy plus there are four games here and that's great value.
*Unlicensed NES game
For 1 player only
graphics: 7
sound: 6
gameplay: 6
Find Quatto Adventure on eBay here!


NES reviews R - T > >