Down and Dirty Reviews: Odyssey2 -- A - Z
The Odyssey 2 was a very interesting gaming/computer machine in its day but still, you're only as good your games, eh? There are 9 reviews here in total.

The scores are out of 100.

The graphics, sounds, and game play are out of 10.

Score / Name
14 ALIEN INVADERS PLUS (Magnavox, 1981)
This is clearly a Space Invaders clone on the Odyssey2 and it sounds like a fairly cool game at first but this washed out version has weak sounds, the game play is way too quick, and super blocky looking aliens are very boring. It's possible you can survive after being shot but only if you have one of the barriers left, if you don't you're screwed. This game doesn't deserve the name 'plus' in the title let alone the word 'invaders'.
For 1 player only
graphics: 1
sound: 1
gameplay: 2
Find Alien Invaders Plus on eBay here!

18 BOWLING/BASKETBALL (Magnavox, 1978)
Here is another one of Magnavox's combo packages but I couldn't imagine two sports games more different then Bowling and Basketball? So how are the games? Bowling doesn't have the right pin physics after a good hit and Basketball is strictly one on one only. The graphics don't hold up to well since the pins are nothing more then a bunch of boring white squares and the basketball players don't have any animations when they move. I know this was made in the 70's but c'mon! Even if you are a fan of these sports it's a good idea to avoid this.
For 1 to 2 players
graphics: 1
sound: 2
gameplay: 3
Find Bowling/Basketball on eBay here!

02 ELECTRONIC TABLE SOCCER (Magnavox, 1978)
Just imagine a Soccer/Foosball game with some of the most limited set of control for a sports video game ever. This game is just another Pong interpretation and it's cool that the players spin here but that's the only positive thing I can say. It just goes to show you that Foosball and video games just don't mix.
For 1 to 2 players
graphics: 1
sound: 1
gameplay: 1
Find Electronic Table Soccer on eBay here!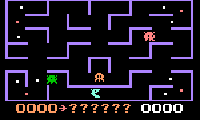 70 KC MUNCHKIN (Magnavox, 1981)
KC Munchkin was not only a decent Pac Man clone but this game was so good that Atari actually sued Magnavox because it looked and played too much like the legendary pellet muncher. Magnavox was eventually forced to stop the game's production when the courts finally agreed in Atari's favour. Although KC Munchkin looks a lot like Pac Man this game only has three on-screen enemies plus you can even edit the mazes in a cool idea. This is a good buy for Odyssey owners despite the game's rather tough difficulty.
*Banned video game
For 1 player only
graphics: 5
sound: 3
gameplay: 6
Find MC Munchkin on eBay here!

85 KC's KRAZY CHASE (Magnavox, 1982)
Here is the only sequel to one of the better games on the Odyssey2. Now KC looks less like Pac Man and the game play is even different as well. Instead of the usual fuzz ball enemies you now have a new snake opponent to deal with and don't worry because you can eat it too. Krazy Chase also uses the Odyssey2 voice system to create some real voices for ol' KC and that just adds to the charm of this fun and intense game.
For 1 player only
graphics: 8
sound: 8
gameplay: 8
Find KC Krazy Chase on eBay here!

61 PICKAXE PETE (Magnavox, 1982)
Here is a strange clone of Donkey Kong where you move around a miner in dangerous multi-layered caverns (although all the floors look super basic so it's hard to tell). You can jump around different platforms, climb ladders, and all that good stuff but the difference here is you need to find a key to exit the stage and there are run away blouders everywhere to get in the way. The game can be quite difficult because the jumping can be a bit loose and the ladders disappear on random spot on the board but if you a solid action game on the O2 here then look into this.
For 1 player only
graphics: 5
sound: 5
gameplay: 6
Find Pickaxe Pete on eBay here!

08 POCKET BILLIARDS (Magnavox, 1980)
It would be hard to screw up video pool but this game has absolutely no power behind the shots and the physics feel way off so it takes forever just to score. This game is also two players only and means that you have to find another person to play this horrible title.
For 2 players only
graphics: 1
sound: 1
gameplay: 1
Find Pocket Billiards on eBay here!

44 S.I.D. the SPELLBINDER (NAP, 1982)
Ever wanted to play an educational version of Centipede? SID the Spellbinder lets you shoot down an enemy Dratapillar (from Krazy Chase) and if you succeed then you can use the Voice Module to type in words as part of another challenge. This game is not nearly as action packed compared to the Atari classic but at least your kids might learn something from it.
For 1 player only
graphics: 4
sound: 6
gameplay: 5
Find SID on eBay here!

50 THUNDERBALL (Magnavox, 1979)
Thunderball is Magnavox's attempt to re-create the excitement of a Pinball in a cartridge. Although the game is quite intense and it has a lot of targets to hit, the game also has it share of problems. The first problem is with the game's the rather wide screen, it doesn't feel like real Pinball when you're playing out of a square. Secondly, the ball is too large so it does can make the game hard to control at times. Thunderball is still a solid find though thanks to furious game play.
For 1 player only
graphics: 4
sound: 2
gameplay: 4
Find Thunderball on eBay here!