Down and Dirty Reviews: Sony Playstation2 -- T - Z
There are now more reviews other than Gradius 3 and 4 now, lots more actually. This system is so popular and since it is there are tons of games out there. All reviews are tons by the StarSoldier unless noted.

The overall scores are out of 100.

The graphics, sounds, and gameplay are out of 10.

TTR DUD OF THE MONTH COLLECTION!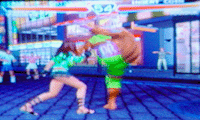 59 TEKKEN 4 (Namco, September 2002)
After a long wait here is the newest Tekken exclusively for the Playstation2 only and unlike the Tekken Tag Tournament game the story actually continues where Tekken 3 left off. Now here we have the latest edition of this fast paced beat em up. Tekken 4 has some brand new feature to the aging series like new interactive backgrounds, new fighters, and more, but is it really a better game though? I really can't find too many improvements here but at least the graphics have changed somewhat. You can't even tag in and out anymore and the bowling's gone too plus what's the deal with all of the past characters like Jack, Roger, and more making no shows. You know what the saddest thing is that we all waited nearly four years for a true sequel to Tekken 3 and Namco barely ever lets us down but Tekken 4 is truly a routine fighter in every way. This makes a good rental though.
For 1 or 2 players
Rated (T) for Teen
graphics: 8
sound: 7
gameplay: 4
Find this game on eBay here!

73 TEKKEN 5 (Namco, October 26, 2001)
Part 5 is at least better then the last one. A lot of the older characters like Jack and Kuma make their return and the game play feels more balanced now too. There are also a few cool new characters like the Blade wanna be guy, the Asian chick with big boobs, and the psycho kung fu expert which are fun to try out. The game doesn't feel that different though so if are bored with the fighting series then this one won't change your mind.
For 1 or 2 players
Rated (T) for Teen
graphics: 8
sound: 8
gameplay: 8
Find this game on eBay here!

78 TEKKEN TAG TOURNAMENT (Namco, October 26, 2001)
Here's the first Tekken game to the Playstation2 with a new concept to the popular 3D fighting series. Enter Tekken Tag Tournament! You can now pick a partner after you select a character and when the fight starts now you can tag in and out during a fight. This Tekken not only has vastly improved graphics and all new music but TTT also has most of the characters from Tekken 1, 2, and 3 are included in this exclusive PS2 fighting game. Tekken has always been a fan favourite and this Tag edition doesn't disappoint. The new tag in and out is kind of limited though because you can not do too many new special tag team moves, just more multi-hit combos, but it's still a fun fighting game that's a great show piece for the PS2's new graphic engine over the past Playstation games. Triple T is a safe, sure fire way for hot arcade action and some may actually prefer the larger amount of characters to the newer Tekken 4's cast?
For 1 to 4 players
Rated (T) for Teen
graphics: 8
sound: 8
gameplay: 8
Find this game on eBay here!

07 TIME TRAVELER Hologram (Digital Leisure/Sega, 2001)
Anybody remember this weird game form the arcades? In it you help a time traveling Cowboy survive different periods to save the future. This is merely an ancient Full Motion Video game doesn't belong on the PS2 no matter how cheap it is.
For 1 player only
graphics: 5
sound: 5
gameplay: 1
Find this game on eBay here!

Total Recall Dud of the Month!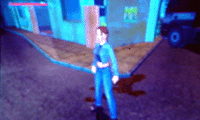 45 TOMB RAIDER Angel of Darkness (Edios/Core, 2003)
"You promised me that the women would perish!" Lara Croft and her double D's are finally back after taking a few years off from the console market but after playing this PS2 edition I can say that is wasn't worth the wait. Forget the fact that Lara was suppose to die in Tomb Raider IV, let's focus on the game play here.  First off the game play is very tedious in design because the environments are not very easy to navigate through and secondly the collision detection isn't too impressive either.  She's back and she sucks but not in a good way.
For 1 player only
Rated (M) for Mature
graphics: 6
sound: 7
gameplay: 5
Find this game on eBay here!

82 VIRTUA FIGHTER 4 (Sega/Am2, April 2002)
This is a simply amazing fighting system that finally comes to a newer generation of newbie Playstation owners. In the game you join a cast of 13 expert fighters in a tournament held by the evil Judgment 6 Company. Nothing has changed too much but the graphics are sharp, the music and sounds effects are well defined plus each fighter as a huge list of moves. VF4 is very technical yet still very fun to play.
For 1 or 2 players
Rated (T) for Teen
graphics: 9
sound: 8
gameplay: 9
Find this game on eBay here!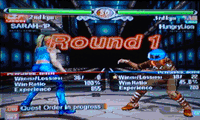 86 VIRTUA FIGHTER 4 EVOLUTION (Sega/Am2, 2003)
After the original VF4 made waves on the Playstation2, Sega is giving us another big upgrade that features a new Quest game, two new playable characters, and there are even more unlock able goodies to find this time. Most of the graphics still look the same but this game is still a fine example of fighting evolution!
For 1 or 2 players
Rated (T) for Teen
graphics: 9
sound: 8
gameplay: 9
Find this game on eBay here!

74 WWE SMACKDOWN Here comes the Pain (THQ/Yukes, 2003)
Another year, another Smackdown wrestling game. Here comes the Pain plays a lot like the game of the series because you still get all the cool stuff like Season, Create a Wrestler, and quick fights like before but now there are new characters like Rey Mysterio, Ultimo Dragon and Sean O Haire joining the cast plus you can try out new matches like the Elimination Chamber Cage match and the cool Bra and Panties fights so you can rip off the clothes of one of the Divas to win. This game also has some WWF legends like Hillbilly Jim and Sergeant Slaughter in here too; sadly most of the legends don't have their original music and there isn't too of these older guys here. Here comes the Pain is fun for wrestling fans but again the game play isn't too different from the other Smackdowns before it.
For 1 to 4 players
Rated (T) for Teen
graphics: 7
sound: 6
gameplay: 8
Find this game on eBay here!

71 WWE SMACKDOWN Shut your mouth (THQ/Yukes, November 2002)
To be perfectly honest, I never liked THQ's Smackdown wrestling series. If anybody knows the StarSoldier well, I always preferred some of the older N64 games like WWF No Mercy and WCW/NWO Revenge to these newer games; in fact, it has been a darn good reason why I still have my old Nintendo 64 around the apartment. Sadly, the N64 is quite dead and wrestling fans need to move on, so here we have Smackdown 4: 'Shut your month' for the almighty Playstation2. If the programmers can fix the character's animation and the improve the control set up option then the Smackdown series may have a chance to become the best Wrestling game ever made. As it stands right now, the game still tasted the same but it had a lot more topping, do you really want to put that in your mouth or should you just keep it shut?
For 1 to 4 players
graphics: 7
sound: 6
gameplay: 8
Find this game on eBay here!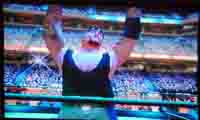 40 WWF SMACKDOWN 3 Just Bring It (THQ/Yukes, October 2001)
The third WWF SmackDown game here now features 30 different wrestlers and a new story mode to replace the slow career mode found in SmackDown 2. The graphics do the job here but other Playstation2 games like Dead or Alive and Tekken Tag Tournament look way better that this and what's up with the audio? The new commentary by Tazz and Michael Cole is so bad it's almost funny in a sad kind of way. WWF Smackdown PS2 is one of the bigger disappointments of 2001 although it's cool that Jerry Lynn is in the game at least.
For 1 to 4 players
graphics: 6
sound: 5
gameplay: 6
Find this game on eBay here!

67 ZONE OF ENDERS (Konami, April 2001)
"Anime fans are going to love this!" Zone of Enders is a beautiful looking mech game by the creators of Metal Gear Solid. Here a young boy unwillingly finds a giant mech and is forced to fight for his life in an epic war. Easy controls and some challenging level objectives should keep you busy for a few days but the game is kind of very short in length making it a very questionable purchase. The game also comes with a free playable demo of Metal Gear Solid 2; one of the most anticipated games for the PS2 which is currently out now.
For 1 player only
graphics: 9
sound: 9
gameplay: 7
Find this game on eBay here!