Both of the fighters here each have their own style. Hagger is the big pro wrestler-type that may lack speed but his holds are lethal while Cody is weaker but is a bit faster plus he is good with knifes. Maybe you noticed that I mentioned you can only pick Hagger and Cody, eh? Sadly, this means that Cody's ninja friend Guy is not in the game even though he was in the arcade one! If you don't know the fighter Guy was a awesome character in the original because of his technical strikes and his quick speed. Capcom even screwed over their fans twice because they released the equally bad
'Final Fight Guy'
which pretty much replaced Cody with Guy but it didn't fix the other problems in the original SNES Final Fight. What are the other problems you say?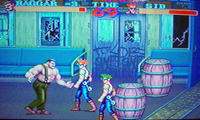 Final Fight is one tough game but you're now stuck fighting a gang of vicious streets thugs on your own since the two player mode has been completely taken out! It's really hard to imagine a game like this without being able to invite a friend over to help but I guess Capcom hates me. Wait, there more! Since Nintendo doesn't like a lot of sex and violence in their games (remember this was before
ESRB
rating system) Capcom took out those very sexy female cops. Although I think it's wrong to hit a women, it was still a shame to see them gone and replaced with generic thugs who just look weird with the same girl-like moves. The arcade game play still remains mostly intact. If you are surrounded by a large group of wacky thugs that range from common street punks to giant
Ardre the Giant
look-a-likes you pick up all sorts of weapons and power ups anywhere in the game to help gain a edge. Smacking around these dirt bags in places like subways and dirty streets is actually kind of fun for the first few levels and the game even has some bonus scenes like where you would destroy a car, however by stage 3 the whole game gets way too repetitive (not too mention cheap) in a hurry and gamers will tire of this one quickly.