SEGA CD
(November 1992-1996)


The first successful CD add on system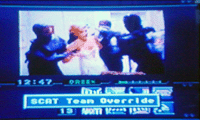 The Sega CD here was first introduced in Fall of 1992 and thanks to all the hype it was on the way becoming a huge success. It actually sold out completely in it's first year selling well over 200, 000 units so you can tell the gaming world embraced this new little CD pretty well. It's no wonder too, the games like Cobra Command, Night Trap and Sewer Shark look like the best darn looking games ever in it's day mainly because of the stunning new FMV (Full Motion Video) visual effects and much more memory on the disk. Just compare most 16-bit cartridge games to the ones on CD-Rom, seeing those real movies was really something special back then. Sadly these FMV games just didn't play very well and people started to lose interest in the Sega CD.... fast.

First off here's a little info on the system itself. The Sega CD requires the original Sega Genesis to work so it isn't a stand alone machine and you also need to have another AC adapter as well. It's annoying and you better have enough plugs ready. There are actually a lot of different Sega CD models out there but here are the ones that attach to the Genesis. The original front loading Sega CD model mounts to the Genesis from the bottom and the system's menu music is really corny. It's the rarer system but less relible. The sleeker model 2 mounts to both the side and undernept and has a much better opening soundtrack plus it is much easier to find.

Sega and their third party support had big plans for the system but despite some innovative ideas here and there, most of the great ideas fell flat. Take Sony's Make Your Own Music Series for example; this collection of titles featured such artists like Marky Mark, C&C Music Factory, INXS, and many more big names (well, they were kind of big back then anyway). Although making your own music videos could have a great series since it tries to reach that creative audience of gamers, the games themselves (if you can call them games) had some problems like slow loading times, confusing menus, and very gainy videos. What sounded cool enough idea at first just ended up bombing big time.

Sega themselves was also fairly strict about it's development techniques too. Because of this most companies were not able to use the Sega CD's true hardware capabilities like the cool Mode7 3D effects, certain games were virtually the same as their Genesis counterparts. Just look at Sega CD games like Mortal Kombat, Samurai Showdown, Hook, and many more; you can barely tell the difference between the regular Genesis games and the CD games here.

There were however there are some truly unique games on the Sega CD like the Lunar RPG's, Snatcher (so far this is only on Sega CD over here) and Sonic CD. Remember though that you have to own a Genesis if you want the Sega CD to work, but not if you get the Sega CDX or Wondermega game systems. Look below to see all the great games you can find on the Sega CD.

Overall Rating: 68/100 The Sega CD is a good upgrade for the Genesis, but there are a lot of bad and average games on this system.
Rare Scale: 4/10 The SegaCDX 3 in1 system is very rare for a Sega machine.
COOL SEGA CD TOYS
Sega CD Memory Ram Cart
With the Sega CD only having limited back up storage to save games, Sega introduced a separate Memory Cart for games that take more space like Shining Force, Lunar Eternal Blue, and other huge RPG's. A rare find and well worth it if you can this cartridge that is similar to a regular genesis cart.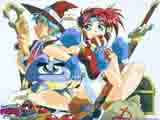 Popfulmail is only on the Sega CD at least over here anyway!

Common Sega CD games:
Rarest Sega CD games:
eBay
Cobra Command
Dragon's Lair
Ecco the Dolphin
Sewer Shark (the game originally came packed with the Sega CD)
Sherlock Homles
Sol Feace (the Sega CD version of Sol Deace)
Sonic CD
Colors of Modern Rock
Crime Patrol
Demolition Man
Keio Flying Squadron
Lunar The Silver Star
Lunar Eternal Blue
Popfulmail
Radical Rex
Shining Force CD
Snatcher
The Lawnmower
The Space Adventure
Third World War
Recent releases:
Bug Blasters
Citizen X
Star Strike
Top Ten (The lesser known Sonic!)
#1. SONIC CD
2. LUNAR II ETERNAL BLUE
3. SHINING FORCE CD
4. POPFULMAIL
5. SNATCHER
6. EARTHWORM JIM CD
7. SLIPHEED
8. VAY
9. LUNAR
10. FINAL FIGHT CD
Most Disappointing:
TIME GAL
Runner up: Bill Walse College Football
The Worst:
JOE MONTANA FOOTBALL
Runner up: Bill Walse College Football
Most Underrated:
REVENGERS OF VENGEANCE
Runner up: Keio Flying Squadron