SUPER STAR SOLDIER
(Hudson Soft/Kaneko, 1990)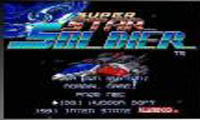 game system: NEC Turbografx-16
I was surprised and excited when I saw this new game first in the previews back in early 90's, Super Star Soldier looked awesome especially when compared to the first game on the old NES and it looks like the TurboGrafx-16 was going to get another stellar shooter. After finally playing it "I was hooked!" First off this 4 meg game has some awesome game play features like four cool looking weapons, two special units, 2 and 5 minute modes (very cool by the way), and 8 stages in Normal mode plus the game also some fairly impressive sounds and some cool graphics here and there to add to the package. This game is sure to impress the shooter fan out there.

This Star Soldier hardly plays like the original at all, it plays more like Blazing Lazers which was released just a year before it. Blazing Lazers was one slick looking shooter that still has a decent cult following, but let's be honest here, it was just way too easy, this star soldier title here is anything but. Prepare yourself of 8 levels of prue craziness, because your enemies come from all sides of the screen (even from behind) and they are not afraid attack in large groups too. "Remember those useful Red Shields in Blazing Lazers?" No such luck here, folks! There are no shield power ups, you just get a weak bubble shield that only protects you from a couple of hits then you're dead. Once you play it a few times it's not so bad but don't expect to beat it on your first try though.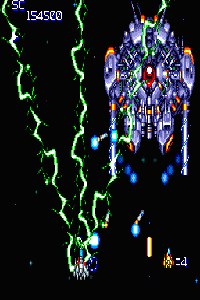 The Star Brains are back!

Even if you manage to beat the Normal game (and see the real pilot behind the Star Soldier's Neo Caesar), you can always play the 2 or 5 minutes Time Trial modes and get the high score (s). The Time Trials look like stages from the original Star Soldier too, complete with the Zeg bonuses to increase your overall score. Sadly, you can't save your high scores which kind of hurts.

Super Star Soldier graphics are sure a mixed bag of goods here. On one side you have some very detailed enemies, flashy weapons, and creative bosses all over the game. On the other hand some stages have very repetitive backdrops and some of these backgrounds are not too impressive to begin with like the boring buildings in stage 2 (the water base) and the flat dunes of world 3 (the desert) don't look so hot either (no pun intended).
Moving on to the music, this game easily has the best soundtracks of the long running series. Super Star Soldier tracks not only surpasses that of Blazing Lazers impressive music but this mostly heart pounding stuff fits the high energy game perfectly. Stages 2, 4, and 7 are some of my personal favorites.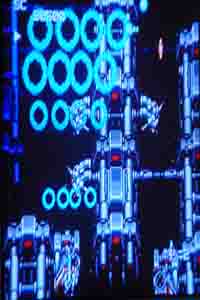 Overall this shooter not only kept the Star Soldier name alive after a long absence, but it also created a legend that spawned many sequels and spin offs. Super Star Soldier has superior music, pretty good graphics, and solid game play. This little card is definitely a classic in my book and it will challenge anybody.