Down and Dirty Reviews: Sega Master -- F - M
The Master system failed for a reason, that's for sure. You'll see a lot of bad scores in sound because of the overall poor audio of the system in general plus you'll play some pretty standard, if not, bland games with not a lot of originality. But then there is Phantasy Star down there and don't forget about the other action and RPG's like Alex Kidd, Wonderboy, Y's or Miracle Warriors. All reviews are by StarSoldier unless noted.

*Card and 3D Super Scope games will only work on the Sega Master System base console.

The overall score is out of 100.

The graphics, sounds, and game play are out of 10.
Score / Name

13 F-16 FIGHTER (Sega, 1990)
*Card game
What the heck is going on in this sorry first person shooting game anyway? The weak and very choppy vector graphics don't tell the story very well here (if there was much of a story here) so it hard to even see your enemies and terrain here. Oh, and you better have a second controller plugged in or you're not going to be able to do half the moves for this stupid plane. This game will not even work on Power Base converter either so have another reason to skip it. There are so many things wrong here in F-16 Fighter that it deserves to be forgotten here.
For 1 player only
graphics: 2
sound: 2
gameplay: 3
Find this game on eBay here!


55 FANTASY ZONE (Sega, 1987)
Here is a classic Sega Master System game here. In this overall cute looking game you control the strange looking Opa-Opa ship and you must blast away enemies that have invaded your once peaceful land. Dam imperialists! Like the popular arcade game Defender you can move left or right to wipe out all the enemy's camps to complete the stage. Once all the main enemies are done for you can then go after the level's boss character. That's pretty much how the game plays here and it's still kind of fun. You can buy new weapons and other upgrades but new guns don't last too long so it feels like you wasted your cash. The game is still playable but it's also pretty easy and way too short.
For 1 player only
graphics: 6
sound: 6
gameplay: 6
Find this game on eBay here!


60 GALAXY FORCE (Activision/Sega, 1989)
Galaxy Force is a fast and very intense space shooter with OK 3D graphics for it's day but the bad choppy look doesn't hold up very well compared to today's over the top effects. Although the game is short and runs on a very low frame rate, can you survive all 5 levels here? It isn't perfect, still this game is what After Burner SMS should have been.
For 1 player only
graphics: 7
sound: 6
gameplay: 5
Find this game on eBay here!

The StarSoldier Game of the Month!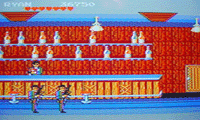 81 GANGSTER TOWN (Sega, 1987)
*Light Phaser required
In a interesting twist to the standard gun game you help some 1930's cops rid the town of wily gangsters that don't want to be taken in alive. As Light Gun games go this game is pretty good because these gangsters attack from just about everywhere and they are not afraid to take hostages either. The animation looks a bit on the rough side and the game can get way too hard later on but Gangster Town packed some decent looks, nice sounds, and very challenging game play.
For 1 to 2 players
graphics: 6
sound: 6
gameplay: 7
Find this game on eBay here!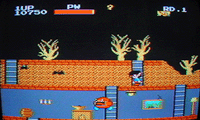 38 GHOST HOUSE (Sega, 1987)
*Card game
Ghost House holds a special place in my Master System collection because it was the final NTSC game I needed to finally finish off my huge Master System game list! It's review time though and since Sega doesn't pay me (hint hint) I have to be brutally honest here and beat this one to death. In this disgustingly cute action platformer you control a lame pointy eared Alex Kidd clone here that has to punch away at various monsters so you can collect lost treasures and hunt down Count Dracula. At least that's what is said in the manual because the game itself has no story what so ever. Not only does this little guy has a weak close range attack here but he is also forced to take a lot of cheap hits because the hallways in this house are very difficulty to move around in since you don't have a lot to jump. Some rooms even have these annoying invisible pits that just seem to be there to piss you off. Ghost House is fun action at first but all the frustrating features and weak presentation just ruin it.
For 1 player only
graphics: 4
sound: 4
gameplay: 4
Find this game on eBay here!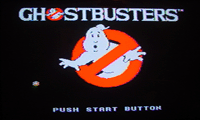 25 GHOSTBUSTERS (Sega/Activision, 1988)
So who are we suppose to call when a game sucks? Don't worry, I will jump in the way of this bullet here so you don't have to. Like the hit Hollywood movie of the same name you play has three men looking to rid New York City of a massive ghost problem. Sadly before you can do any spirit fighting you have to do a lot of boring driving around and money raising first. I don't remember the Ghostbusters getting gas in the movie so do I have get it in the game? Even the ghost capturing scenes are not very exciting once your all done with all the other lame tasks. The graphics are more colourful then the NES game but the boring game play is still the same and the continuious theme music is just as annoying as ever. Rent the movie, burn the game!
For 1 player only
graphics: 3
sound: 2
gameplay: 5
Find this game on eBay here!

09 GREAT FOOTBALL (Sega, 1987)
Whoa ouch, look at that score! Can you tell I'm not a real big football fan, eh? Great Football is definitely one of the reasons why. Even if I was though Great Football is sure a hard sell because this game suffers heavily from a lot of flickers, terrible background music, slow play selection interface, and very bad game play overall.
For 1 or 2 players
graphics: 3
sound: 2
gameplay: 4
Find this game on eBay here!

The Total Recall Dud of the Month!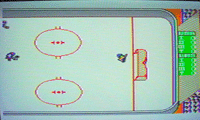 00 GREAT ICE HOCKEY (Sega, 1986)
*Sports Pad required
Not only do you need one of the crappiest video game accessories ever made just to move around anywhere (you can play with the regular controllers but it's just as painful) but the game looks and sound dreadful as well. Great Ice Hockey is not only another bad game in the abysmal 'Great' sports series but with it's horrific controls it is definitely one of, if not, the worst SMS video games ever made. Do I even need to go any further: 00 out of 100!
For 1 or 2 players
graphics: 1
sound: 1
gameplay: 1
Find this game on eBay here!

The StarSoldier Game of the Month!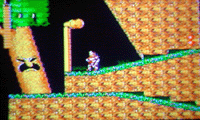 80 GHOULS 'N GHOSTS (Sega/Capcom, 1990)
The popular arcade and Sega Genesis hit (it was also released on the Sega Saturn and SuperGrafx but would I hardly call them 'popular') also arrives on this old machine. If you don't know the story: you control a knight with a unlimited supply of throwable weapons (sans the sword) through 5 creepy levels of monsters and dangerous environments. Now you would expect a water-downed version of the Genesis classic and that's what you get but at least this version comes with new shops where you can buy exclusive weapons and armour to make this difficult game slightly easier. Ghouls 'N Ghosts for the SMS is easily one of the better action games you can find on the old girl.
*Uncommon SMS game
For 1 player only
graphics: 6
sound: 6
gameplay: 8
Find this game on eBay here!

50 GLOBAL DEFENSE (Sega, 1987)
I like that this game is fairly different than the norm out there but that still doesn't make it good. In Global Defense you control a satellite that must protect the earth from enemy missiles. The game's biggest issue is that it's still a little too demanding on the thumbs since you are forced to switch between shooting and movement modes all the time. The game is solid but perhaps more Missile Command-like game play would have solved the game's control problem.
For 1 or 2 players
graphics: 4
sound: 2
gameplay: 3
Find this game on eBay here!

71 GOLDEN AXE (Sega, 1989)
The popular arcade hit (at least I think it was a hit) comes to the SMS as well and it's not too bad. In this hack and slash adventure you control a bulky Conan-like hero in blue tights that wants to get back the legendary Golden Axe from the monsterous Death Adder. If you want to get to Death Adder you have to first go through his army and five brutal levels range from dead forests to flying on the back of a giant eagle. It would be easy especially since this is one player only now but you can still get help from 3 different animals and 3 unique magic spells all with multiple upgrades as well. This is no Genesis version since the graphics and animation take a hit but it's still plays OK and that's the most important thing. Only the warrior guy with the sword is playable in this adventure but you can use the other magic powers of fire and rock if you want to. Golden Axe is a good choice for action fans.
For 1 player only
graphics: 7
sound: 7
gameplay: 7
Find this game on eBay here!


74 GOLVELLIUS: Valley of Doom (Sega/Compile, 1989)
This virtually unknown SMS game is a lot like the Legend of Zelda in a way. In it you help a young warrior to save the princess in both action and adventure levels. Although I wish there was a save feature here, at least there is a password system so don't have to finish it in one sitting. The game gets a little too difficult later in the adventure but it's unique and still pretty fun. Don't pass it up!
*Uncommon SMS game
For 1 player only
graphics: 7
sound: 6
gameplay: 7
Find this game on eBay here!

Total Recall Dud of the Month!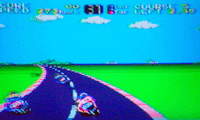 45 HANG ON (Sega, 1986)
*Launch title that may be built in some systems
What the heck! Why is this sub-par racing game being packed in with the Sega Master System? The original arcade motorcycle racing game was so fun to play but there was so much taking away in this version here like the true bike controls, background music and the real 3D graphics. What really kills the game though is the constant pass the others and avoid the sides in just like every other racing game before it and that completely ruins the experience. The game is still playable but overall this is just another black eye for Sega.
For 1 player only
graphics: 4
sound: 2
gameplay: 4
Find this game on eBay here!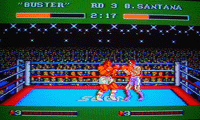 25 James Buster Douglas KNOCKOUT BOXING (Sega, 1990)
This game is not only famous for featuring one of luckiest guy in history but the game is also tougher to find then a cute girl that likes math. In a smart move Sega released this game right after James Buster Douglas pulled off the big upset and KO'ed the then popular and almost unstoppable world heavyweight champion Mike Tyson and ended his big 30 plus winning streak. Tyson was of course in Nintendo's popular Punch Out game so Sega had a golden opportunity to show up the competition. In a dumb move though this game is still the same as Sega's ill fated Rocky game but now you play as Buster Douglas himself. The game is loaded with spotty hit detection and very poor animation. With a little more time this game could have been at least above average but Sega didn't care about the game play but rather the license and idea of sticking it to Nintendo and their former poster boy. Don't be fooled in by the detailed fighters here, this game sucks worse then Buster's actual career!
*Rare SMS game
For 1 or 2 players
graphics: 4
sound: 2
gameplay: 2
Find this game on eBay here!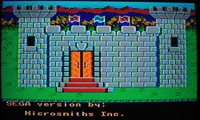 70 KING'S QUEST (Parker Brothers, 1989)
Role playing games are hard to come by on the Sega Master System so having the legendary PC game King's Quest be translated on this system is definitely welcome. Here you control a young man who is asked by the near-death king to rescue his kidnapped daughter. This text based adventure is one slow game and the password system is annoying as well but the game is still filled lots of interesting characters and interactive locations.
For 1 player only
graphics: 4
sound: 4
gameplay: 8
Find this game on eBay here!

33 KUNG FU KID (Sega, 1987)
Remember those dorky arcade games that nobody wanted to play? Here is the lame Kung Fu Kid and it has a bad control set up and slow action that reminds me of the awful My Hero. The game is difficult and so repetitive that it Kung Fu Kid a pain in the nuts to continue with.
For 1 or 2 players
graphics: 4
sound: 3
gameplay: 2
Find this game on eBay here!

59 LORD of the SWORD (Sega, 1989)
This may appear to be a decent enough action title at first but this isn't without its problems. I will admit the graphics are not too bad in certain areas (the characters are large and easy to see on screen) and the music although repetitive isn't horrible either. Sadly, the game also only comes with 10 continues and the overall pace of the game is very slow. Despite the cool name, there is nothing too impressive about this dull title here.
*Uncommon SMS game
For 1 player only
graphics: 6
sound: 6
gameplay: 6
Find this game on eBay here!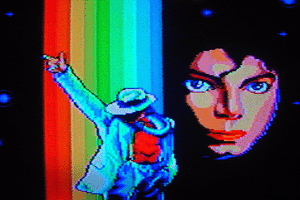 62 Michael Jackson's MOONWALKER (Sega, 1991)
This is the only video game I know that actually stars the famous and sometimes controversial singer Michael Jackson. The game is based on that old movie of the same name, and in it you control Michael himself so he can rescue missing children kidnapped by street gangs. "No, I'm not kidding here!" Yeah, this is the same crazy and freaky pop star that got arrested multiple times for child molestation (although he hasn't been found guilty yet) a game about looking for kids! Despite the weird idea it's still a good action platformer here. The game comes with some of the original sound tracks of his albums including 'Smooth Criminal' and 'I'm Bad' plus it's cool to see that some of your special weapon here is your style and many dance moves. Moonwalker is just like the Genesis version minus some graphic and sound quality of course.
*Uncommon SMS game
For 1 player only
graphics: 6
sound: 7
gameplay: 5
Find this game on eBay here!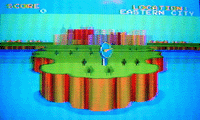 69 MISSILE DEFENSE 3D (Sega, 1987)
*SegaScope 3D required
*Light Phaser required
*Built in the SegaScope Master system
You're eyes aren't playing tricks on you. Missile Defense 3D requires both the SegaScope and Light Phaser peripherals to be played so unless you have both accessories then you are wasting your time with this game here! If you do have the right gadgets however then you're then you'll find Missile Defense to be a fun shooter where you have to fight off groups of missiles across several stages. The graphics are sharp, the sounds are decent, and game play is quite intense enough to recommend this title.
For 1 player only
graphics: 8
sound: 6
gameplay: 7
Find this game on eBay here!

73 MIRACLE WARRIORS (Sega, 1989)
What may look like a simple RPG with some plain looks and below average music is actually a fairly addictive game here. If you stick with Miracle Warriors then you be in for a game that's really packed with features because the adventure isn't all about fighting either. For example; you can talk to some opponents to gain some valuable hints for one. Don't pass this one by especially if you're searching for another game like Phantasy Star.
*Battery back up game
For 1 player only
graphics: 2
sound: 3
gameplay: 7
Find this game on eBay here!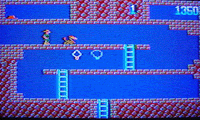 64 MONTEZUMA'S REVENGE (Parker Brothers, 1989)
Montezuma's Revenge is a popular computer legend that arrives on the Master System and if you like game's like Activision's Pitfall then you'll really like this non linear adventure game as well. Sure the graphics are crude and the sound is weak too but this fun adventure title will still challenge anyone.
*Rare SMS game
For 1 player only
graphics: 4
sound: 3
gameplay: 5
Find this game on eBay here!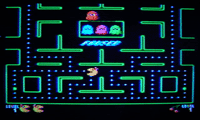 71 MS. PACMAN (Tengen/Namco, 1992)
*European game
Ms. Pac Man has been on almost every gaming system and you can even find her on the SMS too. The game play involves the same old pellet collecting and ghost avoiding from the classic 1982 arcade mega hit but Ms. Pac Man for the SMS introduced many ideas to help liven things up. First off the new mazes to the mix like Crazy, Long, and Mini levels to add some variety to the legend and the new mazes weren't cool enough, the game also has an all new two players modes featuring both Pac Man and Ms. Pac Man competing for points. Talk about a cool idea, eh? The Master version even comes with updated graphics so Ms. Pac Man and the Ghosts look a bit more 3D-ish (I know that's not a word so sue me). Ms. Pac Man for SMS is a great pick for fans of retro style action.
For 1 or 2 players
graphics: 4
sound: 3
gameplay: 7
Find this game on eBay here!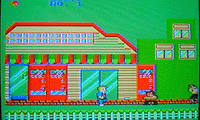 12 MY HERO (Sega, 1988)
*Card game
My Hero is a VERY ugly looking, ugly sounding, and even ugly playing fighting action game! Your so called Hero has to try and find his girlfriend who was kidnapped from a tough street gang but this is not going to be easy. The big problem here is that your main character is so weak that it only takes one hit to do you in and it makes dying inevitable. You also have to fight a large groups of gangs and they come with weapons like knifes, bottles, and even bombs. This is another fine example of a poor Sega effort for it's Master System product.
For 1 or 2 players
graphics: 2
sound: 2
gameplay: 2
Find this game on eBay here!


Sega Master System reviews N - S > >