PANASONIC'S 3DO
(October 1993-1996)
A very strong system with a very scary price



Not a bad looking system, eh?

"THIS SYSTEM WAS 1 F 'N GRAND!" No, I'm not kidding believe it or not. The first time I saw this thing in real life it was 999.99 bucks at my local game store. Sure, it looked good graphics wise especially in the early 1990's but c'mon it was by no means a thousand dollars good. Let me explain; this is Canada, and that alone nearly doubles the price compared to a US price (unless the president does something else lame of course), plus there were not too many of these fancy 3DO's going around, so it was mainly aimed at the rich video gamer (whoever that is). Besides, both 3DO and Panasonic were trying to make a profit off this CD only gaming system while most other companies relied on the important software sales. I finally got one when it was at death's door in 1997 for a hundred bucks and I still think I got ripped off.


If you don't know what the 3DO is (lucky you) it's a stand alone CD-Rom console with an advance 32-bit processor and it focused on games that were in complete 3D and used true full motion video. Think of it as a more powerful Super Nintendo but a weaker version Sony Playstation and you get the idea. Sadly even with it's high price point there were a ton of awful games released for the console. When the 3DO got started Panasonic tried to release as many games as possible, which doesn't seem like a bad idea in theory. Too bad it wound up backfiring on them and here's the problem. Many of those awful Full Motion Video games that were available on Sega CD were soon on the 3DO as well (like "Sewer Shark" and "Night Trap") and although they looked better thanks to the highly resolution the games still sucked big time! The list of losers don't stop there because the 2D fighter Rise of the Robots that bombed on the Super Nintendo is here on this system too plus the 3DO also had a lot of exclusive titles. Who could forget about CD's like "Ice Breakers", "Shadow", and "Plumbers Don't wear Ties"?......... EVERYBODY, That's who!

Bottom line: If there was one cool thing about this 32-bit system, it was the fact you could use the 3DO connection wires for the Playstation (the older Playstation models anyways) and vice versa. It also started the popular Gex and Need for Speed franchises (The 3DO version of Gex is one of the few 3DO games to sell over a million copies). There are also other 3DO's released by Goldstar and Samsung that are different than the standard issue 3DO FZ-10 so if you're a collector it might be worth looking into. Despite its good points my advice is to avoid this now outdated piece of hardware and go for any other 32-bit system, regardless of its price.

Rating: 45/100 none of games are truly great by themselves (i.e. you can find them on other consoles) and some are very forgettable.
Find the 3do system on eBay here!


Rare Scale: 3/10 still a lot of 3DO's out there, some unsold.

COOL 3DO TOYS

The 3do Controller
This is a very hard and uncomfortable pad, and it looks a lot like the Sega Genesis controller but with more buttons. There is a serial port right on the controller to add another controller for multi-player games, which was a bad idea because your friend could unplug you easily to cheat when you weren't looking.
GOOD POINTS:
*The real video was always clear and full screen for most games.
*Built in Save feature.

BAD POINTS:
*Tons of stupid, and boring Full Motion Video games.
*The whole system was so overrated.
*The price was the nail in the coffin.
Common 3DO games:

Rarest 3DO games:
ebay
Crash N' Burn
Dragon's Lair
Fifa Soccer
Griddles
Out of this World
Return Fire
Star Blade
Star Fighter
Super Wing Commander
DinoPark Tycoon
ESPN Let's Go Skiing
ESPN Mental Messages
Luciecce's Quest
Mathemagics: The Interactive Learning Cube
Neuro Dancer
Show Job
Slopestyle: An Interactive Learning Cube
Woody Woodpecker & Friends Vol. 1
Woody Woodpecker & Friends Vol. 2
Woody Woodpecker & Friends Vol. 3
StarSoldier's personal Top 10 3DO games:
(

what can I say, I like Samurai Shodown

)
#1 SAMURAI SHODOWN
2. GEX
3. TWISTED
4. SUPER STREET FIGHTER II TURBO
5. ROAD RASH
6. BUST A MOVE
7. REBEL ASSAULT
8. RETURN FIRE
9. GUARDIAN WAR
10. DEMOLITION MAN
Most Disappointing:
STAR BLADE

The Worst:
RISE OF THE ROBOTS

Most Underrated:
TWISTED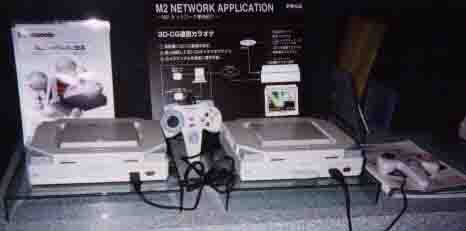 Here is the M2, this was suppose to be the 64-bit 3DO successor but the project was scrapped.