Down and Dirty Reviews: Nes -- F - H
I love the NES and I bet I'm not the only one, eh? I still own around 700 games for this old system and I'm still collecting em to this day. Remember that most Ljn games suck so don't spend too much on their titles while most Konami and Capcom titles are a safe bet but beware; there is a exception to every rule. I can only hope my reviews can help you pick out the right games if you are a collector too? Overall F to H reviews: 72, F: 25, G: 33, H: 14

The overall scores are out of 100.

The graphics, sounds, and game play are out of 10.
Score / Name
10 F-117A Stealth Fighter (MicroProse, 1992)
There are a lot of flight simulator here on the NES and I can't understand why? Not only is the standard controller horrible for moving around a advance aircraft like a Stealth Fighter but the system can't handle the 3D effects these games are known for either. F-117A Stealth Fighter is perhaps the worst offender because the game is guilty of using actually polygons here which have to business being on this ancient console. Seeing the game in action is a just nightmare with it's slow frame rate and tiny viewing screen. Do I really need to go on here?
For 1 player only
graphics: 2
sound: 4
gameplay: 1
Find F-117A on eBay here!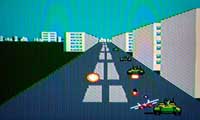 12 F-15 CITY WAR (American Video, 1992)
This game has one fatal flaw: it's a Super Thunder Blade wanna be (you know that crappy game on the Sega Genesis). City War started out a mediocre 3D flight simulation with the choppy graphics but thanks to its highly repetitive nature the game ended up being even worse and only in a few minutes. That spells death in the video game industry and Sega's Thunder Blade was way better then this and that includes that dismal Sega Master System version too.
*Uncommon NES game
*Unlicensed NES game
For 1 player only
graphics: 2
sound: 2
gameplay: 1
Find F15 City War on eBay here!

53 FAMILY FEUD (Gametek/Beam Software, May 1991)
The famous 5 on 5 family feud game show comes to the old NES and it doesn't look too bad either. If you are unfamiliar with the show in the game you control a family of 5 and each of you must buzz quickly enough to answer survey questions with the best possible answer before your opponent. Although the single player game isn't that compelling, if you are looking for a nice and relaxing question game to play with a friend this is alright.
For 1 or 2 players
graphics: 6
sound: 5
gameplay: 6
Find Family Fued on eBay here!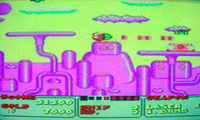 56 FANTASY ZONE (Tengen/Sega 1990)
The cute looking Sega shooter comes to the NES and I'm still asking myself why? In this odd game you pilot a strange little ship and it's your job to clear the Fantasy Zone of evil invaders. You can freely move left or right in each stage so you hunt down the necessary enemies much like the classic Defender. It's cool that you can buy weapons and speed ups from a shop but your weapons sure don't last for very long so it feels like a waste of time. Although the game may please shooter fans, the TurboGrafx-16's Fantasy Zone is better.
*Unlicensed NES game
For 1 player only
graphics: 4
sound: 6
gameplay: 4
Find Fantasy Zone on eBay here!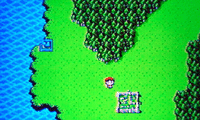 83 FARIA (Nexoft/Game Arts, 1992)
I actually have a cool story on how I got this rare NES title here in my collection. One of my readers noticed some of my artwork on this site and so we worked out a trade: his copy of Faria for my original drawing of Terra the Turbografx-16 girl. Thanks again Andrew! So how is the game itself you ask? It's a real shame this title got forgotten the year it was released because this one complex and accessible role playing game that can be a lot of fun. You play as a young female warrior on a deadly mission to rescue a princess all on your own. The weird thing is the game tells you if you rescue the princess you get to marry her. Heh heh do I smell lesbian action? Anyway, now it may sound like a lot of other RPG's out there (other then the lesbo stuff) but all the battles here are done in real time so you got to fight it out Legend of Zelda style. Don't be fooled by the cute yet detail visuals because Faria is one tough game with huge and very confusing towers to conquer and there are difficult enemies all over this world. Of course it would suck if it was too easy and in the end Faria definitely one of the best RPG's you can find on the system.
*Rare NES game
*Battery back up game
For 1 player only
graphics: 7
sound: 7
gameplay: 8
Find Faria on eBay here!

78 FAXANADU (Hudson Soft/Falcom, August 1989)
In this action/adventure game here it's your job to retake the World Tree and hunt down the evil one that took it from your village to begin with. Are you up to the task? Although Faxanadu may lack originality and the controls can be pretty stiff too, the game still deliveries a quality action/RPG adventure that should keep you busy for a while.
For 1 player only
graphics: 7
sound: 5
gameplay: 7
Find Faxanadu on eBay here!


69 FELIX the CAT (Hudson Soft, October 1992)
If any of you don't remember Felix the Cat he had is own cartoon show way back in the early 1900's. It seems like an odd choice for a licensed video game but Hudson still did a great job here. Not only are the graphics colourful and easy to see but the controls are very easy to use as well so both kids and adults can jump right in here. Because he's a pretty tough cat with a lot of tricks in his bag Felix the Cat is a bit on the easy side but the game is still fairly fun to play.
*Uncommon NES game
For 1 player only
graphics: 7
sound: 6
gameplay: 6
Find Felix on eBay here!

32 FESTER'S QUEST (Sunsoft, September 1989)
The unusual Uncle Fester from the Addam's Family gets his own game and he must fight off invading aliens in this very odd title here. Although fans of Blaster Master may like the overhead action here since it looks very familiar, the game play can be very tedious and way too difficult because your main gun is just pathetic. Even if you fully power up the gun it doesn't do much damage and when it shoots in a wave pattern that make very difficult to hit anything. The game even includes annoying power ups that downgrade your weapons. To help break up the boring action scenes there are even worse 3D corridors done with all the walls looking the same and it all moves at a very choppy frame-rate. If you don't have some paper and a pen ready in the later stages then just forget playing the game any further....... in fact there are plenty of reasons to forget playing this altogether. Fester's Quest is just a very forgettable and unpolished title overall that's a dumb use of a popular license.
For 1 player only
graphics: 5
sound: 6
gameplay: 5
Find Fester's Quest on eBay here!


48 FINAL COMBAT (Sachen, August 1990)
So what would Atari's Combat be like if it was mostly mission based? It would probably look like this title here. In Sachen's Final Combat you control a fully loaded tank that must destroy everything in its path. This game is a great concept but your tank is way too slow and the action doesn't really change much from level to level so you're better off getting the superior Iron Tank instead.
*Unlicensed NES game
*Rare NES game
For 1 player only
graphics: 3
sound: 3
gameplay: 5
Find Final Combat on eBay here!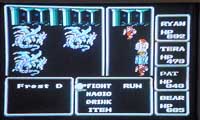 84 FINAL FANTASY (Nintendo/Square, August 1990)
Here is a very addictive RPG if you can get into it. In this adventure you help 4 warriors of your choosing to save the land from the evil known as Chaos. The graphics just suck period and the characters you pick at the beginning have no story but it would be foolish to pass this huge and complex game up despite some minor problems. I know I'm going to get in trouble for this but I think this is better than Final Fantasy II on SNES.
*Battery back up game
For 1 player only
graphics: 4
sound: 7
gameplay: 9
Find Final Fantasy on eBay here!

66 FIRE HAWK (Camerica)
It's not only a cool name but Fire Hawk here is a very good looking overhead helicopter game with great arcade-like action that kind of reminds me of the popular EA Desert Strike type of titles. Although the game play is nothing new here, the action is so intense in this one that it still deserves a try.
*Unlicensed NES game
For 1 player only
graphics: 7
sound: 5
gameplay: 5
Find Fire Hawk on eBay here!

68 FIRE & ICE (Tecmo, March 1993)
Fire & Ice is a very, VERY tough puzzle game where a young wizard tries to put out raging fires with his ice spells. The game comes with lots of levels, good graphics, and lots of tricky challenges. If you liked the game Solomon's Key then you'll like this indirect sequel here too. OK, it's certainly not a game for action freaks but Fire & Ice is great for puzzle fans and it is even getting really hard to find now so you collectors should take note.
*Rare NES game
For 1 player only
graphics: 6
sound: 5
gameplay: 7
Find Fire & Ice on eBay here!


The Total Recall Dud of the Month
00 FISHER PRICE: FIREHOUSE RESCUE (Gametek, March 1992)
Gametek's super stupid Firehouse Rescue game lets you drive around in a fire truck and race to people trapped in houses. That may not sound so bad (although it certainly doesn't sound to good for a video game) all the maps just consist of simple puzzle routes that look like they belong in kid's menu and not a NES cart. Once you get to the right destination you then need to get the person(s) down from the home in question by just pressing 'A' and seriously that's it! I know this is suppose to be targeted to younger players but this technically isn't even a game so even kids will be completely bored here.
*Uncommon NES game
For 1 player only
graphics: 0
sound: 1
gameplay: 0
Find Firehouse Rescue on eBay here!

24 FISHER PRICE I Can Remember (Gametek, 1990)
Oh great, there's another one (note sarcasm of course). To be fair this is the best game in the Fisher Price NES series even though it still blows. In the game you or a friend can play a classic game of concentration to the death (minus the to the death part). You can get more points by being the one to score first and being quick overall to find matches but why do the cards move so slow here? The mini card game in Super Mario Bros. 3 is so much faster and that's only a small faction of that awesome title. The graphics are weak at best, the music is generic nursery junk, and the computer hardly offers any challenge even on the highest setting. This may keep those kids quiet for a bit but overall your not getting a lot for your money here.
For 1 or 2 players
graphics: 2
sound: 2
gameplay: 1
Find I Can Remember on eBay here!

21 FISHER PRICE Perfect Fit (Gametek, 1990)
There is some truth in advertising out there because Fisher Price's Perfect Fit is a game where you match up pieces with the shadow and that's pretty much it. Well, this was a easy review! OK, there is a little bit of depth here but not much. There are three difficulty levels but they just range from brain dead easy to insanely easy. Like Firehouse Rescue this game offers no challenge what so ever and it doesn't even look that good thanks to the weak monotone colours and the generic kiddie music hurts the ears too. Maybe young brats may like it but overall the only perfect fit for this game is right up the as$.
For 1 or 2 players
graphics: 1
sound: 3
gameplay: 1
Find Perfect Fit on eBay here!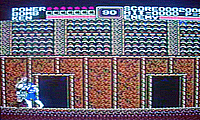 53 FIST of the NORTHSTAR (Taxan, March 1989)
The ultra violent Anime comes to the US and although the game doesn't have any of the blood the series is known for it does have the exploding bodies once you defeat them and fans got to like that. Fist of the Northstar is a good action/fighting game up with a cool power up system but the game is way too short and repetitive. Because of this Fist of the Northstar is a good game but not a spectacular one.
For 1 player only
graphics: 6
sound: 5
gameplay: 6
Find Fist of the Northstar on eBay here!

45 FLIGHT of the INTRUDER (Mindscape, May 1991)
Somebody really hates me because here is another flight sim on the NES. Much like Konami's Top Gun this is a first person shooter where you shoot down a bunch of enemy targets and tediously launch and land your aircraft too. The game gives you different missiles and even different perspectives on certain stages but there is nothing new or exciting here and I don't know why it even exists?
*Uncommon NES game
For 1 player only
graphics: 4
sound: 3
gameplay: 4
Find Flight of the Intruder on eBay here!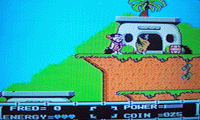 76 FLINTSTONES: The Rescue of Dino and Hoppy (Taito, 1991)
I remember watching a lot of the Flintstones as a kid so it was cool to see a game made of it. Maybe the best part is Taito did it and not those hacks over at Ljn (I still can't believe they screwed up Back to the Future). If you don't know the old cartoon the Flintstones were a wacky family in the stone age and in this action game you control Fred Flintstone on a mission to get back the pets Dino and Hoppy from this jerk that came from the future. The story is weird but the game plays pretty well has Fred can grab ledges and bash away at thieves and dinosaurs fairly easy so anyone can pick up and play this in just a few minutes. The game even has basketball matches to help break up the action a bit. Another cool thing about the game is the graphics are very colourful and all the characters here look just like the ones from the show. It isn't all good because even though Taito included the classic theme music, a lot of the sound tracks are high pitched and very annoying plus Fred isn't the fastest guy around either. The Rescue of Dino and Hoppy is still a very cool action game and fans should track this down like those You Tube video where Fred and Barney are smoking cigarettes, eh?
*Uncommon NES game
For 1 player only
graphics: 8
sound: 4
gameplay: 7
Find The Flintstones on eBay here!


81 FLINTSTONES: Surprise at Dinosaur Peak (Taito, 1992)
Even though the NES was deadier then a door nob, it didn't stop Taito from making a few more Flintstones games while they still had the license and another one even arrived on this toaster oven here. In this sequel to the Rescue of Dino and Hoppy Fred is has to find the kids Peddles and Bam Bam that got lost. The game plays a lot like the first one but now you can also play as Fred's neighbour Barney this time around. Barney may be smaller then the heavier Fred here but he can also grab ropes so there are advantages to switching characters. The game isn't a big leap forward but the game still plays well so they didn't screw it up in the end. Oh, and good luck finding this one cheap.
*Extremely Rare NES game!!
For 1 player only
graphics: 7
sound: 7
gameplay: 7
Find The Flintstones 2 on eBay here!


65 FLYING DRAGON (Culture Brain, June 1989)
Flying Dragon is a unique fighting action game with both one on one sparring battles and some platform levels as well. The thing I liked most about Flying Dragon's game play that the one on one fights are very technical and button mashing will get you no where here. Although the game may seem a little weird at first and the graphics and sounds are nothing special, if you give it a chance and you just may like it.
For 1 player only
graphics: 4
sound: 5
gameplay: 7
Find Flying Dragon on eBay here!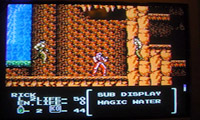 68 FLYING WARRIORS (Culture Brain, February 1991)
Although this looks like a completely new game, Flying Warriors is actually a sequel to Flying Dragon. I guess they changed it up a bit after nobody got the original. Like the first game Flying Warriors begins as a one on one martial arts simulation and then moves on to action platformer stages. The graphics are noticeable better then the previous game and the action is fairly quick but it still feels like there is a delay to the controls so this is no precise beat em up like Street Fighter II. Flying Warriors is still a solid action game..... that nobody brought.
For 1 player only
graphics: 7
sound: 6
gameplay: 8
Find Flying Warriors on eBay here!

40 FRANKENSTEIN: The Monster Returns (Bandai, 1992)
OK, this sounds pretty cool here. I'm this hero who has to fight hordes of creatures and dangerous stages to find the evil Frankenstein monster that destroyed some village and kidnapped a hot chick. The game starts off just like any typical generic action platformer would as you punch away enemies while you move from point A to B I guess. You can even get multiple weapon upgrades like clubs and ranged attacks but it doesn't take long to lose them since the bad guys here can be pretty cheap. Another problem is the controls feel very sluggish and your hero doesn't move fast enough here. Frankenstein could have been good but no.
For 1 player only
graphics: 6
sound: 5
gameplay: 5
Find Frankenstein on eBay here!

59 FREEDOM FORCE (Sunsoft, May 1988)
*Light Gun required
Most Light Gun games are basically the same and this game is no exception. Its your mission here to skillfully take down the terrorists that hijacked a Jumbo Jet but be careful not to kill any of the hostages that also appear. This one had some above average graphics when compared to the usual Light Gun game thanks to good animation (you actually get to see some orange blood after a good hit too) on your enemies and the shots are usually dead on here too but the game itself is still very average and way too linear.
For 1 player only
graphics: 6
sound: 5
gameplay: 4
Find Freedom Force on eBay here!


Total Recall Dud of the Month!
29 FRIDAY the 13th (LJN, February 1989)
This plays similar to the Goonies II by Konami, but there is no real objective to play this not scary video game. In the game you and your friends try to stay alive on a camp site as a giant undead man known as Jason hunts you all down. The only 13 part about this game is that it's basically rated PG-13 because I play this game for hours and I didn't see any blood whatsoever even though the movie itself was definitely not for younger kids. It's better just to play Splatter House instead.
For 1 player only
graphics: 6
sound: 3
gameplay: 2
Find Friday the 13th on eBay here!


61 Ultimate FROGGER Champion (Kevin Hanley, 2009)
Finally, it's Frogger here for the NES, baby! You know Frogger, eh? The arcade legend from the early 1980's where you help five frogs across busy traffic and heavy water currents in order to get home in order to complete a stage. The game even includes a new two player mode but sadly that's one of the few new features this homebrew has because the graphics don't really take advantage of the NES's hardware and lack of sound effects is also disappointing. If that wasn't bad enough the background music barely sounds like the arcade original and it gets very annoying. This Frogger here is still fun though and the battle mode is great against a friend especially one not as good as you.
*Homebrew NES game
For 1 or 2 players
graphics: 5
sound: 3
gameplay: 5
Find Frogger on eBay here!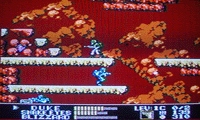 85 G. I. JOE (Taxan, February 1991)
I know license video games are usually some of the worse games found on the NES here but Taxan's GI Joe is definitely a rare exception. If you don't know the cartoon show or the line of popular toy products the GI Joe's are a elite (if a little wacky) group of American commandos on a mission to stop the Cobra terrorist organization. In this 2D action game you get to pick a team of three different characters each with their own abilities, guns, and close range melee attacks. One of the coolest things about having a three member team here is you can switch between them any time you like so if one is low on health you can just use another guy. Not only is the game play pretty in-depth but the graphics are incredible with detailed and colourful backdrops ranging from deadly jungles to heavily guarded fortresses. The game even has some impressive 3D effects like when enemy soldiers jump from the foreground right to your level. Although some of the platforming action gets a little repetitive stage to stage, the sounds are good here, the controls are fairly tight, and the game is just fun to play. G.I. Joe is not only a American hero but most importantly his game doesn't suck.
*Uncommon NES game
For 1 player only
graphics: 9
sound: 8
gameplay: 8
Find G.I. Joe on eBay here!


68 G. I. JOE The Atlantis Factor (Capcom, March 1992)
After playing the amazing G. I. Joe game from Taxan I couldn't wait to play the Capcom edition because they are pretty well known for their action games (like Strider), eh? Like the Taxan version this is a 2D action game where you play as one of the G. I. Joe's on a mission to stop the evil Cobra organization but now you fighting on the lost city of Atlantis as well. You still have both close and long range weapons but unlike the other game though you don't have the option to pick your character when you start the mission so things get off to a slow start. Also most of the power ups in the game had this annoying feature of bouncing back and forth so they were tougher to catch. The graphics are still great and the sounds are above average too but the other G. I. Joe was still better.
For 1 player only
graphics: 8
sound: 7
gameplay: 7
Find GI Joe The Atlantis Factor on eBay here!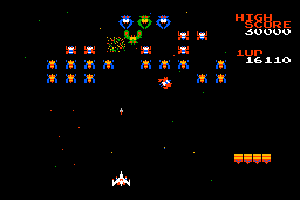 65 GALAGA: Demons of Death (Bandai/Namco, September 1988)
Galaga on the NES is a near arcade perfect translation of the early eighties space shooting hit that maybe a few of you heard of it already, eh? In Galaga you use your advance star fighter to save the galaxy from a deadly race of flying bugs that get harder and harder to kill in each level. This was originally the sequel to Galaxian and it not only features better graphics and sounds but the intense new faster game play really makes the previous game out dated too. You're still a spaceship shooting at bugs here and all that crap but now you can power up your ship with double fire power by losing one of other ships to a tractor beam enemy and by getting it back (that's if you don't shoot it by accident of course). This is still a awesome shooting video game even today but it's a shame you can't save your scores here and the action can get repetitive as well. Galaga is great for retro buffs but other NES gamers use to titles like Twin Cobra will not be that impressed.
For 1 or 2 players
graphics: 4
sound: 5
gameplay: 5
Find Galaga on eBay here!

75 GALAXY 5000 (Activision, 1991)
One of the most famous racing games here on the NES was RC Pro AM. You know that crazy overhead racer with fast action and great controls? Well I always thought it would be cool to play something similar to that but only with more weapons and somewhere a bit edgier like in deep space. Well, that's what Galaxy 5000 is here and the game is pretty damn good. You can fire off guns, the controls are responsive, the sound effects are decent, there are multiple upgrades, and much more all here. The game can get rather difficult but it still kicks some a$$.
*Rare NES game
For 1 or 2 players
graphics: 7
sound: 8
gameplay: 8
Find Galaxy 5000 on eBay here!

78 GARGOYLE'S QUEST II (Capcom, 1992)
Here is the official prequel to one of my Games of the Month Demon's Crest. In this cool title you play as one of those tough red winged demons (named Firebrand) from Ghosts 'N Goblins and you have to fight off rival clans that want to destroy your kingdom. The game has both overhead role playing scenes where you talk to different demons to understand why the hell is going on and action levels where you can shoot at stuff with your fire breath. The talking scenes are surprisingly fast paced and the levels are fairly challenging too. The game can be a bit too short but it was still a kickass game I would gladly play again.
*Uncommon NES game
For 1 player only
graphics: 7
sound: 8
gameplay: 8
Find Gargoyle's Quest on eBay here!

71 GAUNTLET (Tengen/Atari, 1988)
The popular arcade game arrives on the NES and it plays well here too. If you are new to this series you get to pick from 4 different characters and you must survive 100 levels of deadly dungeons filled with gold and monsters. The game plays great with the ability to throw projectiles and the controls are excellent too but your heroes have draining health so you better move before you die. The game is easier with two players of course but you better not have a friend that goofs around because they might hog all the treasure and shoot the always important food so you both screwed. Gauntlet isn't going to be for everyone but if you want a difficult but fun action dungeon crawler with a lot of action then get this classic.
*Two versions available, one licensed by Nintendo while the common black cart isn't
For 1 or 2 players
graphics: 5
sound: 6
gameplay: 8
Find Gauntlet on eBay here!

65 GAUNTLET II (Mindscape/Atari, 1990)
Liked the first Gauntlet? Good news because part II here is pretty much the same game. You can still pick from the Warrior, Valkyrie, Elf, or Wizard and go on a overly long quest to survive an almost endless series of dungeons just like before. It isn't all old stuff though because this edition has some digital audio like "Red Warrior is about to die!" and full four player support now. Unfortunately, the graphics are even worse with bland art and very little detail and there is no background music either. Also that talking feature is really scratchy and hard to understand sometimes. The game still has a lot of action but it also gets very repetitive too. Gauntlet II lacks the polish the original had but the formula still works at least.
For 1 to 4 players
graphics: 5
sound: 5
gameplay: 6
Find Gauntlet II on eBay here!

Total Recall Dud of the Month!
34 GEORGE FOREMAN KO Boxing (Acclaim/Beam Software, 1992)
Since Nintendo didn't do a sequel to Punchout on the NES here's a game starring this boxing legend that could have been a really big hit. Well, you can only play as George Foreman in the one player mode and that may not seem that bad at first. George is a 6'4ft 251 giant with an amazing professional fight record of 71 - 3 (that was his record back then anyway) and multi-time World Heavyweight Champion while his first opponent in the game is this Luciano jobber guy at 5'11ft and has a 25 - 16 record. Now you would think he could wup his backside no problem. WRONG! This Luciano goof has twice the power in his punches and his super attack takes away half of your life bar while yours barely does 25 percent if it even hits. In fact all the enemies here are tougher then George here and it's just insulting. The graphics are quite good and the controls are decent too but the whole game feels very unbalanced.
*Uncommon NES game
For 1 or 2 players
graphics: 7
sound: 4
gameplay: 5
Find George Foreman KO Boxing on eBay here!


22 GHOSTBUSTERS (Activision/Pack-In Video, October 1988)
"I ain't afraid of no ghosts!" Crappy games scare the hell of me though and boy does this suck. Just like the hit movie from the 1980's you control a group of ghost fighters after New York City gets over run with them. Although blasting at evil spirits sounds fun, most of the game involves a lot boring driving around and map surfing plus any real action here only last for a few seconds. The cars lack any detail what so ever, raising money is tedious, and even the constant theme music gets highly annoying. Ghostbusters just feels too much like work to even consider it a game.
For 1 player only
graphics: 1
sound: 2
gameplay: 5
Find Ghostbusters on eBay here!

41 GHOSTBUSTERS II (Activision, 1990)
The Ghostbusters are back and now New York City is under attack from fiendish spirits lead by an evil dude in a painting. OK, the story sucks and the game play isn't much better either. Most of the game takes place in hard to control platforming stages where you'll be lucky to hit anything with your gun. The other levels feature shooting down ghosts in the Statue of Liberty (whatever) and boring driving scenes that require a lot of tedious and precise movement if you want to make it far here. Ghostbusters II may be superior to the original but it the only thing this game busts is your balls.
*Uncommon NES game
For 1 player only
graphics: 4
sound: 5
gameplay: 4
Find Ghostbusters II on eBay here!

59 The Legend of GHOST LION (Kemco, 1990)
This has to be one of the strangest role playing games I ever played. The story for the game is there is this powerful white lion that once terrorized your village many years ago but it was banished so peace was restored. The problem is the white lion returned and your parents when on a mission to find it and never came back. Now you are the daughter on a quest to find out what the hell happened. Sadly the story isn't all that special and the presentation is rather average as well. Still the game a decent enough to not totally bore ya so there is some fun to be had here.
For 1 player only
graphics: 5
sound: 6
gameplay: 5
Find Ghost Lion on eBay here!


63 GHOSTS 'N GOBLINS (Capcom, November 1986)
Ghosts 'N Goblins was once a super hard arcade action game and it also turns into a super hard NES game too. The game is about Sir Arthur's quest to save the beautiful Princess from a army of demons but he will have to go through 6 grueling stages first. The odds are not in your favor but Arthur can throw a unlimited set of weapons at will and he can take two hits to die thanks to his armour as well. The problem is once Arthur gets hit he loses all his clothes and then he runs around in his underwater. "Put some pants on you man whore!" Sure it may be a darn hard game and the graphics are a little choppy but if you want a challenging yet good action game then give this action/horror game a shot.
*Available in the 5 screw cart
For 1 or 2 players
graphics: 4
sound: 6
gameplay: 6
Find Ghosts N' Goblins on eBay here!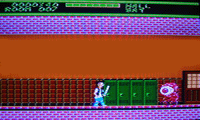 26 GHOUL SCHOOL (Electro Brain, 1991)
Cool, this sounds like a cheesy but interesting idea! You play a teenager in a high school that gets invaded by aliens and you got to fight them off. Kind of like a good B movie, eh? All I have to say is good luck because this is one of the most frustrating video games I ever had the misfortune of turning the power on for. The game starts you off with a bat that looks like a lame foot long ruler that wouldn't hurt a baby. You have to be super close to a enemy to do damage while making sure you don't get hit yourself. There are more weapons and items in the game but I hope you have some paper ready to map out the place because this school is insanely big and everything looks the same. It's way too easy to get lost here. Ghoul School: graphics started out good, the music is catchy is some places, beating up monsters is fun, game still play like S#$%!
*Uncommon NES game
For 1 player only
graphics: 5
sound: 5
gameplay: 4
Find Ghoul School on eBay here!


40 GILLIGAN'S ISLAND (Bandai, 1992)
Yup, there is a video game based on the crazy TV show from the 1960's and 70's and for the life of me I can't understand why. OK, I admit I use to watch the show as a kid but how do you make a good game from 7 cast-a-ways on a remote Island? The answer is you make the game suck and you sell it anyway. Hey, it worked for Acclaim before they when out of business. In the story if you don't know it you are trying to help 6 (yeah, Ginger didn't want to be part of the game but for good reason) people that were on a boat tour but crashed on a Island after a big storm. Now the Skipper and Gilligan have to survive the harsh jungles by doing on a lot boring fetch quests while the others do nothing but stand around. Another problem with the game is you need Gilligan to complete a lot of missions but he often lags behind or even gets lost and the worst part is there is a time limit here too. Gilligan's Island is still playable but it isn't funny, the graphics are dull, and the whole thing is a chore to play.
*Uncommon NES game
For 1 player only
graphics: 4
sound: 4
gameplay: 4
Find Gilligan's Island on eBay here!


60 GODZILLA (Toho/Compile, 1991)
I ask you; what could be more fun then being in control of giant Japanese monster, eh? Sadly that answer is almost anything because this is kinda boring action game here is not only hard to control since the big lizard is so damn awkward, but the two characters you play as are insanely slow too. Moving around in the old rocky landscapes and stupid grid maps here will just drive you crazy. You can even play as a giant Moth thing as well that can do nothing but fly and get its butt kicked. The space theme graphics and sound effects may be repetitious but are actually not too bad and I liked the way the game has parallax scrolling too. They alone can't save this one though. It's decent in spots but in the end no one is going to worship this God.
For 1 player only
graphics: 6
sound: 5
gameplay: 7
Find Godzilla on eBay here!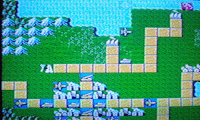 35 GODZILLA 2 (Toho/Compile, 1993)
OK, the first NES Godzilla game sucked but at least the creators didn't just do a few minor touch ups for the sequel. Surprisingly the game is now a turn based strategy game where you can move several tanks and fighters jets to suppress Godzilla and many other massive city destroying creatures. Unfortunately, instead of being fun like other famous turn based strategy games like Military Madness and Advance Wars (two previous Game of the Month winners), Godzilla 2 moves at a snail's pace and the actual battles feel too random since you need to hit three matching symbols (which is nearly impossible to get since it moves so fast) to successfully damage the enemy. If you have a lot of patience and don't mind crappy graphics then maybe this game be up your alley but the rest of us will be playing much better games.
*Rare NES game
For 1 player only
graphics: 3
sound: 3
gameplay: 5
Find Godzilla 2 on eBay here!

43 GOLF (Nintendo, October 1985)
Here is yet another below average NES game of golf that's too confusing to really enjoy. If you can get passed the ugly graphics, simple sounds (the game doesn't even have any music), and limited controls then this Golf title can be some fun to play but don't expect anything too interesting either. One of the main reasons the game is so hard to play is because of all the Out of Bounds (or OB) areas. Even the trees are considered OB here for some stupid reason. This game is also on Nintendo's Animal Crossing if you care.
*Available in the 5 screw cart
For 1 player only
graphics: 3
sound: 0
gameplay: 3
Find Golf on eBay here!

62 GOLF GRAND SLAM (Atlus, 1991)
Not a lot of people remember this one but lets see if this is a lost gem or not? In this golf title you get a wide range of techniques to select like your position of the shot, stance, angle, and a lot more so there's quite a bit of depth here. Once you pick everything you want then you must time your hit successfully to get that right shot. The game has some boring visuals and the out of place background music sounds like it belongs in a medieval style setting but the game is still put together well and worth looking for if you want something different from you're Golf video games.
*Uncommon NES game
For 1 or 2 players
graphics: 5
sound: 4
gameplay: 7
Find Golf Grand Slam on eBay here!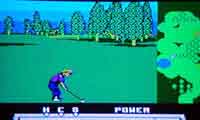 21 GOLF POWER featuring Greg Norman (Virgin, August 1992)
There was this awesome game for the TurboGrafx-16 called Power Golf and I was thinking maybe because this was Power Golf with the names reversed that this game would be just as good............ man, was I wrong! Golf Power has all the things that a console golf should not have like loading times, a chunky interface, and some very non friendly graphics. Don't turn the power on for this game!
*Uncommon NES game
*Battery back up game
For 1 to 4 players
graphics: 2
sound: 1
gameplay: 3
Find Golf Power on eBay here!

50 GOLGO 13 (Vic Tokai, October 1988)
The spy from the popular anime cartoon makes his entrance into video games and his game is just plain average unfortunately. In the game you beat up thugs, assassinate people with your sniper rifle, and sleep with beautiful but really skinny women at a local hotel on your dangerous mission to save the world. Sadly, Golgo 13 is doesn't have the greatest graphics, sounds, and game play when compared to other action titles but the game still has style at least.
For 1 player only
graphics: 4
sound: 6
gameplay: 6
Find Golgo 13 on eBay here!

66 The GOONIES (Konami, 1986)
*Japanese import
I remember seeing this movie licensed game in the arcades but for whatever reason this title never made it over here to the NES. With a import converter though you can play this fun action game. In Goonies you play as a young kid looking for a lost pirate's treasure but a crime family is also after the same thing. The game is less of a adventure title and the Goonies focuses more on action but other then that the two games are not that different and it even has the famous Cindy Lauper theme music. If you like the second one chances are you'll like this as well.
For 1 player only
graphics: 4
sound: 6
gameplay: 5
Find The Goonies on eBay here!


75 The GOONIES II (Konami, November 1987)
The original Goonies for NES was only released in Japan and the arcades but good thing for us is that we got the sequel here. This action game is a huge adventure with a lot of enemies and even some puzzles to solve so you can save the 6 other missing goonies and an captive mermaid. Graphic wise Goonies II looks awful but the game plays and controls well and there are several secrets to unlock as well. There was never a sequel to the movie (thank God) but at least we got this awesome game instead.
*Available in the 5 screw cart
For 1 player only
graphics: 5
sound: 6
gameplay: 7
Find The Goonies II on eBay here!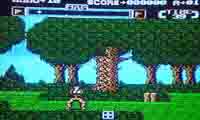 55 GOTCHA The sport! (Ljn, November 1987)
*Light Gun required
This basic shooting game that adds a capture the flag element to the standard Light Gun mix. As you hunt down the flag you use both the Light Gun (to the enemies) and Controller (to move the screen) but it can be awkward using them at once. The game was innovative but Gotcha is still a very short lived game based on a short lived kid's product.
For 1 player only
graphics: 5
sound: 5
gameplay: 6
Find Gotcha on eBay here!


80 GRADIUS (Konami, December 1986)
Here is another underrated shooter that is still fairly popular in Japan at least. This is a hard game that introduced a new and innovative weapon system with 6 different selections to power up for Vic Viper starship to blast away aliens. So can you survive all 7 levels in this tough but awesome shooter here? I doubt it but the game is still pretty good if you're looking for arcade action.
*Available in the 5 screw cart
For 1 or 2 players
graphics: 7
sound: 7
gameplay: 8
Find Gradius on eBay here!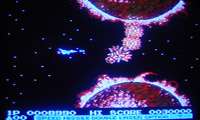 84 GRADIUS II (Konami, 1988)
*Japanese game
I was really wanting to play this game since I first seen previews in early Electronic Gaming Monthly magazines but Konami, like a punch to the gut, canceled the release to North American. Fortunately today I have a Famicom to NES converter so now I can play Gradius II no problem. Was it worth the wait though? Like the original Gradius this is forced side scrolling shooter where you power up your space ship with missiles, lasers, force fields, and more to help you advance through nine levels. One of the things that stands out about Gradius II here is that the graphics are absolutely stunning! The game has amazing detail in each unique stage here and the bosses are just massive. Some of the stages look like they were lifted straight from Life Force but they are still drop dead gorgeous. Even though this game is technically a Japan-only exclusive most of the game is still in English so don't be afraid to import this one. The only bad thing I can say about the game is just way too hard so Gradius II is for experts only. If you are up for the challenge though be prepared for an awesome experience.
For 1 or 2 players
graphics: 9
sound: 9
gameplay: 8
Find Gradius II on eBay here!

05 The GREAT WALDO SEARCH (Thq, 1993)
Everybody absolutely hated the first Waldo game on the NES here but since enough people were suckered into buying it I guessed Thq is ready to shovel more crap in our face. Now for the good points about the game: the graphics are much improved so it's easy to see this nerdy Waldo goof in the different pages this time around and you can even play a new mini game has Waldo's dog where the mutt flys around and collects bones. So what's wrong with the game you say? The game is too damn easy and you'll blow through it in no time and you won't have any fun doing it either. This is anything but Great.
For 1 player only
graphics: 3
sound: 2
gameplay: 0
Find Great Waldo Search on eBay here!

The StarSoldier Game of the Month!

100 GUARDIAN LEGEND (Borderbond/Irem/Compile, April 1989)
The Guardian Legend is easily one of the best NES games in my my opinion because it's a very unique hybrid of a vertical shooting and Zelda-like adventure, all rolled up into one and that's a perfect mix for me. From the makers of R Type and Blazing Lazers comes one of the most over looked games for the NES. In the game you are a cool transforming Aerobot women who has to destroy an giant planet like hurling asteroid before it hits the earth. Build up your character's strength with tons of weapons and items to overpower your alien enemies. This game is very intense and very original!
For 1 player only
graphics: 8
sound: 8
gameplay: 10
Find Guardian Legend on eBay here!
SECOND OPINION!
I just wanted to say "thank you!" your favorite game is The Guardian Legend?!! - i swear i've been waiting such a long time to hear someone say that! i love TGL too!! I've been playing it for over 10 years! you're the greatest... thank you, thank you, THANK YOU!! the-gray-1

65 GUERRILLA WAR (SNK, September 1989)
This game starts out well because it plays like a superior version of Ikari Warriors where you control one or two soldiers trying to over throw their government. The action is very intense and there is always plenty of enemies to shoot at but the big problem of the game is there is unlimited continues so you can finish this anytime you want no matter how much you suck. The game plays great but where is the challenge?
For 1 or 2 players
graphics: 7
sound: 7
gameplay: 5
Find Guerrilla War on eBay here!

56 GUM SHOE (Nintendo, June 1986)
*Light Gun required
Gum Shoe is actually a pretty original idea for a Light Gun game here because you can make your detective character jump by shooting at him so this game becomes a weird but different platformer/gun hybrid. You also have to worry about all the other enemies around you too so it's usually too much to handle to be too much fun and the bland graphics and limited sounds are not that great either. Still Gumshoe is original and challenging so it might be worth checking out if you are sick of the typical gun game.
*Available in the 5 screw cart
For 1 player only
graphics: 6
sound: 4
gameplay: 6
Find Gumshoe on eBay here!

StarSoldier's Game of the Month!

86 GUN NAC (Nexoft/Compile, October 1991)
What may seem like a goofy looking game at first (you're shooting robotic bunny rabbits in stage 1 for one thing), Gun Nac is still a really intense shooter with very good graphics and furious game play. This game reminds me of a lot of other games like Blazing Lazers on the Turbografx-16, play it and see if you agree? Be a where however, that this game is a harder find then most NES titles but it is well worth the effort. "Be vewy vewy quiet, I'm hunting Wabits!"
*Uncommon NES game
For 1 player only
graphics: 8
sound: 8
gameplay: 9
Find Gun Nac on eBay here!

70 GUN. SMOKE (Capcom, February 1988)
This game is a wild west vertical shooter that's not based on the old TV show Gun Smoke by the way. Notice the period at the end of Gun so that Capcom can avoid getting sued? Anyway this action game lets you shoot in multiple directions depending on which button you press. Gun. Smoke is a good shoot em up with a interesting theme that would have rated higher if the game was on a three button controller like the Sega Genesis one had.
For 1 player only
graphics: 5
sound: 6
gameplay: 7
Find Gun. Smoke on eBay here!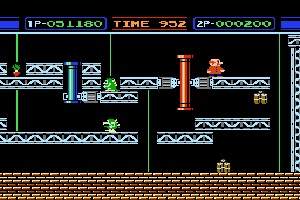 34 GYROMITE (Nintendo, October 1985)
This is one of only two video games that works with the obscure R. O. B. unit released early on in the NES era. Stack Up was the other game if you wanted to know but good luck finding that one especially with all the pieces. Anyway back to Gyromite here. In the game you guide one of two plum professors through 40 plus levels filled with giant red and blue pillars, dynamite and the same strange green monsters. You can also play some forced scrolling levels as well when you successful guide the sleep walking professor. Sadly, although the game is innovative, the reaction time from R. O. B. are way too slow and it's just a good idea to use a second standard controller instead. That was main reason why these special games didn't work out for Nintendo and Gyromite's overly repetitive game play certainly didn't help matters either.
*Available in the 5 screw cart
*R.O.B. Compatible
For 1 or 2 players
graphics: 4
sound: 4
gameplay: 3
Find Gyromite on eBay here!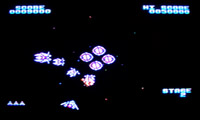 71 GYRUSS (Ultra, January 1988)
In this intense shooter you defend each planet of the milky way solar system in this Tempest-like 3D shooter minus the vector graphics of course. Gyruss is a upgrade of the 1982 arcade classic that not only comes with a bunch of new extras like improved graphics and sounds but the game also has several new stages as well. The game does come with some awkward controls at times but at least you have two choices to pick from. Gyruss itself is very intense with some thrilling boss battles and unique stages to help fight off the sometimes repetitive space levels.
For 1 or 2 players
graphics: 7
sound: 6
gameplay: 5
Find Gyruss on eBay here!

16 HATRIS (Spectrum Holobyte, 1993)
Have you ever wanted to sort hats for a living? Then have I found the game for you. Oh, and by the way hell as just frozen over! In this lame Tetris knock off you guide falling hats and when you match 6 of the same ones you can make them disappear. Seriously, that's the game! Unfortunately, this so called puzzle game is just way too slow and uninteresting to be any real fun.
*Uncommon NES game
For 1 player only
graphics: 2
sound: 3
gameplay: 2
Find Hatris on eBay here!

72 HEAVY BARREL (Data East, March 1990)
This interesting shooter plays just like a overhead version of a Contra or a Midnight Resistance and it doesn't hurt to have more of these type of games around. In the this overhead action game you shoot your way through an enemy stronghold while you collect various weapons and keys along the way. The game is a solid action game but it just wasn't as intense as I thought it will be.
For 1 or 2 players
graphics: 6
sound: 6
gameplay: 7
Find Heavy Barrel on eBay here!

31 HEAVY SHREDDIN' (Mindscape, 1989)
Awesome, here is an actually Snow boarding game on the NES! I don't see too many of these games for this 8-bit machine so it's good to finally play one here. Sadly, if the lame pink label doesn't turn you off, everything here sure will. First off the game looks like a complete mess with weak character designs that are bad enough to on the Atari 2600 and the boring visuals continue there with the bland snow covered hills and sky background that has no clouds. The game itself isn't much better since your basically avoiding trees and a-hole skiers that seem like they are purposely getting in the way. That wouldn't be so bad if the controls weren't so fussy when you try to do spins and anything cool to get out of the way but it's real easy to do the wrong move instead. Heavy Shreddin' is more like Heavy Sh%&ing.
For 1 player only
graphics: 2
sound: 2
gameplay: 2
Find Heavy Shreddin' on eBay here!

60 HIGH SPEED (Tradewest/Rare, 1993)
Although High Speed isn't based on an intense racing event like you would expect, it is still a decent pinball game here. If you are fans of the earlier NES Pinbot game the game's interface is very similar with several targets, different paths, and the same view of the bottom flippers that are always visible. Yeah, the idea of thinking your little ball there is a high end car trying to out run the law sounds cool but in the end it is still just a pinball game and other then one really easy bonus stage there really too much to get excited about here.
*Rare NES game
For 1 to 4 players
graphics: 6
sound: 6
gameplay: 5
Find High Speed on eBay here!

39 HOGAN'S ALLEY (Nintendo, October 1985)
*Light Gun required
Hogan's Alley is a good shooting game especially if you want to be a Policeman since you have both friendly and hostile targets coming at ya. Just don't expect any serious replay value though because the three different modes are way too limited and way too repetitious. Hogan's Alley is a first generation NES game and it shows.
*Available in the 5 screw cart
For 1 player only
graphics: 5
sound: 4
gameplay: 6
Find Hogan's Alley on eBay here!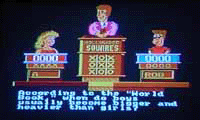 51 HOLLYWOOD SQUARES (Gametek/Rare, October 1989)
Just like the TV show of the same name this is a game where you try to answer questions and if you get it right you can play on a giant Tic Tac Toe board with special celebrities. Not only are the graphics and sounds rather bland, you should also know that this game uses no real licensed names so all you get is a bunch of generic losers shooting off lame one liners that were suppose to be funny. If your a fan of the show you may like this game as well but Hollywood Squares is very repetitive so action fans should definitely stay far away.
*Uncommon NES game
For 1 or 2 players
graphics: 5
sound: 4
gameplay: 4
Find Hollywood Squares on eBay here!


03 HOME ALONE (THQ, December 1991)
"HURRY RUN AWAY! DON"T EVEN READ THE REVIEW, THIS GAME IS THE SPAWN OF SATAN HIMSELF!" I love the NES but there are just some games you should not play. In this so called action platformer you help a young boy named Kevin that has been left alone at his house and to make matters worse burglars are looking to loot the place. Unfortunately, since Kevin is just a small kid he is pretty much a sitting duck for the crooks here and HE CAN'T EVEN JUMP! There are special traps in the house you can set to help stop your enemies but unless you study the game religiously you will have no clue how to win at this game. Home Alone is nothing but unholy license crap in a gray cart.
*Uncommon NES game
For 1 player only
graphics: 1
sound: 1
gameplay: 0
Find Home Alone on eBay here!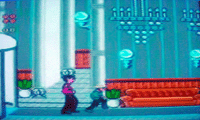 48 HOME ALONE 2 (THQ, October 1992)
The big budget sequel to the old movie also gets a linear action video game here that takes place in a huge New York City hotel and not in some home this time. He's not really Home Alone then now is he? Anyway, this game controls and looks fine for an 2D action game but it is still rather mediocre with not much to do in terms of game play especially when you're fighting stupid stuff like luggage and old ladies.
*Uncommon NES game
For 1 player only
graphics: 6
sound: 5
gameplay: 5
Find Home Alone 2 on eBay here!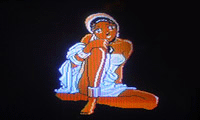 09 HONEY PEACH (Sachen, 1991)
Here is another one of those funny adults-only NES games from the bad boys at Sachen. Unlike the fun Poker III though this one really reaches the bottom of the barrel for game play. In Honey Peach you basically just play a game of Paper, Rock, Scissors with a girl ready to strip if she loses. That's pretty much it for the game and even the chance of seeing some digital boobies can't save me from being totally bored.
*Contains Nudity
*Rare NES game
For 1 player only
graphics: 4
sound: 1
gameplay: 0
Find Honey Peach on eBay here!

37 HOOK (Sony Imagesoft, April 1992)
Surprise, surprise! Another big Hollywood movie gets turned into a game. If you don't know the story here Hook is the sequel to the famous Peter Pan tale where your hero must go back to Never Never Land to save his family from the returning Captain Hook. The graphics are too cartoon-like, the music is annoying as hell, and the game even has bad controls. Hook the video game is a very dated looking action game and what's worse it's a very short adventure too. I actually finished this game the same day! This is just another horrible movie based video game from the now defunct Sony Imagesoft.
*Uncommon NES game
For 1 player only
graphics: 4
sound: 1
gameplay: 2
Find Hook on eBay here!

44 HOOPS (Jaleco, 1989)
Back in the early days of the NES there weren't too many basketball games for the machine other then Double Dribble so Jaleco decided to make a game of their own here so lets see if it turned out well or not, eh? Hoops is your basic one on one or two on two b-ball game where you get to play as a bunch of young kids that play on a half court and that's pretty much the whole game real there. The game sounds simple enough but the computer can be cheap as hell, fouls get called all the time which slows down the action, and the overall presentation isn't that impressive either. Hoops can be playable once you master it but you just won't have too much fun with the game anyway.
For 1 or 2 players
graphics: 5
sound: 5
gameplay: 5
Find Hoops on eBay here!

28 HUDSON HAWK (Sony Imagesoft, February 1992)
Hudson Hawk the movie is perhaps one of the worst films of all time and it doesn't do too well on the NES here either. In this cartoon-like 2D action game you play as detective Hudson Hawk but this guy isn't very tough since he doesn't do a heck of a lot. Because of that Hudson Hawk is primary a puzzle game and not a very good one at that.
*Uncommon NES game
For 1 player only
graphics: 2
sound: 2
gameplay: 3
Find Hudson Hawk on eBay here!

24 The Hunt for RED OCTOBER (Hi-Tech, 1990)
Just like the game Platoon here's another title that's a hard sell as a video game. If you don't know the movie it stars Sean Connery and the Americans and Soviets are fighting over submarines or something like that. In the game you pilot an American sub and you have to partol the Altanic waters in this standard shoot em up. Normally shooting crap is fun but everything about this one is just terrible. The graphics are bland, the controls are slow, and the music is some of the worst crap I ever heard in a video game. Demand your money back!
For 1 player only
graphics: 4
sound: 0
gameplay: 2
Find Hunt for Red October on eBay here!

15 HYDLIDE (FCI/T&E Soft, May 1989)
Yikes! I thought no RPG looked worst than Dragon Warrior...... I was wrong. Not only are the graphics really choppy and ugly but the run and bump game play here just doesn't feel right since the sound effects are nearly muted when you hit a enemy so it's hard to tell if you're doing well or you're about to get your butt kicked. If all that isn't bad enough that looping soundtrack in this Role Playing mess sucks here too. Hydlide is a fine example of a game too under budget.
For 1 player only
graphics: 1
sound: 2
gameplay: 4
Find Hydlide on eBay here!


NES reviews I - K > >