Down and Dirty Reviews: Intellivision -- A - Z
I love the Intellivision and all but some of these games can really be disappointing to say the least. See how they did. All the reviews are by me the StarSoldier so don't blame Jim. There are 13 reviews here so far.

The overall scores are out of 100.

The graphics, sounds, and game play are out of 10.

Score / Name
58 ASTRO SMASH (Mattel, 1981)
This old school shooter takes and combines elements from Atari's Asteroids and Taito's Space Invaders to make for a whole new game. In Astro Smash you must survive an onslaught of incoming asteroids and various bombs all the while protecting the ground your ship glides across because if something gets through then you lose some points or maybe even your life. Astro Smash was also on the Atari 2600 and surprisingly both games look very similar, the only real difference is the Atari joystick is far better on the hands then the Intellivision game pad plus the Atari version was notably faster. The graphics are better though and the action is still here.
For 1 or 2 players
graphics: 4
sound: 3
gameplay: 4
Find Astro Smash on eBay here!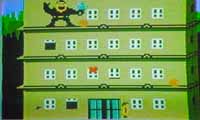 30 BEAUTY and THE BEAST (Imagic, 1983)
Beauty and the Beast wins a lot of points for those entire shameless rip-off's everywhere because this is basically Nintendo's Donkey Kong but this is definitely not nearly as good. I know that Donkey Kong was a rip off of the classic movie King Kong but at least Nintendo was able to create something half decent out of it. Despite some nice graphics here, all this game is a hard to control building climber where your girl has been abducted by some giant dude. That's it!
For 1 or 2 players
graphics: 5
sound: 3
gameplay: 4
Find Beauty and the Beast on eBay here!

50 CENTIPEDE (Atari soft, 1983)
Even the rival Mattel Intellivision would get this mega popular arcade game from Atari. This Centipede version is not too different from the impressive 2600 and 5200 versions since you blast away tons of bugs but the action is a bit on the chunky side thanks to the slower speed. If you're still a fan of Centipede though this is a good way to kill some time and it even plays well on those stupid controllers too but it's not the best version out there.
For 1 or 2 players
graphics: 2
sound: 4
gameplay: 2
Find Centipede on eBay here!

TTR Dud of the Month Collection!

13 DONKEY KONG (Coleco, 1982)
The Intellivision may be a 16-bit powerhouse compared to the Atari 2600 but you wouldn't know it after playing Coleco's Donkey Kong here. What's wrong with this arcade classic? Like the lame Atari 2600 version, Donkey Kong for the Intellivision only has a mere two of the arcade levels instead of four but that's not even the worse part believe it or not. The Intellivision version suffers from downright awful jump physics which may cause a lot of accidental deaths while your Mario character is floating in the air for too long. This could have been a great translation but the game play is ruined thanks to some sloppy programming.
For 1 or 2 players
graphics: 2
sound: 2
gameplay: 2
Find Donkey Kong on eBay here!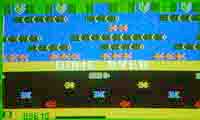 39 FROGGER (Parker Brothers/Sega/Konami, 1983)
Just like Donkey Kong for the Intellivision, Frogger is a huge arcade disappointment. If you haven't played this legendary game, this is where you guide 5 frogs who are trying to get home without being killed by heavy traffic and roaming alligators in the process. This Frogger not only looks very choppy compared to the other versions but this game even has poor use of the trademark sound effects and musical scores. Intellivison Frogger is a below average version of the road crossing classic.
For 1 or 2 players
graphics: 1
sound: 1
gameplay: 5
Find Frogger on eBay here!

34 FROG BOG (Mattel, 1983)
In this game the person with the most flies when the time runs out wins, and that's pretty much it. There is no comic book artist doing the graphics, there is no famous band doing the background music, and there are no options for a Create-a-player, trades, or stuff like that....... it's just two frogs hopping for different flies. The background art is OK I guess and it can be fun for two players but pay too much for this one even the controls feel worse then faster Atari 2600 counterpart Frogs 'N Flies.
For 1 or 2 players
graphics: 5
sound: 3
gameplay: 1
Find Frog Bog on eBay here!

62 LOCK N' CHASE (Mattel, 1983)
This is a Pac-Man clone that uses a strange and sometimes awkward door management system for the game's maze. In Lock N' Chase your a criminal looking to get rich by stealing all the goodies on the board plus you risk getting caught by getting the big money in the center of the maze but be careful of the four security officers looking to stop you. It's not perfect since you can't attack the cops here but it is still fun to play.
For 1 or 2 players
graphics: 3
sound: 2
gameplay: 5
Find Lock N' Chase on eBay here!

35 MISSION X (Mattel/Data East, 1983)
I was looking forward to playing this game since this a classic arcade shoot em up type title where you control an all black plane blowing crap up for the more conservative Intellivision (at least it's more catered to simulations and sports titles) and how can you screw that up? Well, the game is slow as hell for one and you can easily avoid both ground and air targets with ease. The game also has this mechanic where you fly lower to the ground much like the Virtual Boy game Vertical Force but where that game is fun and intense, this is just boring. My mission in life is to never play this again!
For 1 player only
graphics: 5
sound: 3
gameplay: 5
Find Mission X on eBay here!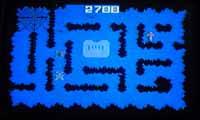 65 NIGHT STALKER (Mattel, 1981)
Although Night Stalker may appear to be yet another Pac Man-like maze clone, the game actually has a lot of unique features. Your hero is trapped inside a deadly dark area that is filled with bats, killer spiders, and even hunting robots. The odds are against you but you can grab a special gun with limited ammo so your hero can fight back. Once a gun loses ammo it is randomly placed in another location. Night Stalker is not very fast paced and searching for your gun all the time can get annoying but it is a challenging action title with solid graphics.
For 1 player only
graphics: 6
sound: 5
gameplay: 7
Find Night Stalker on eBay here!

75 PAC MAN (Atari Soft/Namco, 1983)
Atari screwed up the 2600 version of the amazing arcade game Pac Man pretty bad so I didn't think they would do a good job on the Intellivision either. Good thing I was wrong. Like the popular arcade game you are Pac Man and you must clear the screen of dots while staying away from 4 wily ghosts. Although the screen looks a little crunched together, everything else is here and most importantly it plays and looks great. It may be a little tougher to find then most Intellivision games but this Pac Man is definitely worth it.
*Uncommon Intellivision game
For 1 or 2 players
graphics: 7
sound: 6
gameplay: 5
Find Pac Man on eBay here!

70 PITFALL (Activision, 1982)
Wow, this looks just like Atari 2600 version. C'mon the Intellivision was the world's first 16-bit console and yet this game still looks very blocky. I think the trees have a bit more detail but everything else looks the same. Oh well, this is still a very cool early adventure game where you control Pitfall Harry on a quest to find loss treasures across several screens filled dangerous creatures and traps. All you have is a simple jump but it works. I would have liked to see more improvements but the game is still anything but pitiful.
For 1 player only
graphics: 4
sound: 4
gameplay: 6
Find Pitfall on eBay here!

52 SPACE ARMADA (Mattel, 1982)
If you want to play Space Invaders for the Intellivision then maybe you'll want to look into this game. The objective is simple: you must shoot down a large group of alien enemies before they reach the surface, just like in the Taito classic. Space Armada looks to be superior to mega popular Atari's 2600 versions but this game is much slower in comparison and you can also forget about the 100 plus options and variations as well.
For 1 or 2 players
graphics: 4
sound: 3
gameplay: 4
Find Space Armada on eBay here!

53 TRON'S DEADLY DISCS (Mattel, 1982)
I know I sound like a broken record here but this version of Tron's Deadly Discs is a lot slower than the Atari 2600 game of the same name. Tron DD is an arcade action game where you fight up to do three different opponents in an enclosed arena. To survive you must destroy your opponents by firing a single disc that works like a boomerang but be a where that you are always out numbered in combat so fight smart. Since this Tron is lot slower, the disc takes a lot longer to get back you if you throw it across the screen.
For 1 player only
graphics: 4
sound: 3
gameplay: 5
Find Tron's Deadly Discs on eBay here!