Down and Dirty Reviews: Nes -- L - N
I love the NES and I bet I'm not the only one, eh? I still own around 700 games for this old system and I'm still collecting em to this day. Remember that most Ljn games suck so don't spend too much on their titles while most Konami and Capcom titles are a safe bet but beware; there is a exception to every rule. I can only hope my reviews can help you pick out the right games if you are a collector too? Overall ratings on the page: 91. L: 25, M: 52, N: 14.

The overall scores are out of 100.

The graphics, sounds, and game play are out of 10.
Score / Name
36 LASER INVASION (Konami, June 1990)
I think this is the only video game out there that supported Konami's ill-fated Laser Scope device. The graphics and sounds are not too bad but just think of Laser Invasion as a typical light gun game and you have one limited stand alone action game here where you just shoot crap for points. Definitely nothing special.
*Light gun compatible
*Uncommon NES game
For 1 player only
graphics: 6
sound: 5
gameplay: 2
Find Laser Invasion on eBay here!

21 LAST ACTION HERO (Sony ImageSoft, October 1993)
The 1993 box office bomb about some stupid magic ticket is actually better than this failure in a cart .......... it's that bad! In the game you play has a man that must survive multiple fictional themes like medieval, and futurist eras to save the real world. It's no Total Recall in terms of video games though so doesn't look that bad I guess but it wouldn't be a good idea to spend much or any money for this slow and repetitive action title either.
*Uncommon NES game
For 1 player only
graphics: 2
sound: 2
gameplay: 1
Find Last Action Hero on eBay here!

40 The LAST NINJA (Jaleco, 1990)
The thing that really grabbed me about this game here is that it had a: 'Game of the Year' logo on the cart and box itself so this means it has to be great, right? Oh, hell no! I don't know who the jerkoffs are who awarded this turkey that honour but not only do I not think this is GOTY material but it isn't even above average. In the game you play as a ninja from feudal Japan that gets transported to 20th century New York City and you get to play this action title in a awkward isomatric perspective. Now you would think a tradiational ninja would kick a lot of a$$ but this dope in black PJ's is a total wimp that basically trades lame punches and kicks with common street punks. Remember tough other ninjas were in other NES games like Shinobi and Ninja Gaiden? The game has some mildly fun puzzle problem sloving here but the action is slow, the music is corny, and worse of all this ninja is a total pussy.
For 1 player only
graphics: 4
sound: 4
gameplay: 4
Find the Last Ninja on eBay here!

24 The LAST STARFIGHTER (Mindscape, June 1990)
This is a absolutely lousy free roaming shooter that's way too annoying to play thanks to the quick enemies that barely give you any time to react and it certainly doesn't do the original cult video game based movie justice. Some of you Commodore 64 fans may remember this game as 'Uridium' by the way. It wasn't good there either!
For 1 player only
graphics: 2
sound: 2
gameplay: 2
Find the Last Starfighter on eBay here!

64 Lee Trevino's FIGHTING GOLF (SNK, 1989)
The name Fighting Golf is kind of misleading because I thought this was going to be something cool like the outragous Outlaw Golf for the Playstation2 and other machines like that where you get into fights and go on crazy courses. Sadly, the game itself is your standard golfing title where you get the usual three button guage to hit the shots and each of the four character here has there own speed and distance. The game is still very playable with solid graphics and audio but the lack of features do hurt it a bit. Lee Trevino's Fighting Golf is pretty dry but it is still one of the better golf games on the system.
For 1 or 2 players
graphics: 6
sound: 6
gameplay: 5
Find Lee Trevino's Fighting Golf on eBay here!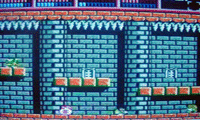 75 LEGACY of the WIZARD (Borderbund/Falcom, March 1989)
Legacy is a fun super deformed action title featuring a family of 5 on a mission to venture through deadly ruins for treasure. Each family member has their own special abilities (like the mom character can fly and the son is the only one who can use a legendary dragon slayer sword for example) to help them complete various objectives. In the game you must use all your skills to find all the necessary lost crowns and once you discovered everything you then have to slay a powerful dragon. Sadly to switch between these characters you have to return home to do this which can be annoying. Although the graphics are not very impressive, overall Legacy of the Wizard is a solid adventure game.
For 1 player only
graphics: 3
sound: 7
gameplay: 8
Find Legacy of the Wizard on eBay here!


The StarSoldier Game of the Month!
99 The LEGEND of ZELDA (Nintendo, July 1987)
Here is the original that started it all! The Legend of Zelda is a huge quest to save princess Zelda from the evil giant pig creature known as Ganon. It won't be easy because you have no idea where she is and you must first find the 8 pieces of the legendary Triforce to even enter Ganon's lair. You must search through dangerous countryside and dark dungeons to find the necessary items to survive Ganon's army. Because the game is so big the game includes a Save feature so you can shut off the console and continue the game later. Yeah, that happens in a lot of games now but the Legend of Zelda here was the first ever home video game to feature this save option, how cool is that? Although the graphics are not much to look at, the Legend of Zelda is still one of the best adventure/action games ever made with fast game play and tons of secrets. Unbelievable but true, Zelda is also hidden away (very well hidden actually) in Nintendo's Animal Crossing for the Game Cube if you can't find a old NES.
*Available in the 5 screw cart
*Battery back up game
For 1 player only
graphics: 4
sound: 8 ............. good voice samples and catchy tunes.
gameplay: 10
Find Zelda on eBay here!


The StarSoldier Game of the Month!
67 LEGENDARY WINGS (Capcom, July 1988)
Here is a ultra fruity looking futurist/Greek-like shooter game starring two flying male angels with guns. The game features co-op, it has 5 challenging and cool looking levels to master, and the music is pretty good as well but why is there only a super lame ending to see for your hard efforts? Although the game has a few cheap here and there, this is a good shooting game for fans of those games and it's even greater game for those that play ball on the same team if you what I mean? Seriously, the main character wears pink tights.
For 1 or 2 players
graphics: 7
sound: 7
gameplay: 6
Find Legendary Wings on eBay here!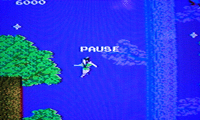 45 LEGEND of KAGE (Taito, August 1987)
In this game you're a skilled ninja on a rescue mission to save Princess Kiri from the evil Yoshi (no relation to that stupid green dinosaur). To save this chick you have to battle through 4 levels of very routine arcade action that range from forests to ninja hideouts that just keeps on looping after you saved the girl. Legend of Kage is a good and quick action game ruined by too much repetition.
*Available in the 5 screw cart
For 1 or 2 players
graphics: 5
sound: 5
gameplay: 4
Find Legend of Kage on eBay here!

53 LEGENDS of the DIAMOND (Bandai, 1990)
Holy crap there are sure a lot of Baseball games for this machine here. You can tell this one is going to suck since the cart is misspelled 'Daimond' on the cart (at least my game has this mistake) but I'll be fair anyway in this review. The big gimmick with this ball wracking title is you are playing as several baseball legends from the past like Babe Ruth, Ty Cobb, Hank Aaron, and other dudes. Sadly, that's the only unique thing about this game here because the graphics are basic, the controls are a little sensitive, and there isn't much depth either. Good but not great.
For 1 or 2 players
graphics: 4
sound: 6
gameplay: 4
Find Legends of the Diamond on eBay here!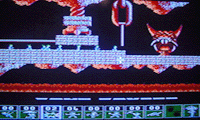 67 LEMMINGS (Sunsoft, 1993)
I don't know what Lemmings are but they sure are stupid little buggers. In this game a bunch of weird creatures called Lemmings will drop in several oddly designed stages and unless you guide them with 8 special abilities (like climbing, bashing, etc.) they walk blindly right into danger. Although it's fun to see the little guys kill themselves (just try not to laugh while they walk into a pool of lava), you are still under strict conditions to have so many Lemming left alive and the only way to do that is to have them reach the goal. When there are too many Lemmings on screen there can be a lot of annoying flickers and it can be hard to pin point one of them since they are so small but the game is a good and challenging title that easy to pick up and play.
*Uncommon NES game
For 1 player only
graphics: 6
sound: 6
gameplay: 7
Find Lemmings on eBay here!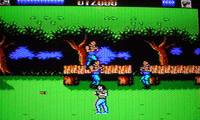 47 LETHAL WEAPON (Ocean, 1993)
Great, yet another licensed movie to video game but this could be good since the concept is perfect for an action title. In this fighting game you play as one of two cops (the black dude from Predator 2 or that famous Jewish hating guy) and you get to hunt down criminals. Although there isn't much difference between the two heroes, Mel can jump higher while Danny can pick up boxes plus each has their own life bar too. You can either beat up the punks with punches and kicks or just shoot them down but it's better just to use your melee attacks since just take a few hits to finish most of them off. The game does get harder in the later levels but you do get the chance to beat up looters after they just stolen they robbed a store and after you pwned them you get to keep the goods for yourself! The game was close to being something halfway decent but the lack of two player support, goofy walking, and repetitive game play just ruin it like Lethal Weapon 3 and 4 movies killed the franchise.
*Uncommon NES game
For 1 player only
graphics: 5
sound: 5
gameplay: 5
Find Lethal Weapon on eBay here!


The StarSoldier Game of the Month!
96 LIFE FORCE (Konami, October 1988)
This great shooter here plays much kind of like Konami's other hit shooter Gradius but this version has much better graphics, cooler music, and even more game play elements to separate itself. In the game you journey through 6 different levels has you try to destroy the planet of Zelos and the dangerous salamander end boss in both vertical and side scrolling stages. One of the coolest things things about Life Force is the stunning graphics. In level 3 for example you actually get to see giant solar flares shoot across the screen from the well animated fire from both the top and bottom plus each of the bosses are not only huge but are fairly detailed as well. Like Gradius you can upgrade your ship with six different power ups but now there is full two player support so you can fight with a friend for fallen items. Sadly, this is not the real Gradius II as some people may think because we never saw the true sequel released over here (again, screw you Konami!), this is more of a spin off of that popular shooter. Sadly, the series is much more popular in Japan and we didn't see many of the other sequels either. If you like shooters and if you are searching for a tough but good looking game then Life Force is definitely a must have!
For 1 or 2 players
graphics: 9 ........... the 3rd level alone earns this score.
sound: 9
gameplay: 7
Find Life Force on eBay here!

69 LITTLE LEAGUE BASEBALL (SNK, 1991)
At my store I have a lot of gamers asking for those pesky Baseball Stars titles and it sucks because I never usually have them in stock and it pisses us both off. One situation to this annoying problem is to either kick them out or to recommend this baseball title here because it's also made by the studs at SNK. You don't get the large list of options like in BS but there are still lots of different teams, funny animations, and stats to keep ya entertained for a bit.
For 1 or 2 players
graphics: 6
sound: 5
gameplay: 7
Find Little League Baseball on eBay here!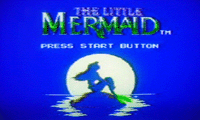 61 The LITTLE MERMAID (Capcom, July 1991)
Here's one of the better action games for the young kids especially if they like Capcom's other Disney titles like Duck Tales and Rescue Rangers. In the game you play as the hot red haired mermaid chick named Ariel that covers her big knockers with shells. Anyway you control this fish girl around the dangerous seas by throwing her tail or picking up items or stunned bad guys in hopes of becoming a human. The game has some above average graphics and sounds in this colourful underwater world plus the game play is not too demanding either.
For 1 player only
graphics: 6
sound: 6
gameplay: 5
Find Laser Invasion on eBay here!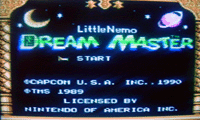 79 LITTLE NEMO in DREAMLAND (Capcom, October 1990)
Yet another Disney-like game by Capcom here. In the game you have to solve the puzzles and survive the dangers in hopes of saving the Princess of Dreamland in this fun little action title. Nemo can even use animal friend's abilities to get by areas that you wouldn't normally be able to go but not every one can attack which turns you into a sitting duck. The game maybe too easy and linear for experts but the game is still fun to play.
For 1 player only
graphics: 8
sound: 7
gameplay: 7
Find Little Nemo on eBay here!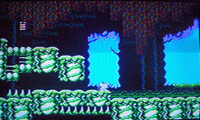 91 LITTLE SAMSON (Taito, December 1992)
This game has two big problems right off the bat. One: the game is way too hard to find so good luck playing it. Two: you will want to play it because this game rocks! It's not fair I tell you! Oh well, at least I have it so I might as well tell ya what the fuss is about. In this action game you can play as four different characters: a young man, a small dragon, a powerful guy made from rock, and a tiny mouse. Each character has their own strengths and weaknesses and after you played through the first four stage they team up to try and stop a evil prince guy. The different heroes are not only fun to play as but they all control well too. If that wasn't enough the graphics here are really sharp and colourful art plus the music is great too. If you are looking for a challenging action game that's actually has good controls well then sell that kidney and get this game.
*Rare NES game
For 1 player only
graphics: 8
sound: 9
gameplay: 9
Find Little Samson on eBay here!

17 LODE RUNNER (Borderbond/Hudson Soft, September 1987)
I absolutely hated this game! Lode Runner is just a stupid action/puzzle-like game that comes complete with a limited set of moves (just walk and dig), boring graphics (forget about background detail here), and overly cute musical scores (the introduction track is very annoying). I know this was popular game on the PC and there was even an arcade edition at one point but one of the reasons I disliked this version was the slow reaction time when you're doing a dig and that can quickly lead to your death. Borderbond didn't even bother altering the enemies because they all look like Bombermen. "Just run away from this turd and nobody gets hurt!"
*Available in the 5 screw cart
For 1 player only
graphics: 2
sound: 1
gameplay: 4
Find Lode Runner on eBay here!

80 The LONE RANGER (Konami, 1991)
*Light gun compatible
Oh crap, the president has just been kidnapped on the wild west: what are we going to do! This looks like a job for the Lone Ranger (yeah, the same Lone Ranger dude who rides a white horse and wears a mask)! Well, this time it's personal too because man behind the adduction of the prez is the outlaw that killed your father. The game actually has a few story and town scenes in it so if you are fans of the comics and TV shows you can understand what's going on. Don't worry because there are still tons of platforming and gun scenes here too and they play pretty well too. The visuals are great, the music fits the theme, and the game play mixes it up so the Lone Ranger is a pretty darn good game overall.
*Rare NES game
For 1 player only
graphics: 8
sound: 7
gameplay: 8
Find Lone Ranger on eBay here!

65 LOLO (Hal, April 1989)
Lolo is a very tough puzzle game featuring cute characters in many enclosed rooms filled with hazards, treasures, and enemies. The brave little Lolo haves to save his sugar mommy Princess Lala from a evil big demon thing but to do this so he will have to survive several deadly challenges in a old castle. The stages start off easy but the levels quickly get more and more complex like for example when you have to unlock power ups to kill enemies and place blockers in the right area to protect you from needles. Lolo is good puzzle title with tons of levels but be ready for one tough game that will likely piss off anyone.
For 1 player only
graphics: 4
sound: 3
gameplay: 5
Find Lolo on eBay here!

59 LOLO 2 (Hal, March 1990)
It looks like the same game to me but fans of the first Lolo should be pleased with the newer puzzles that are sure to test anyone's brain here. A few new features include some different terrain that slow or help your progress but that's pretty much it. The Adventures of Lolo 2 may not be too innovative and I didn't see any new enemies either but with the Hal company out of business and what's left is now owned by Nintendo so you may not see too many Lolo games anymore.
For 1 player only
graphics: 3
sound: 4
gameplay: 5
Find Lolo 2 on eBay here!

63 LOLO 3 (Hal, 1992)
This is the final installment of the semi-popular Lolo series and now you're aloud to select some of the stages so if one stage becomes too difficult then you can easily move on to another one instead. Lolo and Lala are now a tag team in this non linear adventure so you don't have to rescue her now. Lolo 3 is a must for the puzzle seekers out there and again don't expect a easy game either.
*Rare NES game
For 1 player only
graphics: 3
sound: 4
gameplay: 5
Find Lolo 3 on eBay here!


71 LOOPZ (Mindscape, 1991)
I haven't heard too much about this one before but in the end it wasn't a bad game surprisingly. In this strange Tetris/Pipe Dreams hybrid you are given a shape that you can rotate and fit on a board so you can try to create a loop to clear the shapes and give ya points of course. I wish the game would preview the next piece so I don't get screwed with something crappy and it would have helped me plan out some better strategies. The graphics stink and the music is nothing special but Loopz has three different play modes and can be quite addictive too. I like that in my video games.
*Uncommon NES game
For 1 or 2 players
graphics: 4
sound: 5
gameplay: 7
Find Loopz on eBay here!

39 LOW G MAN (Taxan, October 1990)
"Low is right!" This action game about about a high jumping hero in the future has some nice options and some cool weapons as well but I don't like the tiny, hard to see characters and the questionable hit detection here either. Another problem with the game is you have to freeze most enemies to kill them but you only have so much time to do this and it's highly likely other opponents are attacking you at the same. Low G Man is nothing special for action fans or for anybody really.
For 1 player only
graphics: 4
sound: 4
gameplay: 5
Find Low G Man on eBay here!

50 LUNAR POOL (FCI, 1987)
Here is a fun little pool game that's easy to pick up and play. The gimmick here is you are playing in space and the only way you can tell is by the lame craters in the background. The game is really nothing more then a really basic pool (move cursor, hit ball, hopefully it sinks) game with each table having a different pattern to add some challenge to your shots. It's nothing special and the graphics and sounds get old fast but it is playable.
For 1 player only
graphics: 3
sound: 3
gameplay: 5
Find Lunar Pool on eBay here!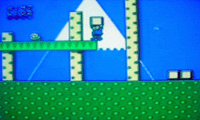 72 M. C. KIDS (Virgin Games, January 1992)
Oh my God! It's a game about that sleazy Mc Donalds food chain. In it two kids try to stop the odd hamburglar dude from stealing away all the food in this fun but highly commercial 2D action game. In it you must collect special cards to help your heroes unlock new areas so you can track down the trail of this hamburger thief. M. C. Kids has such good presentation and colourful graphics that it reminds me a lot of Super Mario Brothers 2 which isn't too bad but if you seen one collect the gold junk you seen them all. The whole thing just makes me feel so dirty too and not in a good way. Where's that Super Size Me DVD?
For 1 player only
graphics: 7
sound: 6
gameplay: 6
Find MC Kids on eBay here!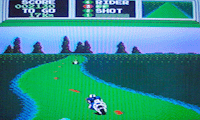 41 MACH RIDER (Nintendo, October 1985)
In this action/racing game here you ride on your motorbike with mounted guns through a war zone of rival street gangs and some really bad 3D graphics. Although I admire the gritty 'drive fast and kill them all' idea especially compared to the other sugar coated Nintendo games out there, what really ruins Mach Rider is how hard it is to see around tight turns since everything moves so fast and choppy. It also doesn't help matters when the roads can be littered with annoying giant rocks and oil cans either. This game is also part of the failed Programmable series that was found in some early NES titles and one of the reasons it failed was because of the annoying long load times. Mach Rider wasn't great then and it certainly isn't great now.
*Available in the 5 screw cart
For 1 player only
graphics: 4
sound: 4
gameplay: 5
Find Mach Rider on eBay here!

43 MAD MAX (Mindscape, July 1990)
Yup, it's another Hollywood movie turned into a game and it's not made by LJN so it might be good? Anyway if you don't know the flick you play has a survivor of a world in ruins and you must battle against rival gangs to find supplies and gas. It sounds like good, mindless fun but the game has both unspectacular driving to point A and B and on foot action scenes that are not too fun to play thanks to the stiff controls and slow game play. You also have to survive special demoilion derby stages which sound like fun but later stages get insane since you have to destroy all the vehicles, find the exit in a huge maze, and watch your gas meter as well. All the while you get these washed out visuals and barely any background music. Mad Max won't make you mad but it might make you really bored instead.
*Uncommon NES game
For 1 player only
graphics: 4
sound: 3
gameplay: 5
Find Mad Max on eBay here!

60 The MAFAT CONSPIRACY (Vic Tokai, 1991)
This game here is actually the sequel to the rather average Golgo 13 Top Secret Episode game but now the spy's name isn't even listed on the cover title for some reason. Anyway, you play the role of super spy Golgo 13 on a mission to save a kidnapped professor from the Mafat terrorist organization. The game's platforming scenes are not too bad and I love all the detail in the backgrounds (definitely an improvement over the original) but fighting the bad guys over and over gets dull in a hurry. Another problem with the game is that the rather weak 3D corridor and driving stages are not that fun to play either. The Mafat Conspiracy has its issues but the story is good and different stages add some variety at least.
For 1 player only
graphics: 7
sound: 6
gameplay: 7
Find Mafat Conspiracy on eBay here!


31 MAG MAX (FCI, September 1988)
In this odd action/shooter you start out as mere star ship at the beginning but as the game progresses you can upgrade yourself to a powerful robotic mech with more firepower. It sounds cool enough at first but the game is just way too easy and it's also kind of corny too thanks to some God awful music. This one doesn't age very well and you have to admit Mag Max is a pretty dumb name too, eh?
For 1 player only
graphics: 4
sound: 3
gameplay: 4
Find Mag Max on eBay here!

57 MAGIC DARTS (Romstar/Seta, September 1991)
There are not too many dart video games out there but here is one for the NES so lets see if this an interesting spin on the famous bar game or is this a unholy mistake where several programmers were brutally fired. In the game you have three different options to play and several strange characters including wacky ones like a ninja, a robot, and even a monkey. The game's three gauge system is a bit much and there isn't much here for the single player since there is no story mode but it's a solid party game.
*Uncommon NES game
For 1 to 4 players
graphics: 6
sound: 5
gameplay: 4
Find Magic Darts on eBay here!

20 MAGIC JOHNSON'S Fast Break (Tradewest/Software Creations, 1990)
Magic Johnson is definitely one of the most popular Basketball players of all time but I think he should have played his video game here a little more before releasing it. MJ's Fast Break was one of the first full four player basketball games here on the NES and the game also keeps it simple with 2 on 2 action but that's the problem; it's too basic. The graphics are extremely dull with poorly animated players and there is hardly anything going on in the backgrounds plus there is no music in the actually game either. The game play isn't much better thanks to the lack of modes and moves. Even older games like Double Dribble kill this.
For 1 to 4 players
graphics: 3
sound: 3
gameplay: 2
Find Magic Johnson Fast Break on eBay here!

82 MAGIC of SCHEHERAZADE (Culture Brain, January 1990)
Although I don't know how to say the name here; the Magic of Scheherazade is still one incredible action/adventure game. In the story you get your butt kicked and are sent to the past after trying to save Princess Scheherazade. That sure does suck, eh? Fortunately, I time traveling cat helps you out and now you are on the long quest to get revenge. This Arabian style game starts out like the Legend of Zelda where you hack and slash enemies plus talk to friendly town's peoples to find important information; you know, all that good stuff. Sometimes though you have to battle certain enemies in RPG style turn based battles which is a cool twist. There are lots of cool characters to find, you can barter in shops, have the chance to gamble your life away, and the controls are excellent too. Magic of Scheherazade may look like a clone of other adventure video games out there but don't be fooled because this one is packed with goodies.
*Uncommon NES game
For 1 player only
graphics: 7
sound: 7
gameplay: 9
Find Magic of Scheherazade on eBay here!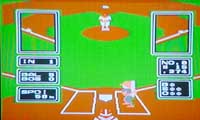 52 MAJOR LEAGUE BASEBALL (Ljn, April 1988)
Unlike most Baseball video games for the NES, this game includes real MLB teams so you get franchises like the Toronto Bluejays and Boston Red Socks all in here. Unfortunately, you just get numbers for the players since Ljn wasn't able to get the license for everything. Anyway I like how the game was kept simple after you made your selections but some may not like the lack control in some areas. It isn't all good though because outfielders can be very slow for example and hits can be very hard to track as well. The wimpy super deformed graphics and overall poor sounds don't impress either. The game can be fun but there are still far better baseball games on the Nintendo then this.
For 1 or 2 players
graphics: 2
sound: 3
gameplay: 6
Find MLB on eBay here!

70 MANIAC MANSION (Jaleco, 1991)
Believe it or not this odd game use to be a TV show (although not a popular one) and this could have been a big franchise if it wasn't so damn weird so it other words this crazy game definitely won't be for everyone here. In this point and click adventure game you get to control a group of mismatched teenagers on a quest to rescue one of their friends from a mad scientist and his twisted house. The game can be very confusing since the game doesn't give out a lot of clues but all the different abilities and secrets really help make this one addictive game.
*Battery back up game
For 1 player only
graphics: 5
sound: 7
gameplay: 7
Find Maniac Mansion on eBay here!

48 MAPPYLAND (Taxan/Namco, April 1989)
This is the sequel to the classic arcade game of cat and mouse from the arcades but like that game this is not very exciting. Even though the game sports some new background designs instead of the black void of the previous title Mappyland just doesn't have a lot action and the avoid the cats game play gets duller then an episode of The View.
For 1 player only
graphics: 5
sound: 5
gameplay: 4
Find Mappyland on eBay here!


62 MARBLE MADNESS (Milton Bradley/Atari, February 1988)
In this wild game here you guide your marble (or marbles) down different obstacle courses in the fastest time possible in this fun little game here. Although there are only six levels here and moving around a marble isn't the most compelling thing out there, the game has some rough terrain so it is a lot tougher then it looks. If you are looking for a simple game that easy to learn but hard to master then this is a good bet.
For 1 or 2 players
graphics: 5
sound: 6
gameplay: 6
Find Marble Madness on eBay here!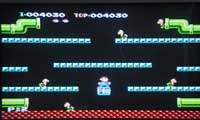 67 MARIO BROS. (Nintendo, June 1986)
The original Mario Bros here is not only a challenging action title that never seems to end but it's still a good two player game as well. Are you the type of player that wants to help your friend to complete the levels or are you the friend that wants to hog all the glory and points instead yourself? The game certainly isn't as complex as the sequel Super Mario Bros. but it was the cool two player option that helped saved it from being a dud.
*Available in the 5 screw cart
For 1 or 2 players
graphics: 5
sound: 5
gameplay: 5
Find Mario Bros. on eBay here!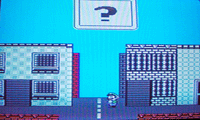 14 MARIO IS MISSING (Nintendo/Software Toolworks, 1992)
Before Luigi starred in his own game on the Game Cube, he starred in this stupid little non video game here. Luigi must get clues and answer questions around the world to find Mario in this very dull action platformer. That's right, this is an educational title so don't expect the intense action of the previous Super Mario Bros. 3. The game actually looks a lot like the popular 16-bit game Super Mario World with it's colourful stages and the lame Yoshi hanging around but then you play it and there is nothing more here then a bunch of fetch boring quests. This was a huge flop for Nintendo and with good reason!
*Uncommon NES game
For 1 player only
graphics: 5
sound: 4
gameplay: 2
Find Mario is Missing on eBay here!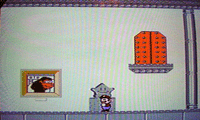 12 MARIO'S TIME MACHINE (Nintendo/Software Toolworks, 1994)
Oh crap, there's another one. In this lame educational platformer you get to learn about history while you play one the most boring video games ever at the same time. There are some action scenes stages that look a lot like Super Mario World and even the original Mario Bros. but the problem with these areas is you can't die. Now you're thinking that can't be so bad but trust me the 'game' offers nothing compelling at all and you'll be bored out of your mind wandering the world for useless knowledge. The graphics are actually not too bad but they alone can't save this awkward searching title here.
*Rare NES game
For 1 player only
graphics: 5
sound: 2
gameplay: 2
Find Mario's Time Machine on eBay here!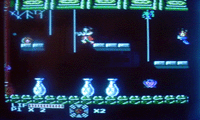 16 MASTER CHU and the DRUNKEN HU (Color Dreams)
Here is a hard to control Asian style action game that's not nearly as fun has it sounds. The list of the problems begin with the awkward button configuration where the jump and the action are in the reverse position compared to other big titles like Super Mario Bros. Other problems include highly repetitive graphics, looping music, and overall boring game play here. At least it's a rare find though even if it sucks.
*Available in either a blue or black cart, the black one is the rare version
*Unlicensed NES game
*Uncommon NES game
For 1 player only
graphics: 3
sound: 3
gameplay: 2
Find Master Chu on eBay here!

29 MECHANIZED ATTACK (SNK, 1990)
There aren't too many light gun games for the NES but I managed to find another here. Mechanized Attack is your typical 'destroy the terrorists' game where you shoot anything that moves and normally you can't go wrong there. The problem is the graphics are has bland as they get thanks to the flat backgrounds and unrealistic enemies that don't even use their legs while moving left and right. The worst part though is usually in games like this there is some form of way to tell you been shot at but here it was hard to notice any hit detection in this mess. It's hard enough to recommend any light gun game because of their simple game play and MA is just a ugly title that doesn't do anything new.
*Light Gun compatible
For 1 player only
graphics: 3
sound: 3
gameplay: 2
Find Mechanized Attack on eBay here!


The StarSoldier Game of the Month!
85 MEGA MAN (Capcom, December 1987)
This highly sought after and well known Mega Man game is still the same easy to play action title like all the others but the original actually features 6 selectable enemy stages instead of the usual 8 and an cool point system too. The goal in Mega Man is simple; defeat the 6 enemy guardians and steal their weapons and then confront the evil Dr. Wily in the final showdown. This is easily the toughest Mega Man game out there as well since there is no passwords or Energy Tanks either to help you out and that giant Mudman boss will test anybody. Mega Man is a great challenging action game with some nice cartoony graphics and background music.
For 1 player only
graphics: 7
sound: 8
gameplay: 8
Find Mega Man on eBay here!


97 MEGA MAN 2 (Capcom, September 1989)
This heavily delayed 2 meg sequel to the original classic Mega Man game not only features the only major changes to the long running NES series but the game is action packed with cool enemies and exciting levels. So what are the changes here in part 2? Capcom has taking out that point system, they upgraded the graphics, and they even added in different difficulties as well. The reason Mega Man is back in action is because your old rival Dr. Wily wants revenge and has creates 8 robots of his own to destroy our hero and conquer the world. This action was so good in this game (although it was a bit on the easy side) that Capcom decided that all Mega Man games would emulate the 8 robot rule from there on. Mega Man II is my favorite of the six NES games because it improved on the original so well.
For 1 player only
graphics: 8
sound: 10
gameplay: 9
Find Mega Man 2 on eBay here!


92 MEGA MAN 3 (Capcom, December 1990)
If it ain't broke, why fix it, eh? I can think of a hundred different reasons but here is Mega Man 3 anyway. Mega Man returns in part III and it introduces a few new features to this popular platform action series to help liven things up a bit. In the story Dr. Wily and Dr. Light manage to patch things up and the two professors agree to work a special scientific project but while this is going on there are 8 mysterious new robots that are rampaging through the city. If that wasn't enough, Mega Man's brother Pnoto Man seems to be on the side of the evil new robots. Mega Man must take action but now he doesn't have to go alone because he has a new Dog friend named Rush to help him on his new mission plus he can even do a new quick slide maneuver to avoid or escape enemies easier. Part III is quite challenging and fairly long for an Mega Man game too but the graphics and game play are just starting to get old. Because of that Mega Man 3 loses some points.
For 1 player only
graphics: 6
sound: 7
gameplay: 8
Find Mega Man 3 on eBay here!


69 MEGA MAN 4 (Capcom, January 1992)
Skull Man? Dive Man!?............. They're clearly running out of cool boss names, eh? It's now Mega Man's job now to stop a man named Dr. Crossack and his robot invasion from destroying the world but Mega Man now as the new Mega Buster charge weapon to help him out. It's still a good action game just like the previous ones though by this time the Sega Genesis was in full force and this game just looked primal by comparison.
For 1 player only
graphics: 5
sound: 6
gameplay: 7
Find Mega Man 4 on eBay here!


55 MEGA MAN 5 (Capcom, December 1992)
In the fifth game of the series Mega Man's brother, Pnoto Man appears to lead an attack with 8 other robots by his side and he even kidnaps Dr. Light. Now Mega Man has to fight his own brother to get some answers. This 4 meg Mega Man V here plays about the same as all the rest but now you can collect letters to get help from a new bird friend named Beat and Rush Marine is no longer in the game. The main problem in MM5 was the difficulty. While the original Mega Man had me begging for mercy, it only took me a day to finish the whole game here. Be careful not to spend too much money on it despite it's rarity.
*Uncommon NES game
For 1 player only
graphics: 6
sound: 7
gameplay: 6
Find Mega Man 5 on eBay here!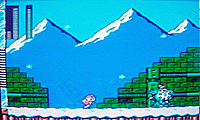 67 MEGA MAN 6 (Nintendo/Capcom, March 1994)
Mega Man 6 features yet another new enemy mastermind named Mr. X who takes control of a world robot tournament. Mega Man must now fight against 8 of the world's top robots before Mr. X can take over the world. Nothing new or too innovative here in this 4 Meg Mega Man game and Capcom was even going leave this in Japan but the game purchased by Nintendo at the last minute. The Rush powers are gone and are now replaced by Rush Transformations but who really cares when the levels are this uninspired? Tomahawk Man was cool though.
*Uncommon NES game
For 1 player only
graphics: 6
sound: 7
gameplay: 5 ........... very tired.
Find Mega Man 6 on eBay here!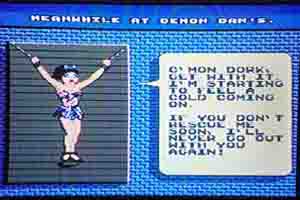 52 MENACE BEACH (Color Dreams)
One would expect a typical action platformer here and that's what you get in Menace Beach but under its lackluster presentation there is something very weird going on in this cartridge. The reason this particular game raised some eyebrows is because your kidnapped girlfriend is chained up during the game's intermissions and as each stage passes you'll see her clothes slowly get shorter and shorter. Is this the NES's first kinky bondage scene? The actual game is quite choppy in the animation department but it's still a passable action title with a curious awards system.
*Available in either a blue or black cart, the black one is the rare version
*Unlicensed NES game
*Rare NES game
For 1 player only
graphics: 5
sound: 5
gameplay: 4
Find Menace Beach on eBay here!

68 MENDEL PALACE (Hudson Soft/Game Freaks, 1990)
Now here's a strange game that hardly anyone remembers. In it you get to flip floor tiles to help find power ups and smash your crazy opponents against walls to help defeat them. It's a strange concept but it works there are tons of wacky stages and enemies to fight here too so there's plenty of reasons to come back and play again. The constant floor visuals are not too appealing and it can get very repetitious across the 200 stages as well but overall Mendel Palace was still decent enough to recommend.
*Uncommon NES game
For 1 player only
graphics: 5
sound: 6
gameplay: 6
Find Mendel Palace on eBay here!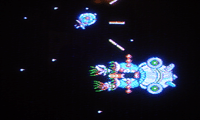 67 METAL FIGHTER (Color Dreams, 1992)
Usually Color Dreams suck so much ass you swear they were prostitutes but before leave this in the store to rot you should know that it isn't all that bad. In this 2D shooter you control a egg shaped starship with legs and you basically blast things and collect power ups here. You start out the game on foot but with the right upgrades you can fly around but some power ups can only be collected if you fight another robot one on one which helps break up the constant forced scrolling action. The background music isn't too good and the action doesn't change too much from level to level but Metal Fighter has a lot of cool guns and plenty to blast away at should please shooter freaks.
*Uncommon NES game
*Unlicensed NES game
For 1 player only
graphics: 5
sound: 6
gameplay: 7
Find Metal Fighter on eBay here!


68 METAL GEAR (Konami, June 1988)
Sorry Metal Gear fans, I never really liked this action/strategy game all too much. He smokes for one thing. In this game you play as the marine Solid Snake and he lands in a dangerous jungle with only a transmitter, some cigarettes, and no weapons. The game is a great example on how to do a stealth game and there are not many of those on the NES but the game was poorly translated with broken English everywhere and that isn't going to help you through all the different traps and tedious mazes. There are tons of cool weapons and gadgets to find though and the challenge of it all can be addictive but since Metal Gear isn't known for its action, it isn't for everyone.
For 1 player only
graphics: 6
sound: 7
gameplay: 7
Find Metal Gear on eBay here!

45 METAL MECH (Jaleco, March 1991)
In this odd game you pilot your giant robot walker into a deadly war zone. Sure, that sounds like fun, unfortunately all that really gets boring after a few minutes because of the long and repetitive levels here. This game was a nice try but Metal Mech is nothing but a poor man's Blaster Master.
*Uncommon NES game
For 1 player only
graphics: 6
sound: 5
gameplay: 6
Find Metal Mech on eBay here!


81 METAL STORM (Irem, March 1991)
In this uncommon game you're a super powerful robot with the ability to walk on the ceiling. If you want to survive this game you better have very good reflexes and a very itchy trigger finger because the later levels are insanely difficult here. Although this action game isn't for everybody since the game is so challenging, Metal Storm is a good arcade action with six very grueling levels to master and some amazing graphics.
*Uncommon NES game
For 1 player only
graphics: 8
sound: 7
gameplay: 7
Find Metal Storm on eBay here!


The StarSoldier Game of the Month!

97 METROID (Nintendo, August 1987)
The legendary first Metroid started right here on the original Nintendo Entertainment System (NES) way back in 1987. Although this is only a single Meg 8-bit game with outdated NES graphics and all, it's still one of the greatest adventure games ever made and I'm gonna tell you why. In it you help space warrior Samus Aran defeat the evil pirates of planet Zebes who are breeding powerful Metroid creatures to conquer the universe. Even in it's old age, Metroid is still an excellent action/adventure gaming experience with a huge amount Easter eggs to keep players wanting more and the simple graphics and sounds were too bad either. Whether you play it on a NES, Game Cube, or GBA; Metroid is a must for any generation!
For 1 player only
graphics: 6
sound: 9
gameplay: 9
Find Metroid on eBay here!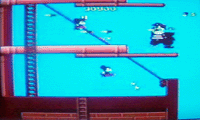 50 MICKEY MOUSECAPADE (Capcom/Hudson Soft, October 1988)
Everybody's favourite rat arrives on the NES and he is spreading his vile disease here too. In this highly generic platformer Mickey and Minnie Mouse go through 5 levels and that's pretty much it because there is almost no story what so ever (you find someone at the end of the game but I don't know why because the game gives you nothing). It's weird how Minnie just follows Mickey around and it's dumb that this isn't a two player game but at least she throws ninja stars as well once you get the power up so she's sorta useful. The real problem with having Minnie around is if you successfully to jump but she misses your dead and sometimes she really lags behind you as well. The levels here range from basic and boring point A to point B stages like the Pirate Ship and Lake where you kill basic enemies and then fight the boss who basically something that throws crap at you. They suck but the other stages like the Woods and Castle are even worse since they are more unlinear in approach. It sounds cool but you are forced to get keys and hidden doors to find your way out and they are not always easy to find and you have to put up with junk like respawning enemies all the time. The game is also not much to look at either and the music is crap too. Mickey Mousecapade is serviceable but that's it.
For 1 player only
graphics: 4
sound: 3
gameplay: 6
Find Mickey Mouse on eBay here!

12 MICKEY'S SAFARI in Letterland (Hot B, 1992)
Now a lot of people disagree with my Donkey Kong Jr Math review because it's a educational game and all but at least that game had a interesting two player versus mode, a timed calculation game for the single player, and the game was actually challenging, ya know, just like real life. Anyway, my point is there are two types of educational games out there. Ones that are actually a good learning tool to improve your intellect while others that are so easy and boring that it's just a complete waste of time. C'mon, you saw the score already so I'm guessing you know what category this game falls under, eh? In this stupid game you control Mickey the rat on a mission to find missing letters and that's it. The levels are so damn easy that's it actually impossible to die and I can't even play the 'Kill the Mickey!' It's too bad to because the visuals and audio are not too bad but why do I feel dumber playing this easy piece of corporate junk?
*Uncomin NES gynme, duh!?
For 1 player only
graphics: 6
sound: 6
gameplay: 0
Find Mickey's Safari in Letterland on eBay here!

12 MICKEY'S ADVENTURE in Numberland (Hot B, 1992)
Yup, this is pretty much the same game as Mickey's Safari in Letterland here. Just like before you have to find a certain amount of numbers in a stage and then do some pointless add or subtract mini game to complete a stage. Again the graphics are decent, the music isn't terrible, but there is a no dying system so what's the point!?
*Uncommon NES game
For 1 player only
graphics: 6
sound: 6
gameplay: 0
Find Mickey's Adventure in Numberland on eBay here!

78 MICRO MACHINES (Camerica, 1991)
Camerica's Micro Machines is a cult favorite among many for its intense overhead racing action even though the game doesn't do anything too different from other racing titles out there. In Micro Machines you drive around in one of several tiny vehicles across everything from kitchen tables to dirty floors. The game even has some good clean graphics that fit the whole toy theme here very well and it is also a great multi-player too.
*Unlicensed NES game
*Uncommon NES game
For 1 to 4 players
graphics: 7
sound: 6
gameplay: 7
Find Micro Machines on eBay here!

41 MIGHTY BOMB JACK (Tecmo, July 1987)
Here is a little odd action game where you have to guide your goofy looking super hero character to collect several bombs and treasure crests in rather plain looking dungeons. For a hero called Mighty Bomb Jack he is surprisingly wimpy and he can't even attack. You just go stage to stage collecting bombs. Certainly not one of Tecmo's more memorable games here and with good reason.
*Available in the 5 screw cart
For 1 player only
graphics: 3
sound: 3
gameplay: 6
Find Mighty Bombjack on eBay here!

67 MIGHTY FINAL FIGHT (Capcom, 1993)
Many of you may not know this but Capcom's popular Final Fight series also arrives on the NES here and although the graphics are super deformed and pretty ugly overall, the game actually has all three characters (Guy, Cody, and Hagger); something you couldn't do in the SNES game. If that wasn't enough there is also more of a story thanks here to some added text scenes. Mighty Final Fight isn't as deep as River City Ransom but this is still a good find for anybody looking for some fighting action but be ready for a hard game as well.
*Uncommon NES game
For 1 player only
graphics: 5
sound: 6
gameplay: 7
Find Mighty Final Fight on eBay here!


The StarSoldier Game of the Month!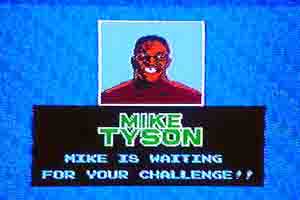 79 Mike Tyson's PUNCH OUT!! (Nintendo, October 1987)
Punch Out is a fun and challenging boxing game with 15 stages including a fight with the near impossible Mike Tyson himself. This game actually came out before Mike Tyson went all super crazy on us and he was actually considered a role model way back when. Now ol' Mikey is a rapist, a cannibal, and he's even pretty broke believe it or not (proof that crime doesn't pay). The graphics look absolutely horrible when compared to the original arcade or the Super Nintendo game mainly because Little Mac looks just too small compared to the other giant fighters here and background ring and audience are just boring. If you look pass the weak graphics the game itself is a excellent example on how to do a high quality video game thanks to the impressive hit detection and high challenge.
For 1 player only
graphics: 3
sound: 5
gameplay: 8
Find Mike Tyson's Punchout on eBay here!

64 MILLIPEDE (Bandai/Atari, 1983/October 1988)
The sequel to Atari's popular Centipede is a fun arcade classic ........... for a few minutes anyway. Millipede is a intense old school shooter where you try to kill Millipedes and spiders for points and although the game is pretty fast it also comes with below average graphics and sound effects as well. You have to remember that the game was originally released in 1983, eh?
*Uncommon NES game
For 1 or 2 players
graphics: 3
sound: 3
gameplay: 4
Find Millipede on eBay here!

76 MILON'S SECRET CASTLE (Hudson Soft, September 1988)
Want a real challenge? Milon's Secret Castle is a good but very tough action platformer starring a young wizard and his mission to fight his way through a huge deadly castle. Trust me when I say this is one challenging game because a lot of the secrets in the game need to be discovered first if you want to get anywhere here but if you can master the game a bit it's also a very addictive adventure too especially with it's decent graphics and music here. Milon's Secret Castle is a great title that's for experts only.
For 1 player only
graphics: 6
sound: 7
gameplay: 8
Find Milon's Secret Castle on eBay here!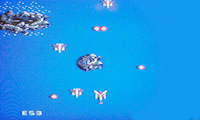 09 MISSION COBRA (Bunch Games/Color Dreams, 1992)
If you are a fan of arcade shoot em ups like Raiden, Truxton, or Twin Cobra then go play those great games instead of the piece of crap here. In Mission Cobra you control one of two helicopters and you blast away at any enemy that gets in the way. Sadly you are just shooting the same old enemies over and over again and the game quickly gets boring in only a few seconds. There are some power ups here but it still doesn't stop the constant sucking. Mission Cobra is a hard find for collectors but a bad game for anyone looking for an actual video game.
*Available in either a blue or black cart, the black one is the rarer version
*Uncommon NES game
*Unlicensed NES game
For 1 or 2 players
graphics: 1
sound: 1
gameplay: 2
Find Mission Cobra on eBay here!

64 MONOPOLY (Parker Bros., March 1991)
Yeah, I know what you're thinking. It may be a popular board game and all but do you really need a video game based on it? Lets see. Anyway if don't know the deal here you or a bunch of friends compete on a board filled with properties, a jail, free parking, and odd spaces to see who can earn the most loot. If you lose all your stuff and cash it's over for you. The game can get pretty competitive and unlike the real board game you have to worry about losing pieces or players stealing money when backs are turned (believe it's easy to do) so there advantages to having this edition. This Monopoly also lets you edit players so you can start off with more or less cash then others plus the graphics and occasional sound effects are cool. Still this game was originally released at full price ($60 bucks) and that's a little too much for something that's naturally much cheaper so we did get kind of screwed in the butt. Of course it should be cheaper now I hope.
*Uncommon NES game
For 1 to 4 players
graphics: 6
sound: 6
gameplay: 5
Find Monopoly on eBay here!

13 MONSTER TRUCK RALLY (INTV Systems, September 1991)
Monster Truck Rally was actually done by the same people who worked on some of the Intellivision games. Too bad it isn't a better game though. To accelerate your not so Monster Truck in this game here you have constantly press the A button just to get going. Very bad idea! With very bland graphics and even worse controls it's easily to get confused with the game's maps. This is one of the worst games I have played on the NES in a long time!
*Uncommon NES game
For 1 to 4 players
graphics: 1
sound: 1
gameplay: 1
Find Monster Truck Rally on eBay here!


72 MONSTERS in my POCKET (Konami, 1992)
"Pocket monsters, uh? It will never take off!" In this game you can pick from either a Frankenstein or Dracula monster in this licensed action title with some above average graphics even if there are a lot flicker problems though. The game plays well but I want to suck some blood and steal the town's virgins or something cool like you usually see in those old monster movies. In here I'm just bashing away boring enemies in some cheap Double Dragon side scrolling clone.
*Uncommon NES game
For 1 or 2 players
graphics: 7
sound: 6
gameplay: 6
Find Monsters in my Pocket on eBay here!


75 MONSTER PARTY (Bandai, June 1989)
Imagine you're a average young boy who is suddenly thrust into a universe filled with monsters that are out of control? That's actually what's happening in Monster Party here and amazingly the game isn't too bad. In this 2D action game you control both a bat wielding human kid and his fire breathing monster friend Bert in order to save his world from rival monsters. Playing as the monster was way more fun then the wimpy kid so the doesn't get off to a good start but it does grow on you and I like all the unique boss characters here as well. The ending was pretty funny in this cute little horror game too but can you finish it? Monster Party is harder than it looks too so expect a challenge here. Monster Party is a good action game to have in your collection and the game even has tons of gruesome red blood which got by the Nintendo censors. Read more about this fun fact at Flying Omelette.com
For 1 player only
graphics: 7
sound: 6
gameplay: 6
Find Monster Party on eBay here!


90 MS. PAC MAN (Tengen, 1992)
Ms. Pac Man is not only one of the most popular gaming sequels of all time but the pellet munching game play is still as addictive has ever here on the NES! In this popular game you help Ms. Pac Man eat all the dots on the screen to clear the stage while avoiding four multi-coloured ghosts. Unlike the early Atari versions of Ms. Pacman, this plays similar to the Sega Genesis and Super Nintendo games of Ms. Pac Man so that means you get this game complete with all of those cool 36 mazes (instead of just the original four), two player battle option, and you can even use the Pac Booster here too to speed things up a bit. All these extras features can be turned off too if you like playing the original way as well. Sure, the game's simple 1982 look won't appeal to everyone but this is still a very impressive chasing game even today and it's sure a good find in those old discount bins!
*Unlicensed NES game
*Uncommon NES game
For 1 or 2 players
graphics: 5
sound: 4
gameplay: 8
Find Ms Pac Man on eBay here!


60 MS. PAC MAN (Namco, 1993)
No, I'm not drunk (this time) because there are actually two different versions of Ms. Pac Man for the NES. Namco themselves released their own edition after they leased it out to Tengen but unlike the Tengen version this Ms. Pac Man is just a direct port of the 1982 pellet eating arcade hit and you can forget about all the fancy extras like crazy mazes and Pac Boosters. Because of this Namco's Ms. Pac Man is not as good as the Tengen one but this game is still very fun to play and it was released late in the NES's life span is the rarer game so this is great for collectors.
*Rare NES game
For 1 or 2 players
graphics: 4
sound: 4
gameplay: 4
Find Ms Pac Man on eBay here!

21 MTV REMOTE CONTROL (Hi Tech, 1990)
Game show video games usually don't make good titles and this is a perfect example what can go wrong! In this short lived TV show you play as one of three contestants trying to waste your life away by answering pop culture questions from the 1980's. Maybe that wouldn't be so bad if the game wasn't so slow. God help you if you get a multiple choice question wrong too because the computer is guaranteed to get instead and you got to wait while you get your butt kicked. What's worse is the graphics are complete as$ with generic flat backgrounds with characters that look like they have white jizz on the face. Yeah, don't buy this.
For 1 or 2 players
graphics: 0
sound: 1
gameplay: 2
Find MTV Remote Control on eBay here!

65 M.U.L.E. (Mindscape/Ozark Softscape, November 1990)
In this odd little simulation game you get to build your own land on a strange alien world with the help of special robo-mules. You get to compete with other players or computer controlled users and you take turns to make the most resources and the most loot of course. The game isn't as easy as it sounds because certain characters are better then others and you may get hit with a disaster like a earthquake so you have to put up with a lot of crap here. Although it can get addictive, the graphics and music are nothing too good and the whole making money game play isn't for action crowd either.
For 1 or 2 players
graphics: 4
sound: 4
gameplay: 7
Find MULE on eBay here!

32 The MUPPET ADVENTURE (Hot-B, 1990)
This game tries to do a lot in one cart here thanks all the different modes but it is master of none. The simple games range from a weak racing game where you avoid crap and go to the end, guiding Kermit down a river, a hard to control Asteroids clone, and Pac Man rip off where you have to slowly grab junk to pass the stage. It's a nice idea but the games are insanely generic, they look awful, and the repetitive game play will drive ya freakin' nuts like a hand up the a$$.
For 1 player only
graphics: 3
sound: 3
gameplay: 3
Find the Muppet Adventure on eBay here!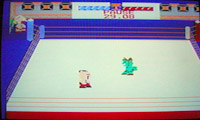 38 M.U.S.C.L.E. (Bandai, 1986)
I remember watching Xplay (a G4 show encase you didn't know) one time and seeing these rare Muscle toys in Japanese stores selling for thousands of dollars. One thing that will never be that high is Muscle on the NES since there are lots of copies available and they all suck big time. Not only are the graphics extremely boring with no shading or detail what so ever but this wrestling game doesn't have any depth either since the characters just jump and punch in a ring. You can grab power ups that randomly appear from time to time to really do some major damage but I hate how unbalance fights become since a lot of characters have better moves then others. The game can be kind of fun with two players but only for a few minutes after you realize it's complete crap.
For 1 or 2 players
graphics: 2
sound: 2
gameplay: 2
Find MUSCLE on eBay here!

34 The MUTANT VIRUS (American Softworks, April 1992)
The NES is well known to have a lot of copycat games out there but at least this one here is different. I don't think that's really a positive though. In the Mutant Virus you control a dude named Ron Trainer on a mission to destroy a huge virus in an very important computer system. Imagine the movie Tron but with lamer visuals. In this 360 degree shooter you must blast away at junk to secure the area but that's really hard to do thanks to these highly crappy controls here. The problem is your character never stops moving making it hard to hit anything precisely. The game starts off easy enough and I like the rapid fire here too but the later levels get very annoying thanks to the indestructible enemies, constantly growing viruses that give you little room to move around in all the while your character continues to move because the controls suck a$s. The Mutant Virus had some good ideas and cinemas were kind of cool but the game itself is just flat out terrible.
*Uncommon NES game
For 1 players only
graphics: 4
sound: 2
gameplay: 6
Find Mutant Virus on eBay here!

42 MYSTERY QUEST (Taxan, 1988)
Now here is a game that's really tough to rate. The game Mystery Quest really lives up to it's name because playing this action felt like one big mystery. In this title you play has some dork named Tao and you can throw magic orbs to kill enemies and break certain walls which is pretty cool. The game even starts out pretty good as you blast away at junk in wide open areas so there is a nice bit of action here. Sadly to complete the game you have to finish off four very tedious dungeons and each one is filled with difficult jumps, tough puzzles, and some really cheap monsters here. Oh, and we can't forget about the awkward jumping psychics that are so bad that you have to jump multiple times to get the height you want. This game is just lame; don't waste your time.
*Uncommon NES game
For 1 player only
graphics: 5
sound: 5
gameplay: 6
Find Mystery Quest on eBay here!

51 NARC (Acclaim/Rare, September, 1990)
Are you one of those ultra conservative players that wishes they can kill a bunch of drug using hippies at will? Maybe Narc here is the game for you. Just like the Williams arcade game of the same name you control one of two cops and you must clean up the streets the easy way; just shoot them all down! Unfortunately, the big problem with the game though is that the enemies are everywhere and it not only makes Narc too difficult but it also very repetitive and you will find yourself killing the same bad guys over and over again. Narc has a unique Anti-Drug message but the game itself is all action and no depth.
For 1 or 2 players
graphics: 6
sound: 6
gameplay: 6
Find Narc on eBay here!

68 NES OPEN Tournament Golf (Nintendo, October, 1991)
This is a really just a slightly average golf game but the only difference is this is that it stars Mario and Luigi here. To be fair though the game is easy enough to control thanks to the intuitive user interface and play mechanics but the graphics and music here are certainly not too interesting. Although I wasn't that overly impressed by it, the game still one of the better golf games on the NES (there are a lot bad ones here by the way).
*Battery back up game
For 1 to 4 players
graphics: 5
sound: 3
gameplay: 7
Find NES Open on eBay here!

63 NES PLAY ACTION FOOTBALL (Nintendo, 1990)
I know it's easy to whine about the lame sounding Play Action Football and say it's not has good as Tecmo Bowl. The biggest problem you'll notice how this game is a lot slower in comparison for example but don't dismiss just yet. First off the game has some impressive graphics with cool intermissions and multiple views of the cool looking isometric field. The game has some good voices here and there plus the controls are great too with easy to select plays and realistic hits. Play Action Football is dirt cheap, has solid presentation, and it even supports 4 players at once.
For 1 to 4 players
graphics: 8
sound: 6
gameplay: 7
Find NES Play Action Football on eBay here!


01 NFL (Ljn, 1988)
I was pretty hard on other NES football games like John Elway's Quarterback but even that piece of junk is better then this ratsh&*! In this generically named National Football League game you have the option to pick from any real NFL team and you can set up your player's strengths and weaknesses but then the actual game starts. The first thing you notice the game itself runs at sail's pace and it was so bad I swear it was one of the slowest games I ever played in my life. You can select your plays for every down just like any other football video game but you better have the manual ready because the game itself doesn't even tell you what the command for the plays are. Even the washed out graphics and wimpy sound effects are pitiful. NFL by Ljn is a complete and utter disaster that should be avoided at all costs!
For 1 or 2 players
graphics: 1
sound: 2
gameplay: 3
Find NFL on eBay here!


48 A NIGHTMARE on ELM STREET (Ljn, October 1990)
Yet another big horror/slasher movie series comes to the NES like just Ljn's earlier Friday the 13th. Too bad its not very scary or very fun to play either. In the game you must collect bones in several haunted houses to unlock new areas but other then that it's really just a typical platformer. The Nintendo censors would never let this game get too out of hand on the family friendly NES so don't expect to see a lot of senseless blood and violence the movies are known for in this old gray 2D action cart.
*Uncommon NES game
For 1 to 4 players
graphics: 4
sound: 4
gameplay: 5
Find A Nightmare on Elm Street on eBay here!

52 NIGHTSHADE (Ultra Games, 1993)
In this very dark game you are detective working the night shift and you're on a very strange case with a pharaoh-like main enemy. If you like PC strategy games then maybe Nightshade could be right up your alley but be prepared for some overly dark graphics with some awkward menu surfing too here.
For 1 player only
graphics: 5
sound: 5
gameplay: 6
Find Nightshade on eBay here!

61 NINJA CRUSADERS (American Sammy, December 1990)
Here is a action game that got lost in the sea of heavyweight titles in the 1990's so I bet a lot of people never heard of this before. Although the graphics are nothing too outstanding, the game is fast paced and there are tons of cool weapons of animal morphing abilities to use so there's quite a bit depth here. Ninja Crusaders doesn't do much you haven't seen before and the game can get insanely hard later into it but it's still passable.
*Uncommon NES game
For 1 or 2 players
graphics: 6
sound: 6
gameplay: 7
Find Ninja Crusaders on eBay here!

70 NINJA GAIDEN (Tecmo, March 1989)
In this 2D action platformer you control a ninja trying to avenge his father's death. Although the game looks good I hate all the cheap game play especially in level 6 (lose to the end boss and have to start all over at 6-1 again and that's 3 stages you have to do all over again) but the ninja/FBI/super natural story line was pretty cool though. This game also plays nothing like the arcade game of the same name but you can find that game on the Atari Lynx. Ninja Gaiden is a little overrated for a action game if you asked me but it was still fast paced and the controls were precise too.
For 1 player only
graphics: 7
sound: 7
gameplay: 6
Find Ninja Gaiden on eBay here!


82 NINJA GAIDEN II: The Dark Sword of Chaos (Tecmo, May 1990)
Ryu returns yet again in this big sequel here as he must try to rescue his FBI agent girlfriend Irene from a new evil cult leader. The game play remains the same difficult hack and slash platformer but now you have the ability to get 2 red shadows to follow Ryu much like the shadows in Ninja Spirit for the TurboGrafx-16. This is so you can have some help slashing enemies behind you and perform magic spells at the same time for added power but it's a shame a second player couldn't control one of the shadows. The dark graphics and eerie sounds fit the game well and the game still controls well but it isn't all good. Sorry Gaiden fans, I didn't like this action game too much either since it looks too much like the last game and the high difficulty will frustrate casual gamers as well. Ninja Gaiden II was still fairly solid anyway.
For 1 player only
graphics: 8
sound: 7
gameplay: 7
Find Ninja Gaiden 2 on eBay here!

76 NINJA GAIDEN III: The ancient ship of Doom (Tecmo, August 1991)
Ninja Gaiden comes to the NES for one final time but with mixed results. The game is still the same old 2D platformer where you play a blue ninja dude but now the enemies don't respawn once you reappear on the same scene and I really liked the Dragon Sword power up that helps increase the range of your primary weapon. To be honest, I actually really liked this Ninja Gaiden the best believe it or not. Why am I the only one that likes III though? "Come on, it was a great game!" I guess a lot gamers didn't like the insane difficulty (yup, it's still really hard and there are even limited contiunes now too) and it isn't too different from the last two versions but it still plays and looks pretty good.
For 1 player only
graphics: 8
sound: 8
gameplay: 7
Find Ninja Gaiden III on eBay here!

63 NINJA KID (Bandai, 1986)
At first I thought this game here would be a perfect candidate for my Dud of the Month especially with it's dull cartoonish graphics and annoying looping soundtrack here but this action title here can be pretty fun to play. In the game you control your typical ninja character that must go to multiple shrines and complete several different challenges ranging from killing a set amount of enemies to collecting spirits in a graveyard. What the game lacks in looks it easily makes up for in the game play department.
*Available in the 5 screw cart only
For 1 player only
graphics: 5
sound: 3
gameplay: 5
Find Ninja Kid on eBay here!


72 NINTENDO WORLD CHAMPIONSHIP 1990 (Nintendo, 1990)
No, I don't have the original thousand dollar real NWC cart here, just a reproduction one. Damn, I wish I did though. Anyway if you don't know this special title here was used in a unique 1990 tournament where players would try to score the most points in the three games Super Mario Bros., Rad Racer, and Tetris in a limited amount of time. The cart was produced for that event and there are only a mere 126 in the world so finding one is insanely difficult. So how does it play? Not too bad. You first play Super Mario and you have to collect 50 coins to progress to Rad Racer. In Rad Racer if you complete the Keywest track you then move to Tetris so you have the chance to score the most points thanks to the huge X25 multiplier. The cart even has dip switches on it so you can set you time limit from 5 to 10 minutes. It's short but it's pretty damn fun too.
*Holy Grail NES game!!
For 1 player only
graphics: 6
sound: 6
gameplay: 7
Find Nintendo World Championship 1990 on eBay here!

77 NINTENDO WORLD CUP (Nintendo/Technos Japan, November 1990)
Holy S*&^, it's River City Ransom Soccer here!? Not only is this one of the first four player NES games out there for the system but the Soccer action is very fast paced and easy to pick up so there's no big learning curve. That doesn't mean the game doesn't have any depth because each country here has their strenghts and weaknesses like some teams having the ability perform special moves or even the chance to jump over rocks on the field for example. Nintendo World Cup doesn't take itself too seriously and that's a good thing because it is definitely of the best Soccer games for the old gray box.
For 1 to 4 players
graphics: 5
sound: 6
gameplay: 9
Find Nintendo World Cup on eBay here!

73 NORTH and SOUTH (Kemco, 1991)
Games about war are usually pretty popular so Kemco made a strategy game about the famous United States civil war and it isn't too bad. If you don't know the history the civil war started after the North abolished slavery while the South wanted it to continue and such. The war lasted for years and many people died but Kemco made the game look very cartoon-like so don't expect anything too heavy. The game starts out on a turn based strategy map where you get to move units across the US to either fight the enemy in real time battles or get money by storming forts in basic platforming stages. There is a nice variety of things to do here and you can even play against a friend. North and South isn't very long and it isn't the best looking or sounding either but the game still is pretty fun.
For 1 or 2 players
graphics: 6
sound: 6
gameplay: 8
Find North and South on eBay here!


NES reviews O - Q > >